How to buy a license
In order to buy a license, either organizational or personal one, please:
Open Linked Helper Launcher or the web version of it (https://www.linkedhelper.com/member);
Navigate to the Licenses menu;
Click Buy new button:


Under License owner, choose whether the license should be personal or organizational:
Under Payment system, choose a payment provider.
We currently support:

FastSpring is our merchant of record. You can choose from several payment options such as Credit/Debit Card, PayPal, Amazon Pay, Sofort, iDEAL, AliPay, Wire Transfer (note: availability depends on your country).
PayPro - PayPro Global is our merchant of record. You can choose from several payment options such as Credit/Debit Card, PayPal, Sofort, Giropay, iDEAL, AliPay, WeChat Pay, UnionPay, Wire Transfer (note: availability depends on your country).
Stripe - allows you to pay via Credit / Debit card via the Stripe payment provider (unavailable for most users at the moment).
PayPal - allows you to pay from a personal PayPal account directly (not available for some regions).

Under the License type, choose what license you'd like to purchase. You can check the difference between licenses in this article - Licensing: Standard and PRO licenses. Pricing and discounts:
Choose license duration. The longer license period is chosen, the bigger discount is provided (up to 45% if you renew early). Linked Helper doesn't have auto-billing and we don't charge our users automatically and even don't store their bank card information. Each time a current license runs out, a new one needs to be bought manually in order to continue using our service.
Choose a number of licenses to order.
We have discounts for bulk purchases:


10 - 19 licenses - 10%
20 - 49 licenses - 20%
50 - 74 licenses - 30%
75 - 99 licenses - 35%
100-999 licenses - 40%
>= 1000 licenses - 50%

Read terms and conditions and if you agree with them, click Buy button:
At the next step, double-check your order and add a tax ID of your company if needed:
FAQ
Can I pay via PayPal, direct bank transfer, or local payment provider?
Yes, these methods offered by FastSpring or PayPro, our merchants of record, and the availability of the method depends on the chosen country. For example, in the United States you can pay via credit/debit card, PayPal, Amazon Pay, and Wire Transfer but in the UK there is Sofort instead of Amazon Pay.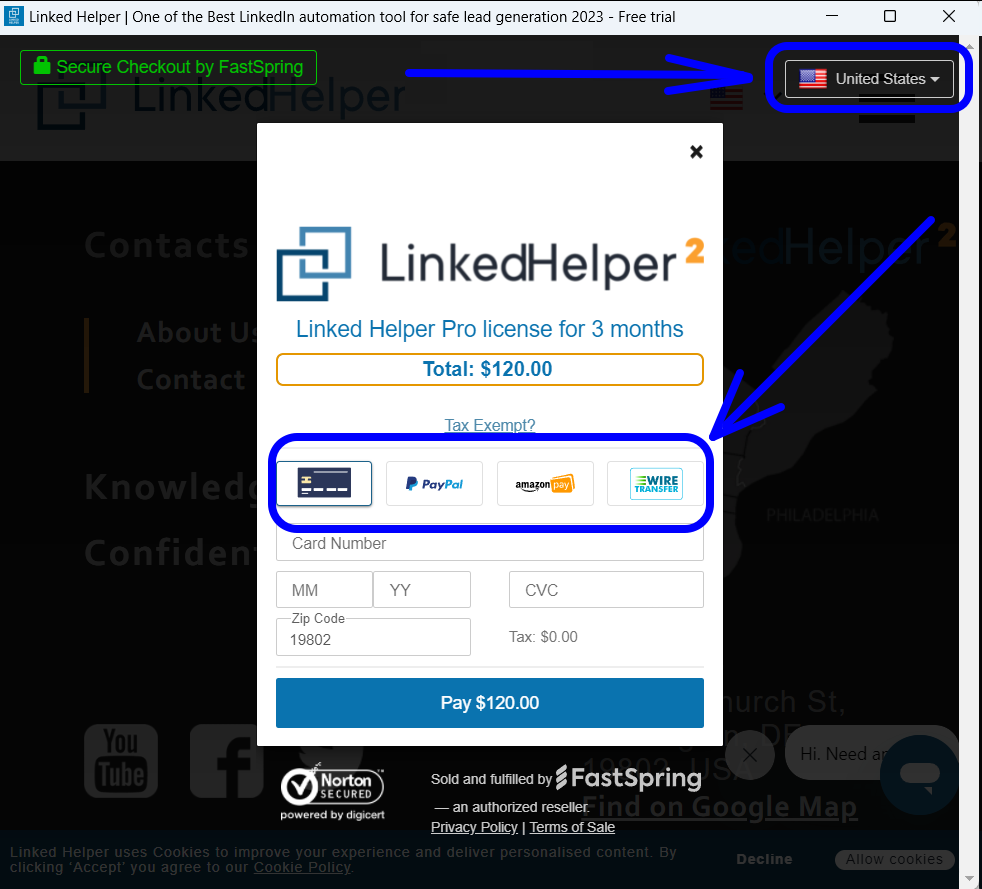 Where can I submit my company's VAT ID for tax exempt?
We used to deal with local taxes by ourselves but since they are rather difficult to work with we had to switch to a merchant of record. FastSpring and PayPro Global our merchants of payment and automatically count and process taxes: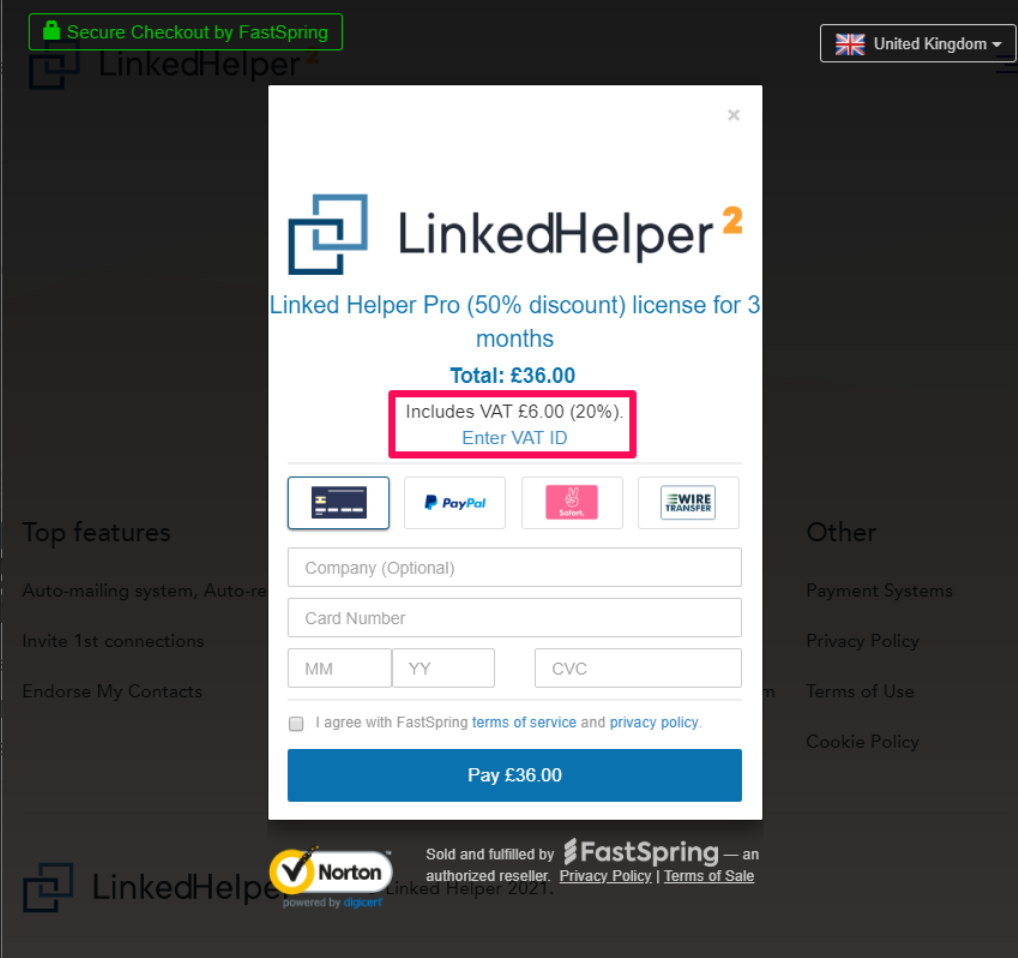 If you are placing an order on behalf of a company, enter the company's VAT identification number by clicking "Enter VAT ID" and the VAT charges will be removed: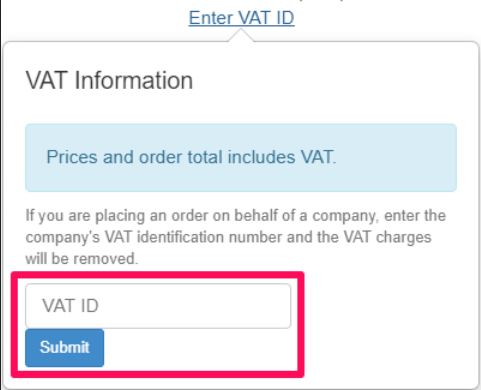 Where can I get an invoice for a paid order from Linked Helper?
FastSpring and PayPro Global are our merchant of records, meaning that all invoices come to us from them. Here is how you can get the receipt - instruction.
Where can I change my account details and taxpayer identification number?
Information of the invoices bought via PayPal or Stripe can be changed in the Linked Helper - instruction.
The taxpayer identification number and other information of the invoices bought via FastSpring or PayPro Global can be changed only by their support:
All your FastSpring orders are tied to a billing email address and can be checked here - https://linkedhelper.onfastspring.com/account. To change the account details, you need to open the Account Details and Payment Methods tab and press Edit: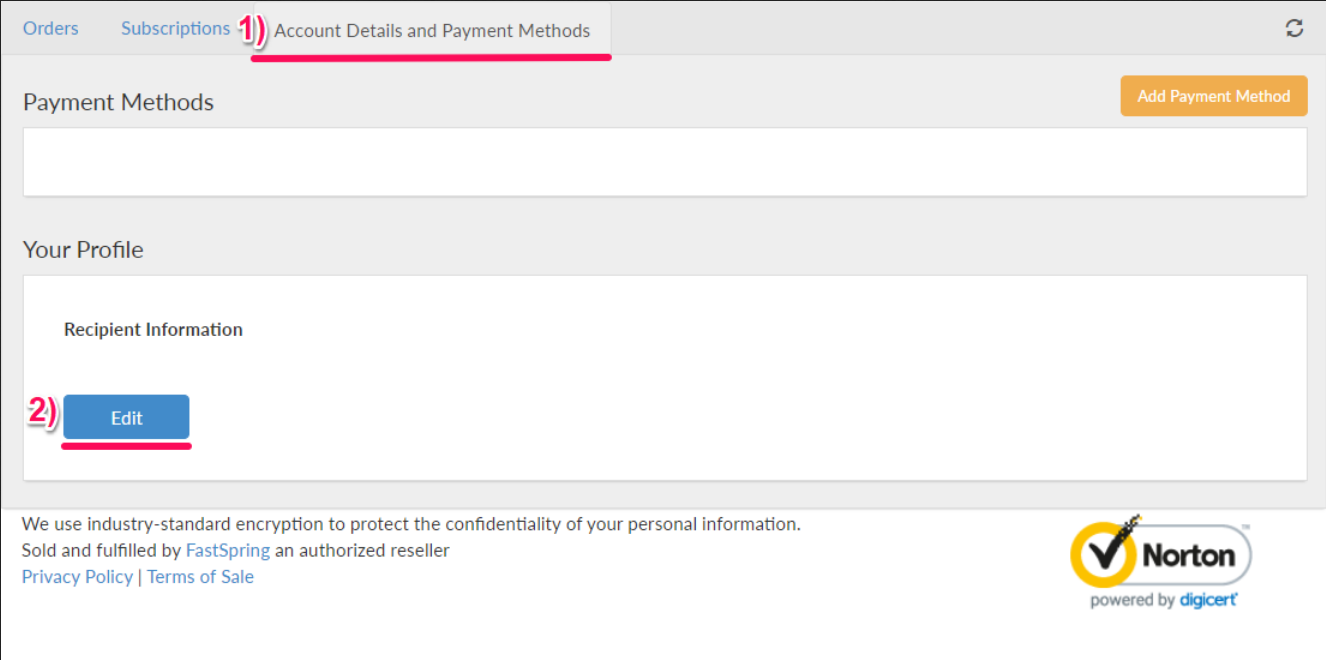 I get "We regret that your order could not be accepted..." error. What should I do?
If you see the message like on the screenshot below, most likely FastSpring's automatic system of fraud monitoring considered your payment potentially dangerous. In such a case you should contact their support team so they could review it manually - https://fastspring.com/consumer-support-form.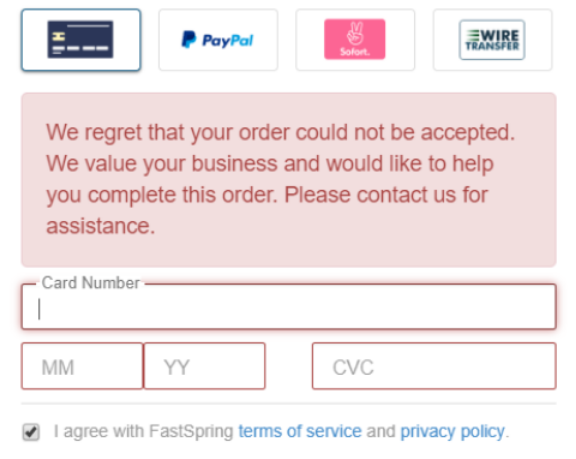 Thank you very much for your attention. We hope that these tips helped you! Here are some more useful articles from our blog:
_____________________________________________________________________________________________________________
You can try the software for free during 14 days - download it and activate a free trial.
Official website Our blog YouTube Facebook Instagram WhatsApp Email: info@linkedhelper.com