Main info
This action allows sending data from a Linked Helper campaign workflow to any 3rd party app that supports incoming webhook. A perfect option for sellers to sync their LinkedIn leads with any other tool that supports incoming webhooks.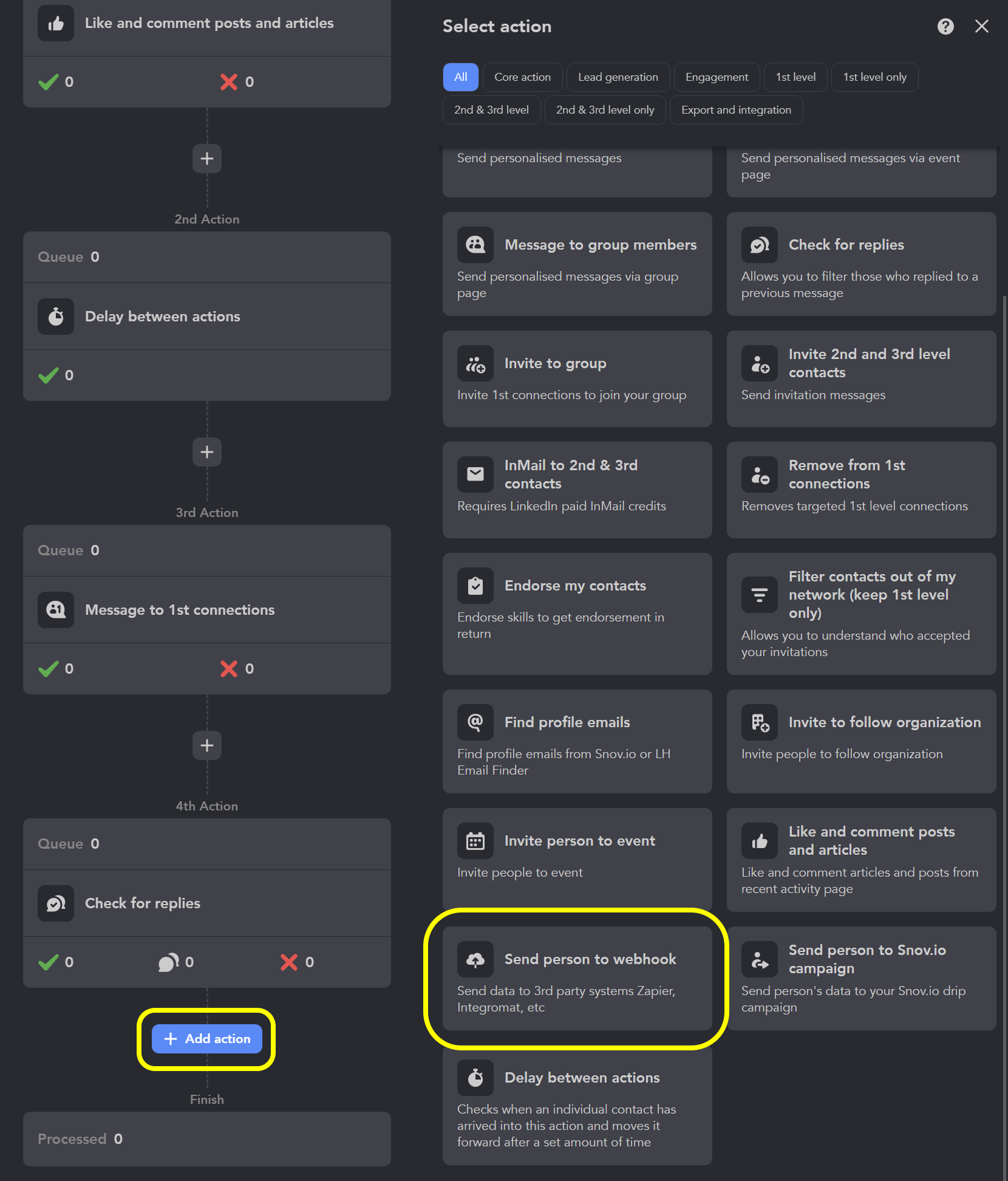 Webhook option can be enabled as a separate as a separate option in 'Message to 1st connections', 'Check for replies', and similar messaging actions in order to send only those who replied. Please, check Send replied to Webhook plugin for more info.

Note:
some data like e-mails or phone numbers can be only scraped from your 1st connections. Linked Helper 2 scrapes all available contacts data when visiting contacts profile with any action, so we recommend our users to send contacts to Webhook after "Visit and extract" or "Message to 1st connections" actions to get all available contacts data;
he work of this action is not counted towards daily limits since Linked Helper does not interact with LinkedIn in any way;
this action does not store any data, it only sends an array of information to the URL inserted in the 'Webhook URL' field.
General tab
Here you can enter/change the URL where you send data to or adjust settings as it is shown in the section above.

Webhook settings
To set a webhook, just add 'Send the person to webhook' to the campaign workflow and paste a URL in the 'Webhook URL' field provided by the service/software where you want to send the data.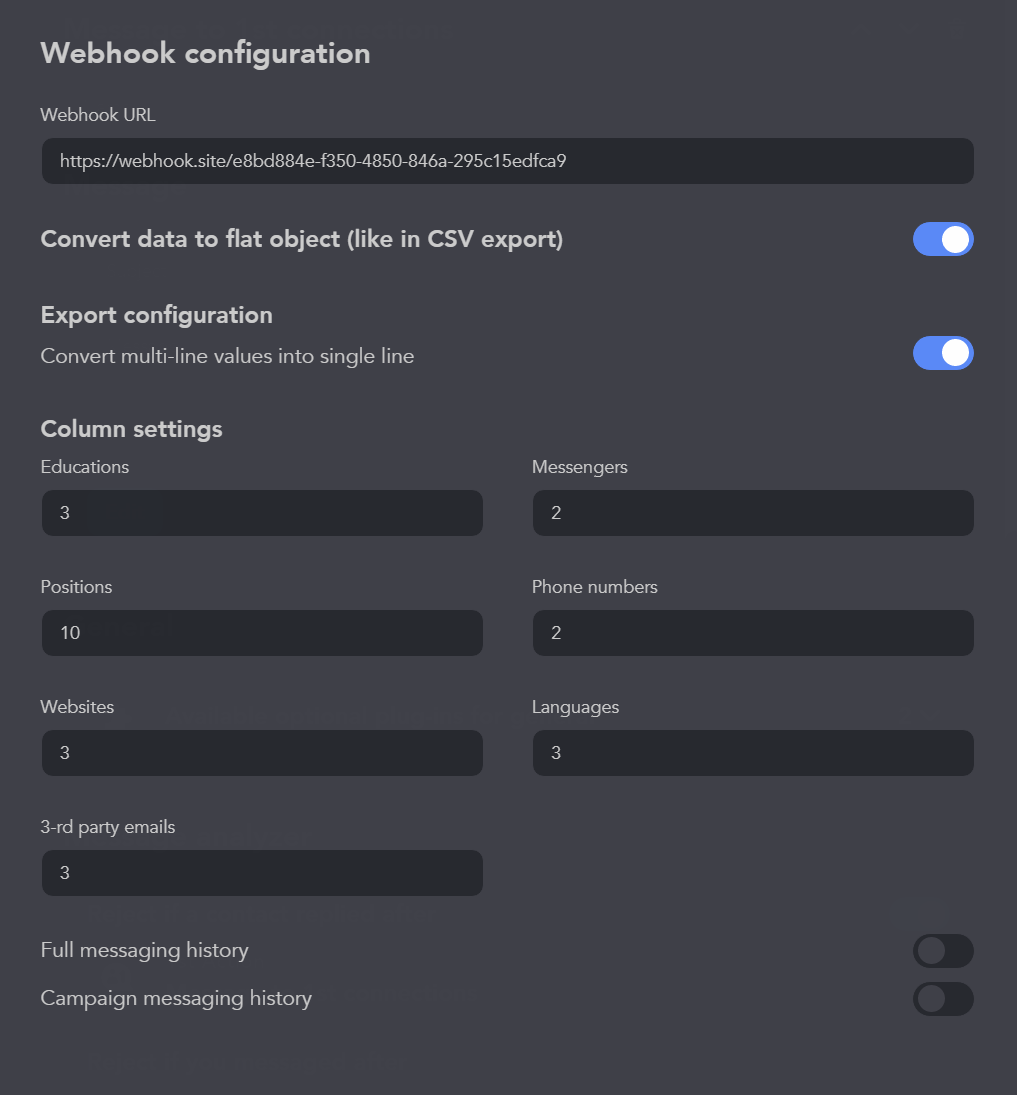 You need also to adjust other settings as well:
it's better to leave Convert data to flat objects (like in CSV export) switched to Yes unless you explicitly need the opposite;
Convert multi-line values into single line option, when switched to Yes, deletes all new line characters within one field;
You can adjust the number of columns sent;
You can include Full or Campaign messaging history into your export, please, check this article for more info - Messaging history in Linked Helper
Enhance this action with:
How to check whether webhook is working
You can use https://webhook.site/ service to check what data Linked Helper sends in the data array.
Open the site web-page;
Copy unique URL and paste to 'Webhook URL' field;
Run the campaign.
Once the campaign is started and the action begins to work, the web-page will be updated and you can see what data had been sent.
All profiles that were sent to the webhook will be moved to the 'Successful' sub-list.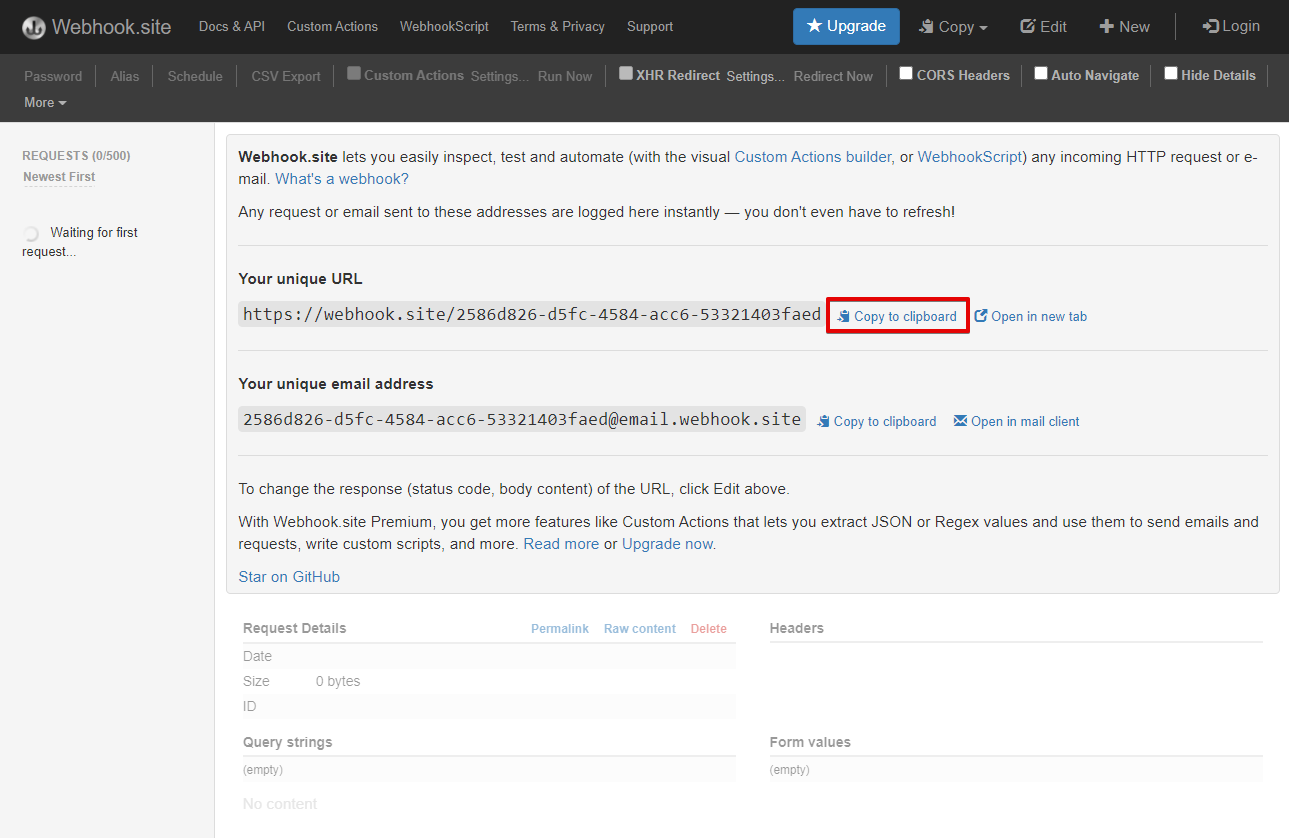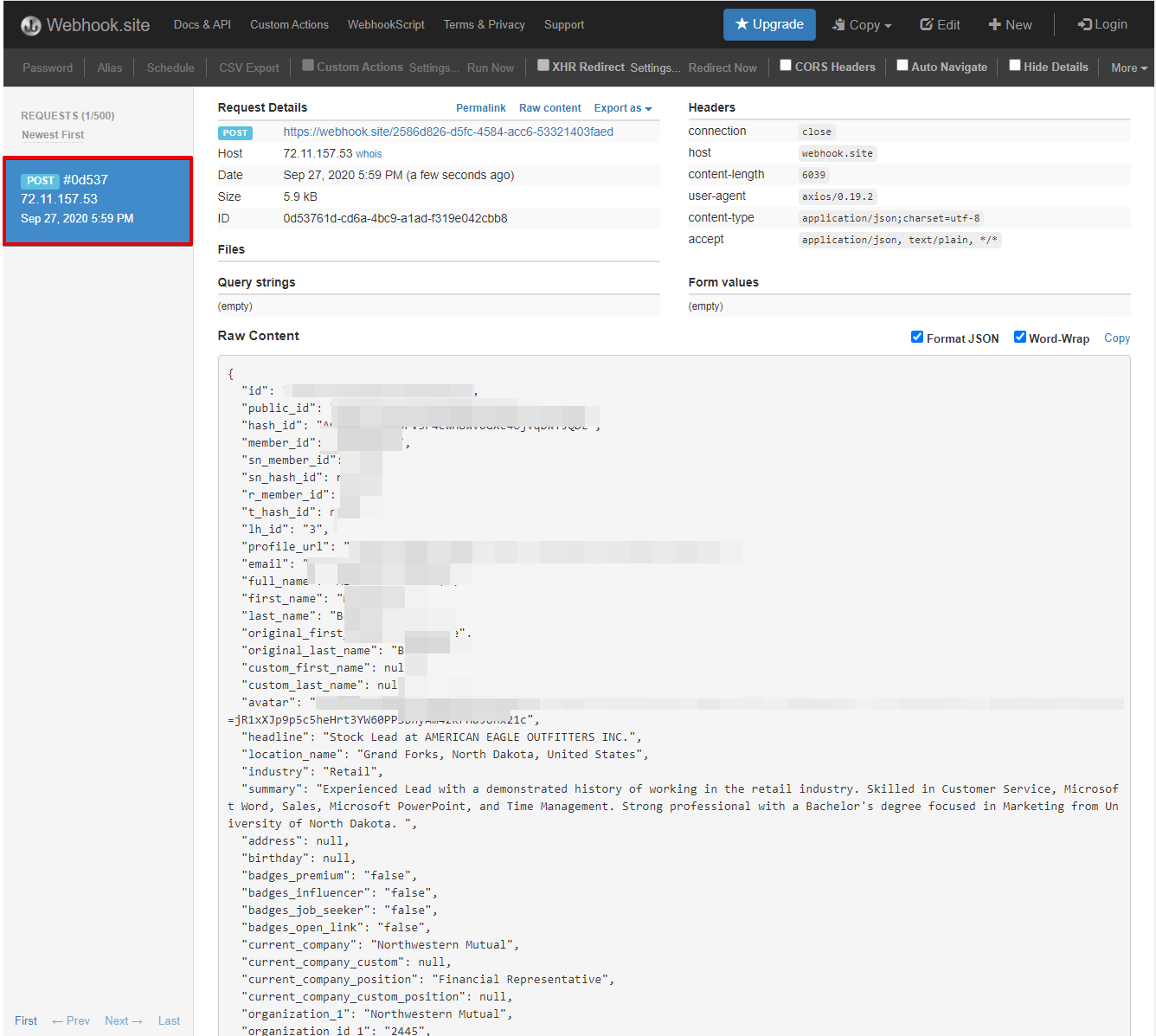 List of fields sent to webhook
Here is a list of columns that you can find in exported CSV file from Linked Helper(and send it via Webhook). Columns from id to followers are related to the specific Linkedin profiles. Some of the details can be found here.
id
public_id
hash_id
member_id
sn_member_id
sn_hash_id
r_member_id
t_hash_id
avatar_id
lh_id
profile_url
email
full_name
first_name
last_name
original_first_name
original_last_name
custom_first_name
custom_last_name
avatar
headline
location_name
Shows location (country and region)
industry
summary
address
Shows address of connection
birthday
badges_premium
badges_influencer
badges_job_seeker
badges_open_link
shows if this profile is open. If it is, you can send a free inmail to this profile.
current_company
shows the latest company where the profile was emploed
current_company_custom
current_company_position
current_company_custom_position
organization_1
organization_id_1
organization_url_1
organization_title_1
organization_start_1
organization_end_1
organization_description_1
organization_location_1
organization_website_1
organization_domain_1
education_1
education_degree_1
education_fos_1
education_start_1
education_end_1
education_description_1
language_1
language_proficiency_1
languages
skills
twitters
phone_1
phone_type_1
messenger_1
messenger_provider_1
website_1
tags
tags assigned by campaign or user in LH2
connected_at
mutual_count
mutual_first_fullname
mutual_second_fullname
original_mutual_first_fullname
original_mutual_second_fullname
custom_mutual_first_fullname
custom_mutual_second_fullname
followers
member_distance
network_info_connection_count
network_info_following
add_to_target_date
shows when a contact was added to your campaign
result_created_at
shows when to contact was processed the last time
message_1_from

Message_1 type fields show the message sender, content, and date when the message was sent.

message_1_text
message_1_send_at
replied_message_1_from
Replied_message_1 type field shows reply from the profile with reply sender, reply content, and date when the reply was sent.
replied_message_1_text
replied_message_1_send_at
third_party_email_1
Emails found via Snov.io integration
third_party_email_source_1
third_party_email_is_valid_1
b447e140698e51f3dc50727865bfe9a9
This is a checksum field for validation of profile data for page navigation. Details can be found here
action_id
action_name
action_type
Type of the action, i.e. Send person to webhook or Check for replies.
campaign_id
campaign_name
campaign_type
my_id
LinkedIn account instance ID
my_email
LinkedIn account email
my_full_name
LinkedIn account name
You can try the software for free during 14 days - download it and activate a free trial.
Official website Our blog YouTube Facebook Instagram WhatsApp Email: info@linkedhelper.com