Content
Do I need paid LinkedIn subscription to use your service?
Not at all, Linked Helper works with free LinkedIn accounts as well, but you should know that the Basic (free) LinkedIn subscription has a limited amount of search requests per 30 days: LinkedIn Commercial Use Limit. Some of our users do not overuse collecting from the search page, so for them, a free LinkedIn account is enough.

When you reach "commercial use limit" you have 2 options:
Buy a LinkedIn paid subscription: LinkedIn Free Accounts and Premium Subscriptions. Please, note that Career and Premium Essentials plans still include the commercial use limit. LinkedIn: Commercial Use Limit
Wait until next month.
Not all features or functions require the search page. For example, Linked Helper can collect contacts from:
My Connections page.
Group members pages.
Alumni pages.
In the case of LinkedIn Recruiter: from project pages.
Sent invites canceller function doesn't use the search page at all.
Does Sales Navigator help me automate things on LinkedIn?
Neither Sales Navigator nor any other paid LinkedIn subscription automates your daily routine activities as Linked Helper does.
With a paid LinkedIn subscription, it won't be possible to automatically send invitations to targeted leads, and follow-ups to those who accepted your invitation, like their posts or articles, endorse skills, etc., everything has to be done manually.
With Linked Helper, you don't need to spend your time on such routine work as the tool will be doing this like a real human being.
What advantages can I get with a paid LinkedIn subscription?
LinkedIn has several types of paid subscriptions, each of them is dedicated to a certain use case, for example, Premium Career is for job seekers, Sales Navigator for sales agents, Recruiter Lite for talent acquisition managers, and Premium Business for professionals who want to get more out of LinkedIn. Click to learn more: LinkedIn Free Accounts and Premium Subscriptions.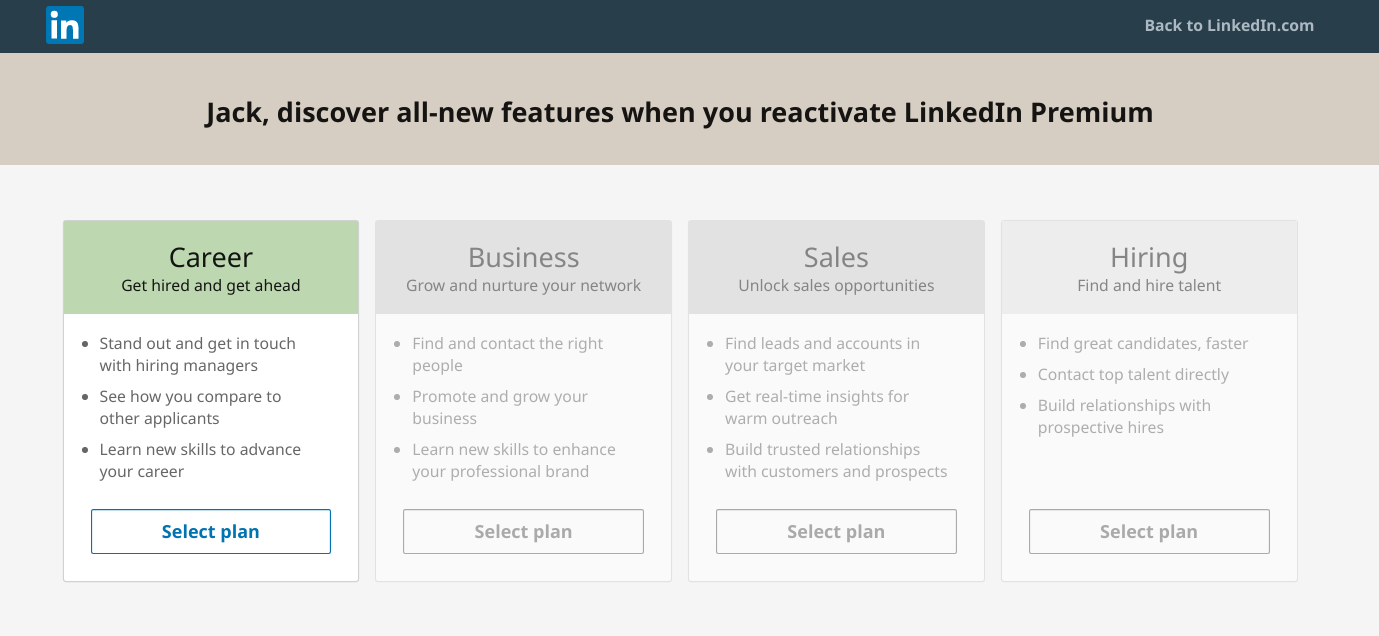 LinkedIn Career and Premium Essentials won't give you any advantages as it was already mentioned, they do not lift the LinkedIn Commercial Use Limit. What you get is only a couple of free InMails (3 and 5 for Career and Premium Essentials respectively) and some features like the ability to see who viewed your profile or extended access to salary insights, which is not much of a help for developing your LinkedIn profile or finding new leads to expand in the market.
Linked Helper works with paid LinkedIn subscriptions as well as with the Basic (free) one, hence you need to decide what LinkedIn subscription fits your business goal and whether provided features are worth paying for as the prices are not cheap.
Let me help you using some examples.
1. Sales Navigator
The main advantages of Sales Navigator are:
You can learn more about Sales Navigator plans here: Sales Navigator feature comparison.

If you buy this subscription, you can filter out active leads who posted anything in the last 30 days or invite only those who follow your company on LinkedIn:

Many of our clients, who manage several LinkedIn accounts, use one LinkedIn account with Sales Navigator subscription to collect a big amount of leads they are not able to collect on free accounts, then share those leads among multiple LinkedIn accounts and then change the platform to be able to process such profiles and increase the speed of market expansion hence reducing the costs.
If you're going to upload CSV file received from another Linked Helper 2, please, check this article: How to upload profiles' data from Linked Helper CSV file. Please note that if you upload profiles from an external source (not from the CSV you get from Linked Helper 2), you need to set Loading profiles via URLs limit to 45 per 24 hours (see the article on Working Hours and Limits p. Avoiding logouts).
In case you decided to cancel your Sales Navigator subscription, please, note that you don't have the option to save critical information and data associated with the account, such as messages, saved leads, and saved accounts - Cancel Your Sales Navigator Account
2. Recruiter Lite

The main advantages of Recruiter Lite are:
You can learn more about Recruiter plans here: Differences Between Recruiter, Recruiter Professional Services (RPS), and Recruiter Lite
With Recruiter (not to be confused with Recruiter Lite) you have unrivaled access to the entire LinkedIn network which can be extensively searched using LinkedIn Recruiter Advanced filters.
If you upload Recruiter URLs only from one LinkedIn account into another one (without Recruiter subscription), then you will not be able to process them since Recruiter URLs cannot be processed on another LinkedIn account without a subscription. However, when you collect profiles from a Recruiter via Linked Helper, then visit them and download them into a CSV, usual LinkedIn URLs are also extracted, so you can upload that CSV into any other LinkedIn account without a Recruiter subscription.
You can try the software for free during 14 days - download it and activate a free trial.
Official website Our blog YouTube Facebook Instagram WhatsApp Email: info@linkedhelper.com