LinkedIn is a good place to find a candidate for a position you have open, and Linked Helper is a perfect tool for Recruiters to automate that reaching out.
There are a lot of cases when you need to contact LinkedIn support. As you probably already know, LinkedIn does not have an email address where you can send a message asking for assistance.
In this article, we show you how to apply for LinkedIn support and give you a couple of precautions.
Contact LinkedIn:
LinkedIn doesn't have a direct support email address. In order to contact them, please, visit this link from your LinkedIn account to reach LinkedIn support directly (do not mention that you use automation software or violate their Terms and/or User Agreement mentioned below):
Open one of the LinkedIn support links below:
Choose Other option
Enter a topic:
Click 'Create a support ticket' button at the bottom of the page:
Fill in the form and click Submit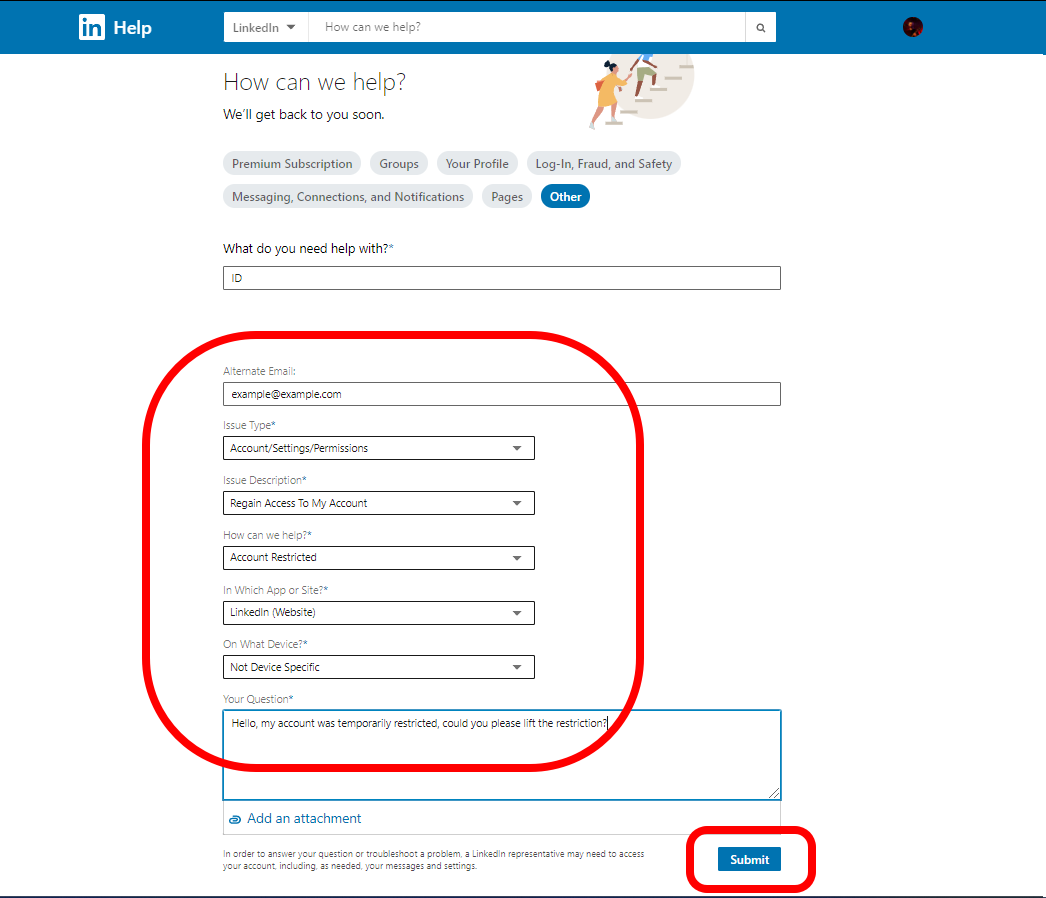 As an alternative, you can contact LinkedIn support team via X (former Twitter) using this link below:
Here are things to keep in mind before contacting LinkedIn support:
1. Linked Helper (https://lh2.linkedhelper.com/) is a program that automates routine work in LinkedIn. Linked Helper is not part of LinkedIn or its affiliated company (Linked Helper Terms), Linked Helper support does not render LinkedIn support or any services related to managing LinkedIn accounts. Only technical help regarding the Linked Helper program is provided.
2. In most cases you can find a solution for your issue or answer to your question in LinkedIn Help Center, Forum, and self-service
3. If you read LinkedIn User Agreement, you should already know that:
LinkedIn is against you connecting with people you don't know, and other violations of Professional Community Policies, so they may restrict your account for that:

LinkedIn is against fake and duplicate accounts and may permanently close such accounts;
LinkedIn is against sharing your account with someone else or using someone else's account;

even though it's legal, LinkedIn is against any software / extension that may scrape/copy data from LinkedIn pages or automate work on its pages:

So, please, don't mention anything of the above in your email if that is true for you.
Thank you very much for your attention. We hope that these tips helped you! Here are some more useful articles from our blog: