Linked Helper works as a smart browser, so you can manually use LinkedIn through the "LinkedIn" menu and navigate there just like in a regular browser: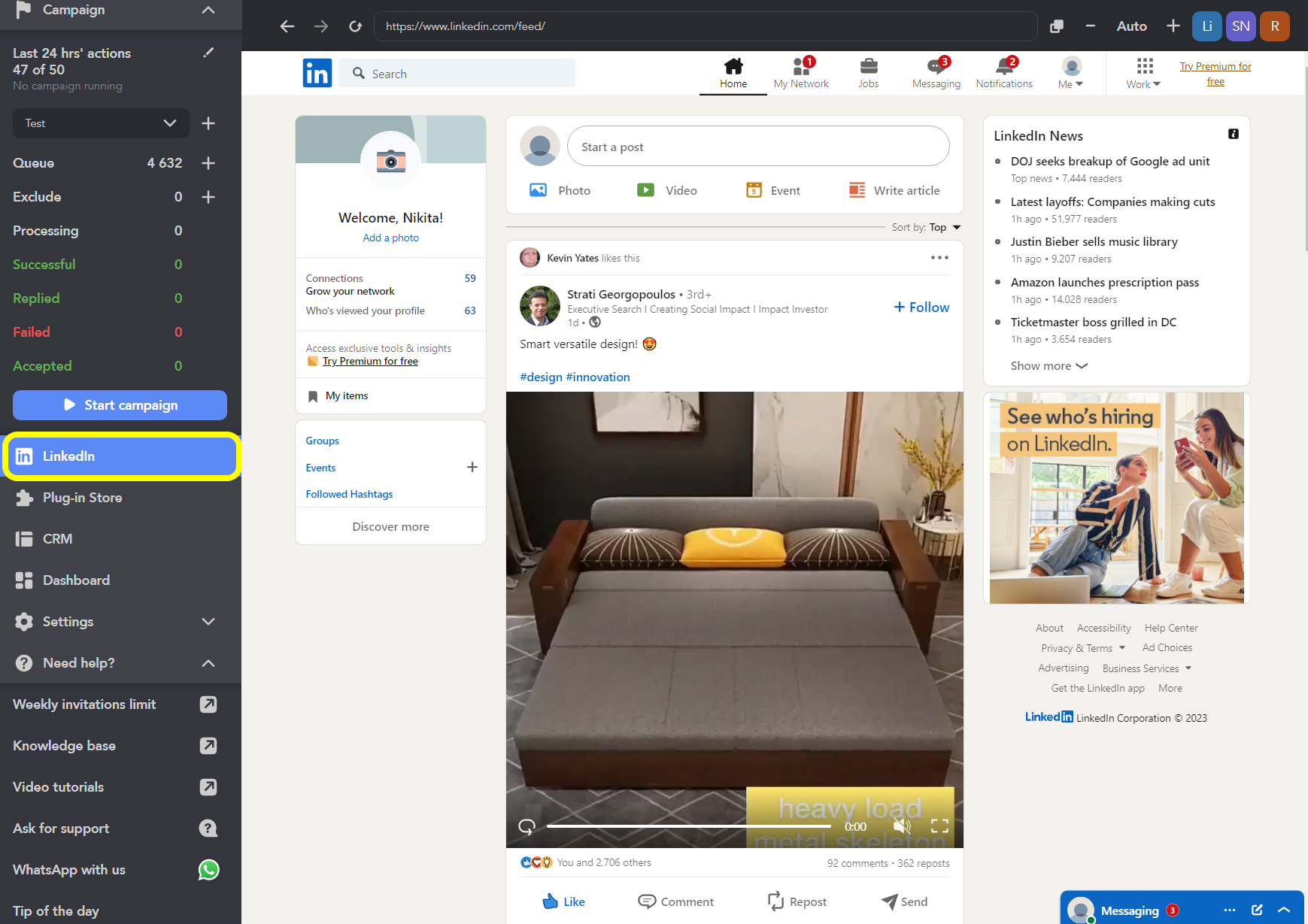 This is quite helpful feature for recruiters who want to reply to potential candidates without leaving the automation platform.
Navigation panel
You can find a navigation panel at the top of your instance window where you can see:

"Back", "Forward" and "Refresh" buttons.
Address bar just like in a regular browser (please note that it works only with LinkedIn and its premium services links).
"Copy URL" button, which copies the current URL from the address bar.
Zoom buttons.
Buttons for fast navigation to your "Regular LinkedIn", "Sales Navigator" and "Recruiter" accounts (please note that you need to have a subscription to those services to navigate to your "premium page").
Left side menu options
The "LinkedIn" menu does not have its own buttons on the left side, but when on someone's profile page, you can manually add the profile to CRM (available with Built-in CRM plug-in installed) and to the campaign with "Add to" / "Add to CRM" buttons which are automatically shown in CRM menu: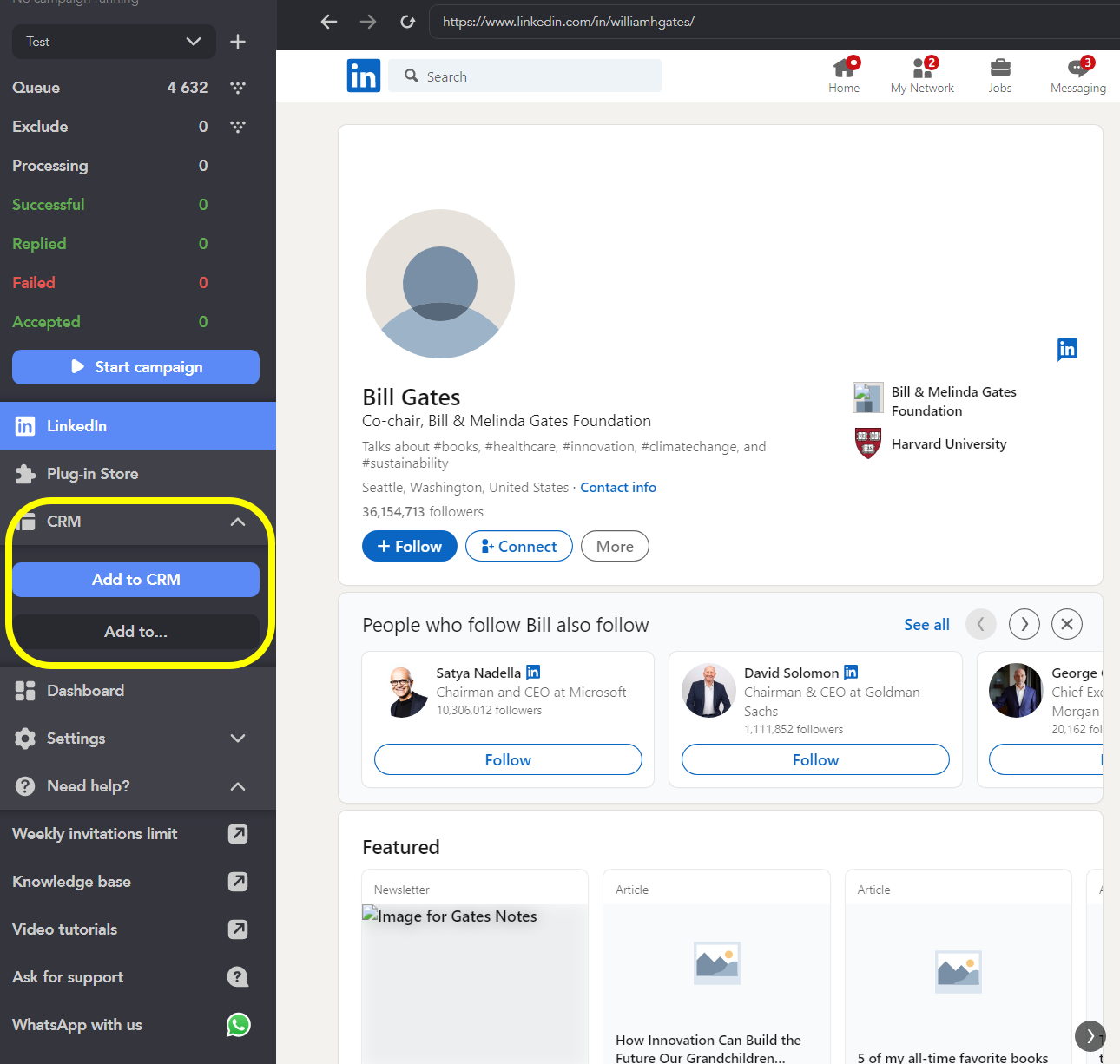 If you want to add profiles into CRM in bulk, you need to either collect profiles to one of the campaigns from a LinkedIn webpage or upload LinkedIn URLs, but you cannot delete the profiles from CRM.
You can also tag (available with Tagging system plug-in installed) a profile or add a note while being on his/her LinkedIn page if you manually browse through the "LinkedIn" tab, but only if this profile is already part of Linked Helper's CRM (if you previously collected/uploaded it). If a profile is not in the CRM yet, you can add it via the Add to CRM button in the left menu: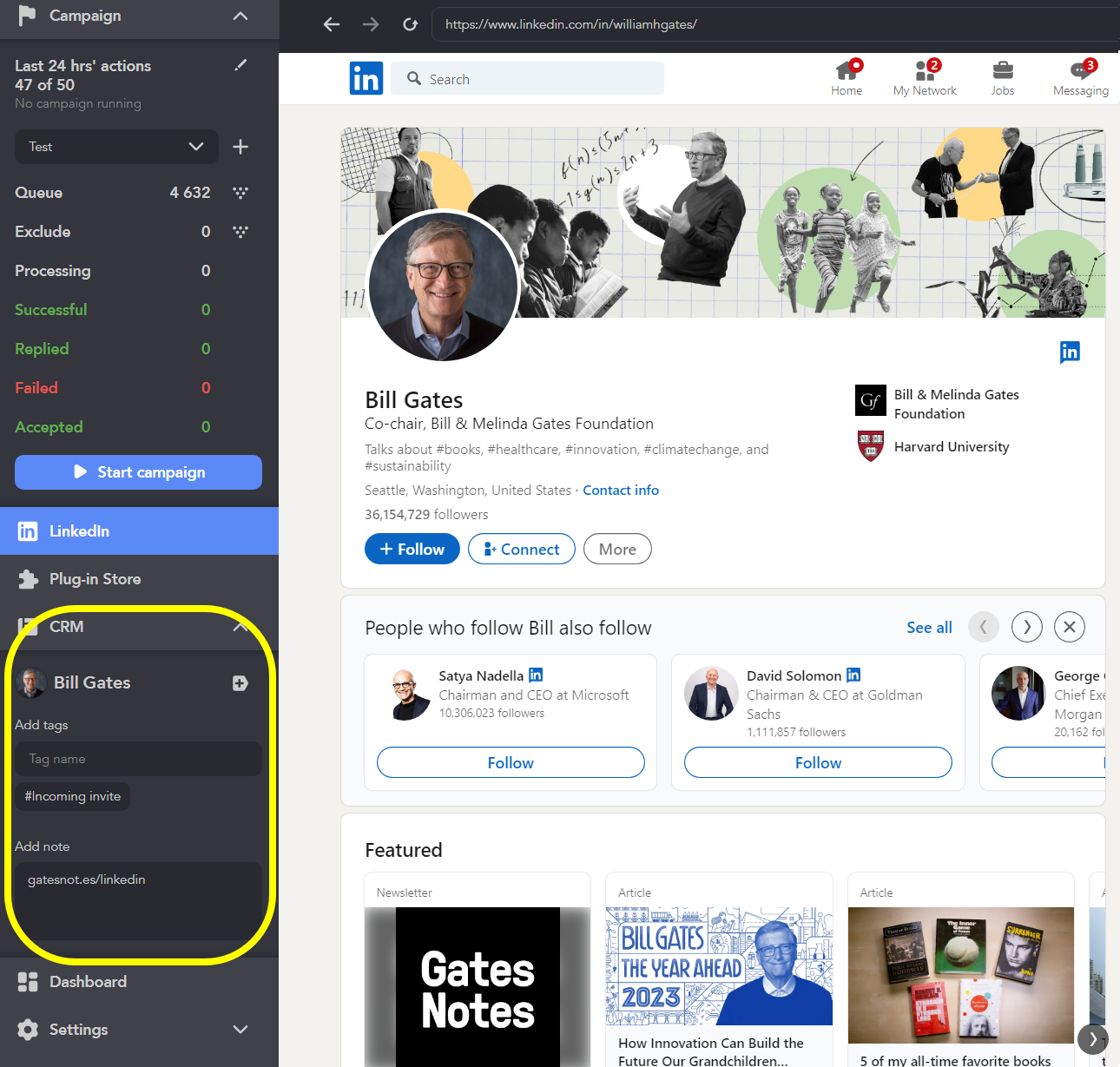 Can I browse LinkedIn while Linked Helper is working?
Linked Helper imitates human behavior and clicks all the buttons like a real person, so when you have automation running, Linked Helper will be using the "LinkedIn" tab and will "block" you from using it - at this point you can only watch how the automation is working. To be able to browse LinkedIn manually, you basically need to make sure that you currently don't have a campaign or collection process running. Linked Helper blocks you from using the "LinkedIn" menu when:
It is collecting or visiting profile(s) at the moment.
___________________________________________________________________________________
You can try the software for free during 14 days - download it and activate a free trial.
Official website Our blog YouTube Facebook Instagram WhatsApp Email: info@linkedhelper.com