What is LH Email Finder?
This is our internal service that allows customers to get emails of their 2nd or 3rd-degree connections using the Find Profile Emails action.
When the LH Email Finder option is enabled in the action, Linked Helper populates the email fields of the profile in CRM using the data from our server. The program takes the ID of the profile from the Queue and matches it to the IDs in the Linked Helper emails database. If the match is found, the Action downloads it into your CRM. If there is not enough information available to make a search, then Linked Helper visits the profile to get the most up-to-date information and to try searching again.
LH Email Finder option is available in the Find Profile Emails and Invite 2nd and 3rd level contacts actions. In the latter action, the option is called 'Get email from LH Email Finder if email is required' and is available with the Advanced settings for Invite 2nd and 3rd level contacts plug-in installed.
What are Email Finder Credits?
Email Finder Credits are issued with a paid license and can be used for searching emails of your 2nd and 3rd-degree connections via Linked Helper LH Email Finder. Each time Linked Helper successfully finds one or several email addresses for a single profile, one Email Finder Credit is taken from your account.
Every time you buy a license, credits are added to the balance as per this table:
| | | |
| --- | --- | --- |
| | Standard license | PRO license |
| 1 month | 620 credits | 3100 credits |
| 3 months | 1860 credits | 9300 credits |
| 6 months | 3660 credits | 18300 credits |
| 12 months | 7320 credits | 36600 credits |
Will credits be deducted twice for duplicate searches?
If emails of a profile were already found via LH Email Finder and are saved in the account CRM, then you won't be charged twice. Otherwise, if emails were found but were not saved in the CRM (you changed the PC but didn't move the data via backups), then you will be charged twice.
For example, if you processed a profile in campaign 1 and then added it into campaign 2 of the same LinkedIn account, you won't be charged the second time. However, in the case of the situation above, if you change computers without moving your data after processing the profile the first time and then start extracting emails of the same profiles, credits will be again deducted from your account.
You also will be charged twice for processing the same profile in different LinkedIn accounts, even though they are both under the same Linked Helper account or organization.
Where emails come from?
When you connect to a profile, you can scrape its email address and other data like URLs, first / last names, etc. For many other our clients your 1st-degree connection is only 2nd or 3rd-degree connection to whom they would like to send an invite. With LH Email Finder it's now possible for anyone to share the data about their 1st-degree connections to get the same information about his 2nd / 3rd-degree connections from other our customers. In other words, after you agree with Linked Helper Email Finder Terms of Use, you can contribute the data you collected for the ability to get emails of your 2nd / 3rd-degree connections.
Can I buy more Email Finder credits?
Yes, you can do that from the Email Finder Credits menu of Linked Helper Launcher. Here is the article that explains how to do that - How to buy Email Finder credits?
You can buy more credits either for your Linked Helper account only, or for your organization in Linked Helper 2 (How to create an organization and add employees to it):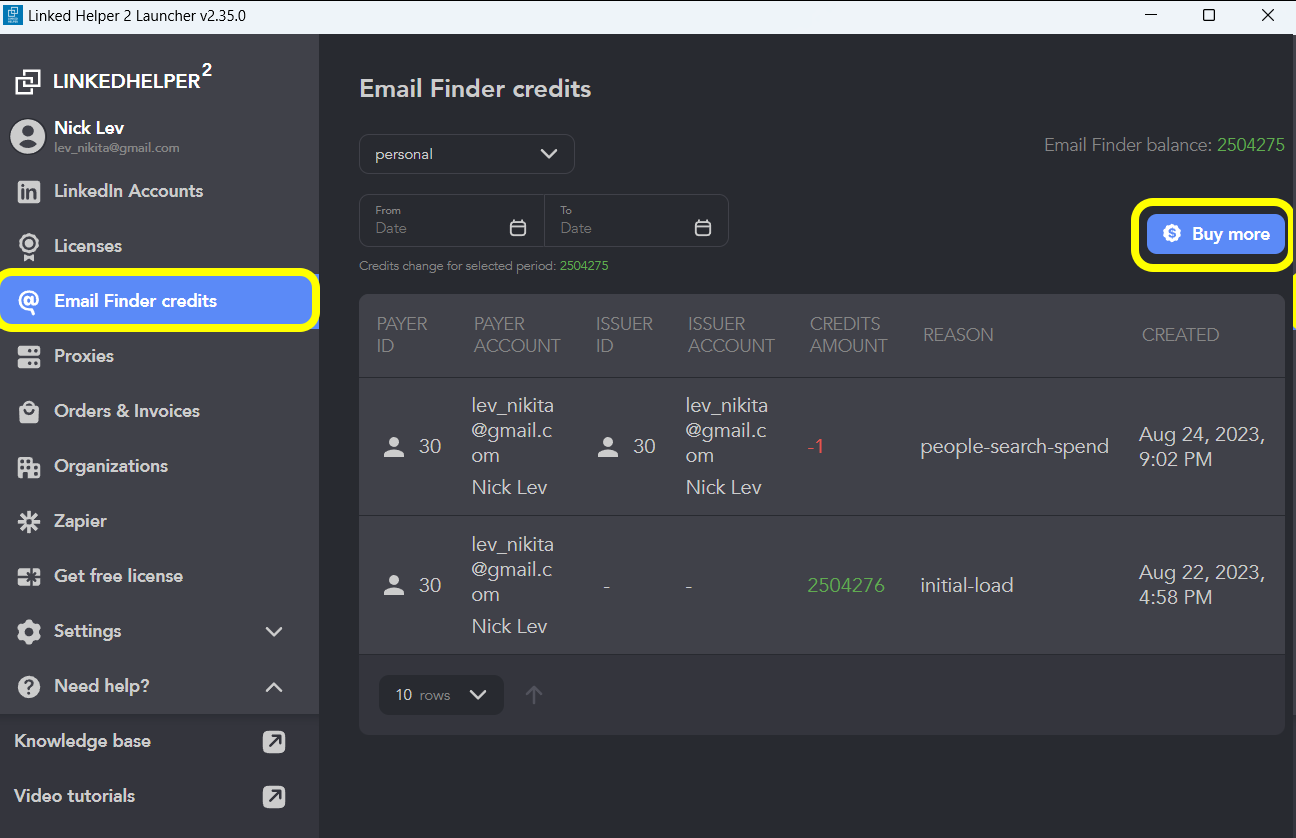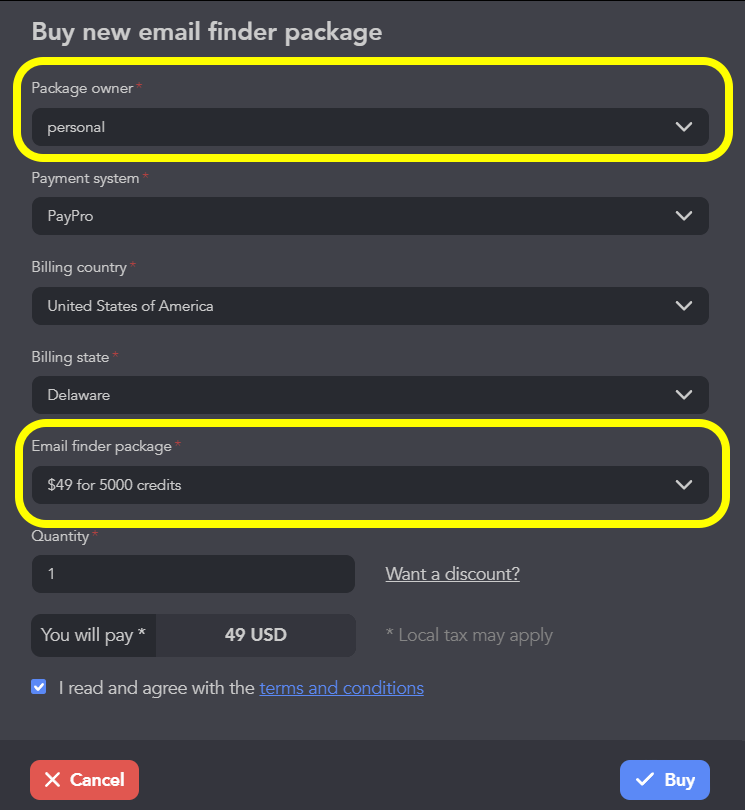 Will my credits expire?
No, neither credits you got with a license nor those bought separately have an expiration date.
Can I use credits without a license?
It is not possible to use LH Email Finder separately from Find Profile Emails action. In order to use Find Profile Emails action, you need to have a paid license.
Are there any discounts?
Yes, sure. The bigger the package, the lower the cost per lead - Licensing: Standard and PRO licenses. Pricing and discounts.
$0.015 per lead (1 000 credits package for $15)
$0.0098 per lead (5 000 credits package for $49)
$0.0089 per lead (10 000 credits package for $89)
$0.0057 per lead (50 000 credits package for $284)
You can get extra discounts for bulk purchases (applied automatically when all packages are ordered via one invoice):
10 - 19 packages - 10%
20 - 49 packages - 20%
50 - 74 packages - 30%
75 - 99 packages - 35%
100-999 packages - 40%
>= 1000 packages - 50%
How do I choose what credits to use: personal / organizational, assigned with a license / bought separately?
In Linked Helper, there are two types of balance: personal balance and balance of a Linked Helper organization you're a member or an owner of.
Both credits acquired with a license and those bought separately are added into a common pot - a balance of your organization or personal account - depending on whom the license or package of credits was bought for.
Linked Helper defines what balance to take credits from based on a license. Let's imagine you have two organizations (Organization 1 and Organization 2) each having 2 licenses, and there are 2 LinkedIn accounts (account A and account B) and 2 personal licenses under your Linked Helper account.
When you assign a personal license to your LinkedIn account A, its campaigns start spending personal credits. When you assign a license of Organization 1 to your LinkedIn account B, campaigns of this account are spending credits of Organization 1. When you're out of personal credits, LinkedIn account A will stop searching for emails even though there are credits under both of your organizations. The same happens when all credits of Organization 1 are have been spent: LinkedIn account B will stop searching for emails even though there are credits under Organization 2 (or there are some credits left under your personal balance).
For LinkedIn accounts A or B to start using credits of Organization 2, you need to assign licenses of Organization 2 to LinkedIn accounts A and B.
How do I limit the use of Email Finder credits?
It is only possible to set a limit per LinkedIn account, not per Linked Helper account. You can do that in the Limits sub-menu of a LinkedIn instance (check Advanced limits section of the Working Hours and Limits article) using 'Get email from LH Email Finder' limit: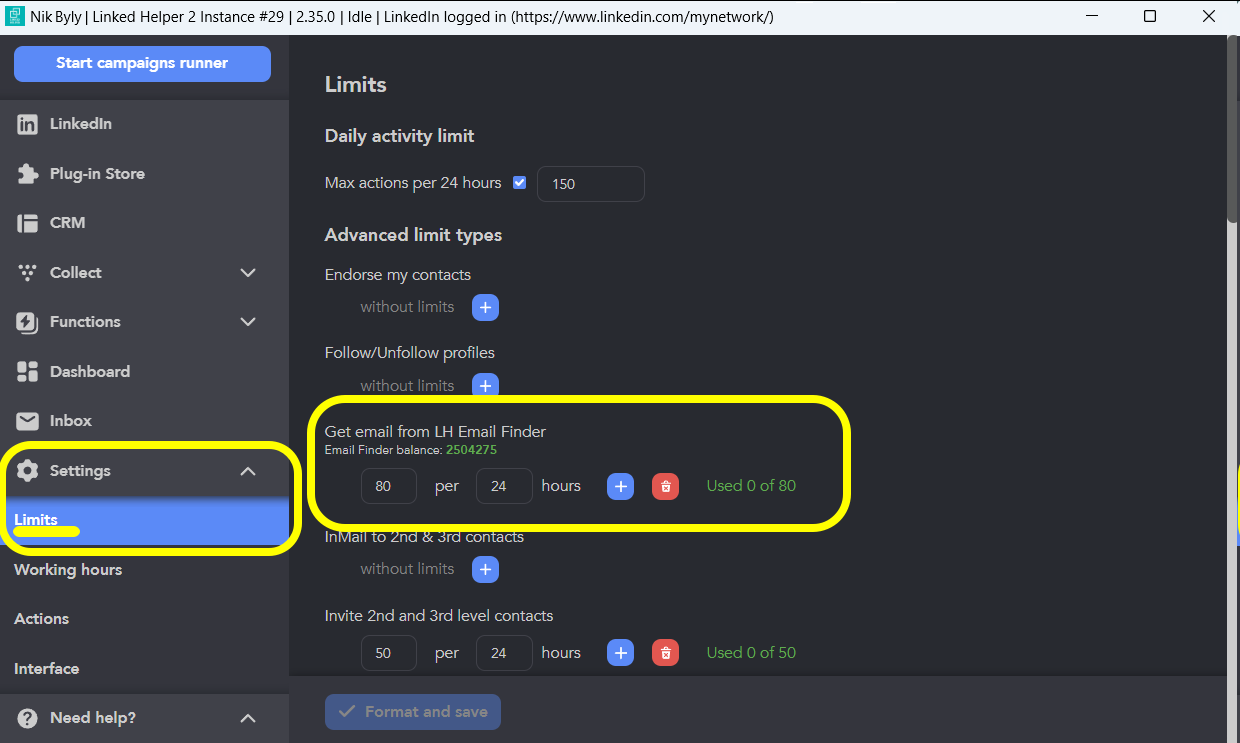 For example, you can set a maximum of 30 Email finder credits per 24 hours for LinkedIn account A and 100 Email finder credits per 24 hours for LinkedIn account B.
If you want to disable the ability to use credits for a LinkedIn account, you can set the limit to 1 credit per 744 hours, which means this account will be able to use only one credit per month.
The same way you can limit the usage of Email Finder credits under your organization: if you want members of your organization to spend less credits per day or per month, you need to ask the Linked Helper account users to set the limit for every LinkedIn account they manage.
___________________________________________________________________________________
You can try the software for free during 14 days - download it and activate a free trial.
Official website Our blog YouTube Facebook Instagram WhatsApp Email: info@linkedhelper.com