What are InMails and Open profiles?
InMail allows you to directly message another LinkedIn member that you're not connected to, which is a handy option for sellers to expand their reach out.
InMail messages can have up to 200 characters in the subject line and up to 2000 characters in the body. It's important to keep in mind that your InMail signature is counted in the total number of available characters.
You're allotted a specific number of InMail credits based on your subscription type. You can find the number of InMail credits you have from your Premium subscription page.
However, even if you don't have InMail credits available or you are on a free subscription, you can send InMails to those "Premium Profiles" (profiles with a gold LinkedIn badge on their page) who did not disabled the ability to receive free InMails from others. Such profiles are called "Open link" or "Open profile" and have a special hidden badge on their pages.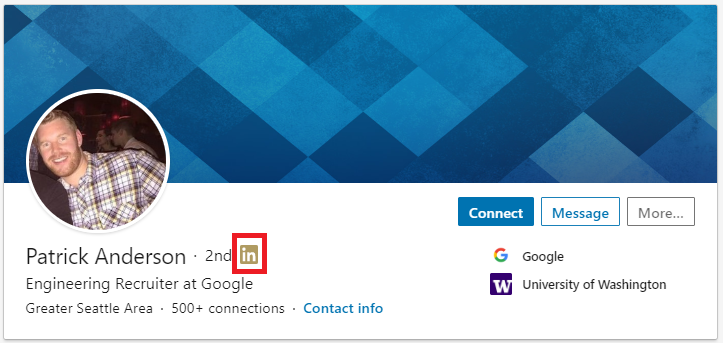 How to search for open profiles?
LinkedIn doesn't have any search filters for "Open profile" ("Open link") profiles neither in Basic plan nor in paid subscriptions like Recruiter or Sales Navigator, but there is a way how to workaround that with Linked Helper.
In Sales Navigator
Luckily for us, LinkedIn submits the "Open link" badge for the profiles in Sales Navigator search so you can get the profile's status right after collecting (but this is not the case when collecting profiles from Sales Navigator Saved List as from there "Open link" badge cannot be collected).
Note: when collecting profiles from Sales Navigator Leads list, Linked Helper cannot scrape 'Open link' status. In order to scrape it, profiles must be collected from Sales Navigator Search.
So, if you collect profiles from Sales Navigator search, then all you need to get a list of "Open link" profiles is to filter them in the Queue: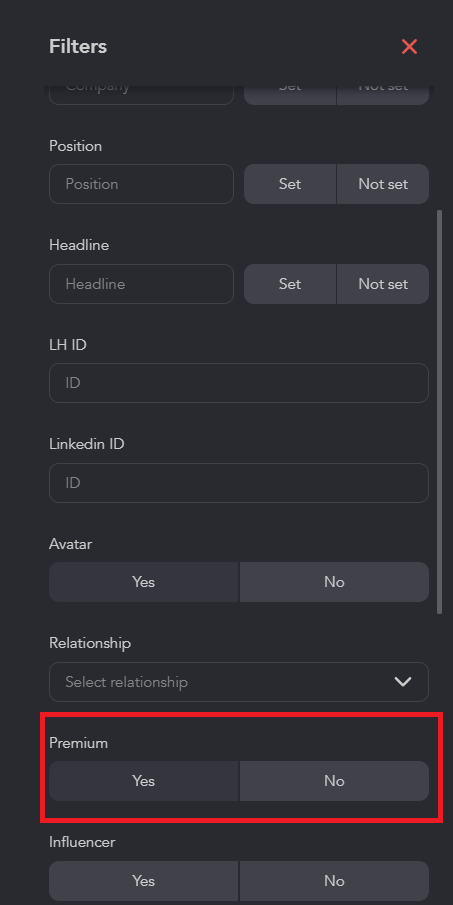 In Basic and Premium LinkedIn
Unlike Sales Navigator platform, in the Basic and Premium platform of LinkedIn the "Open link" badge (do not confuse with "Premium") is disabled and Linked Helper is not able to scrape "Open profile" ("Open link") during collecting from the Basic (free) and Premium LinkedIn search. It is not possible to scrape it when profile is visited as well.
There are two workarounds for this case:
Using Service categories filter in LinkedIn
If a person indicated that he or she renders certain services, LinkedIn automatically enables 'Open link' profile status for that person, which means anyone can send a free InMail to that person. If you apply this filter in your search request, all the profiles in the results will be with 'Open link' status: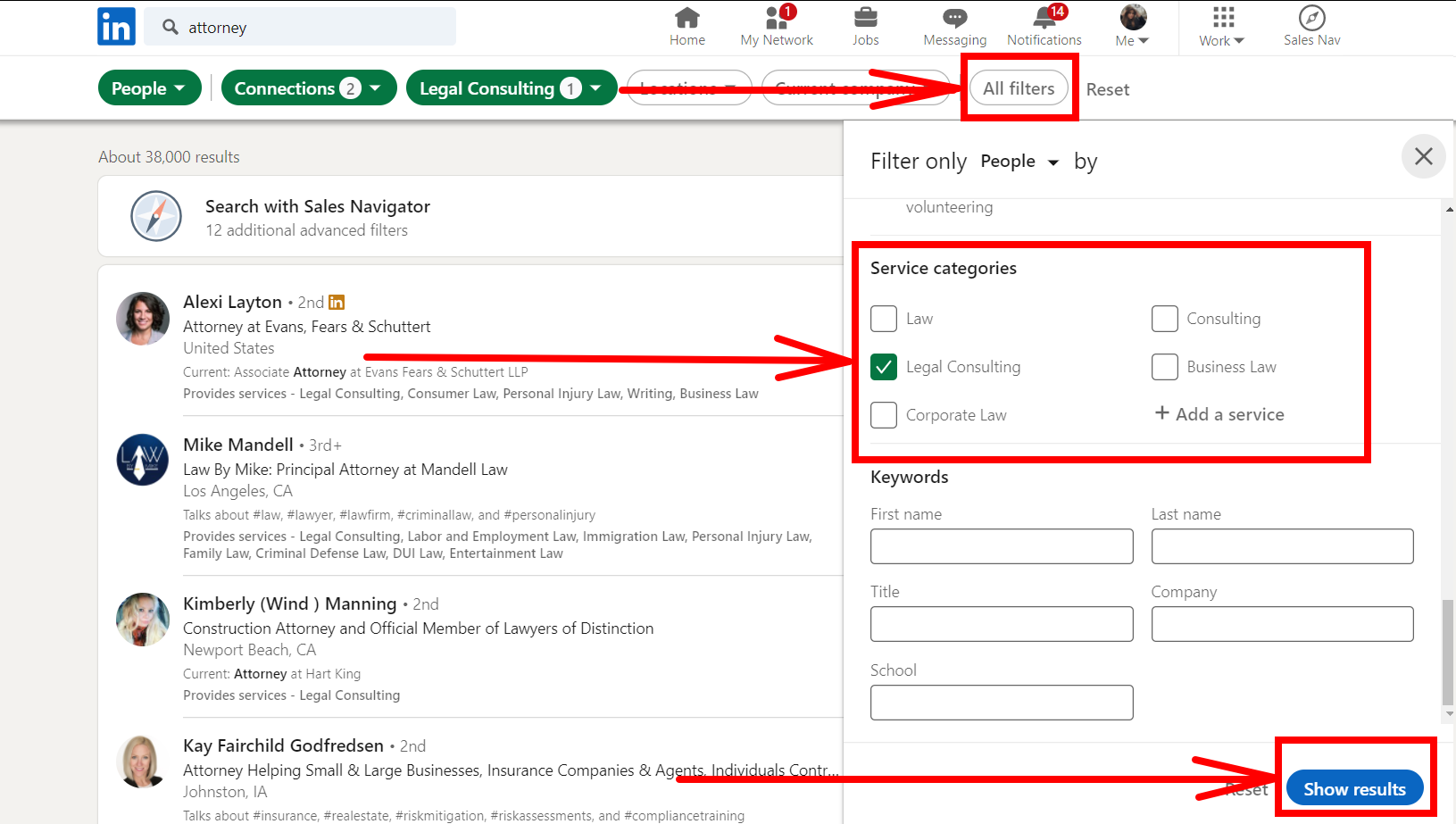 Using 'Premium' filter in Linked Helper
Once targeted profiles are collected, you can filter them inside the Linked Helper 2 by the "Premium" filters status. As it was explained in the beginning of the article, most likely the profile with the Premium badge is an "Open Link" profile (but that is not always the case):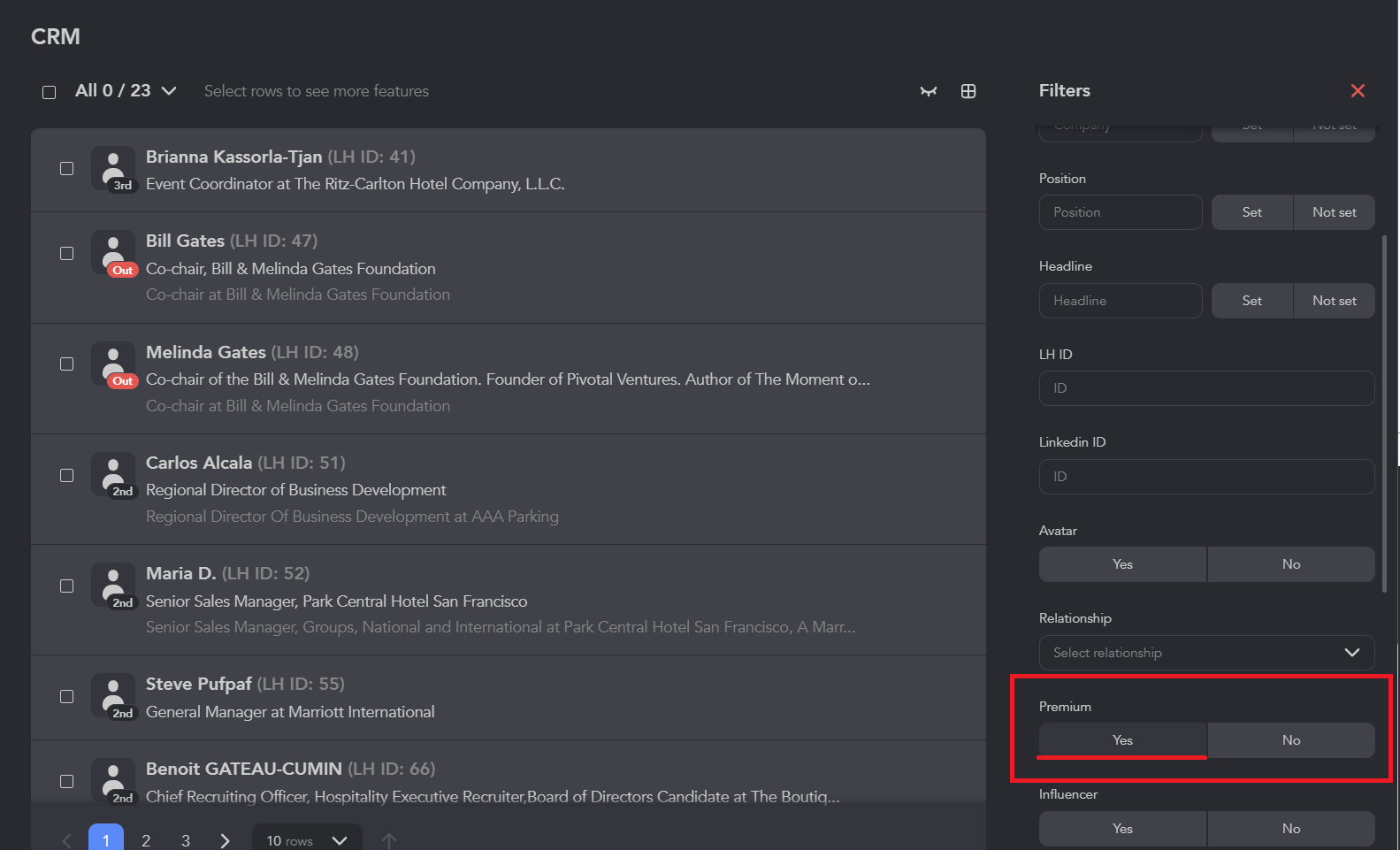 Here are some statistics:
the amount of Open link profiles among non-premium users is about 0.2 - 2%;
the amount of Open link profiles among premium users is from 15% to 50% and more (naturally, there are lesser Open link profiles among CxOs than among Recruiters).
This workaround allows you to start your InMail campaign as soon as the profiles are collected, and time is money as we know, but you have to sacrifice the accuracy as not every Premium LinkedIn user is an "Open link". As a result, part of the profiles will receive your InMail, and another part will fail with an error.
Limits to keep in mind
LinkedIn limit of 800 InMails per month for Sales Navigator: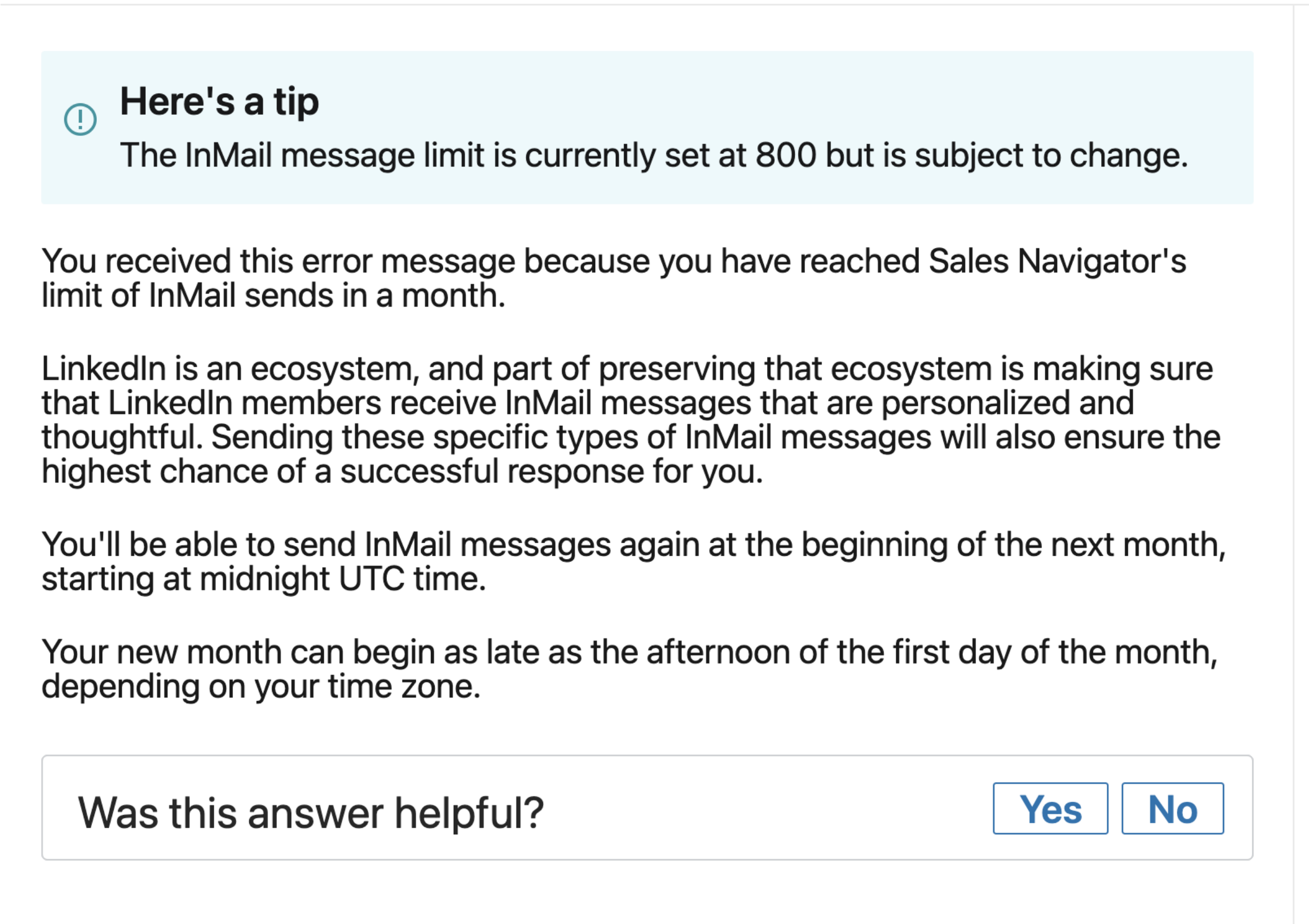 If you want to evenly spread the free InMails over the month period, it could be a good idea to limit InMail to 2nd & 3rd contacts activity to 26 actions per day so that the other campaigns, if you have them activated, also got some action slots to process profiles: Limiting certain activity type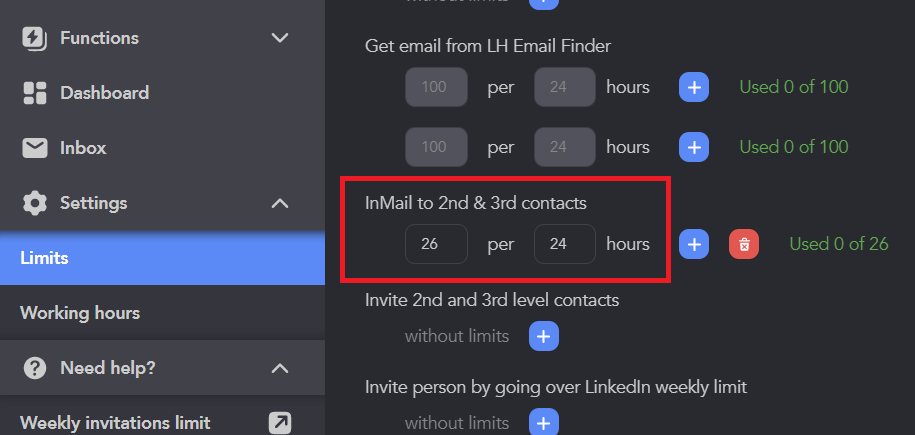 How to delete everyone, who can't receive free InMail messages?
If profiles were collected from regular LinkedIn platform
Let's do this on an example: you've collected contacts from the search page into your "Inmail to 2nd and 3rd contacts" action and you want to delete everyone, who can't receive free InMail messages, or most of them, i.e. those who don't have a 'Premium status'.
To do that, you need to:
open the "Lists" section of your campaign or your action queue: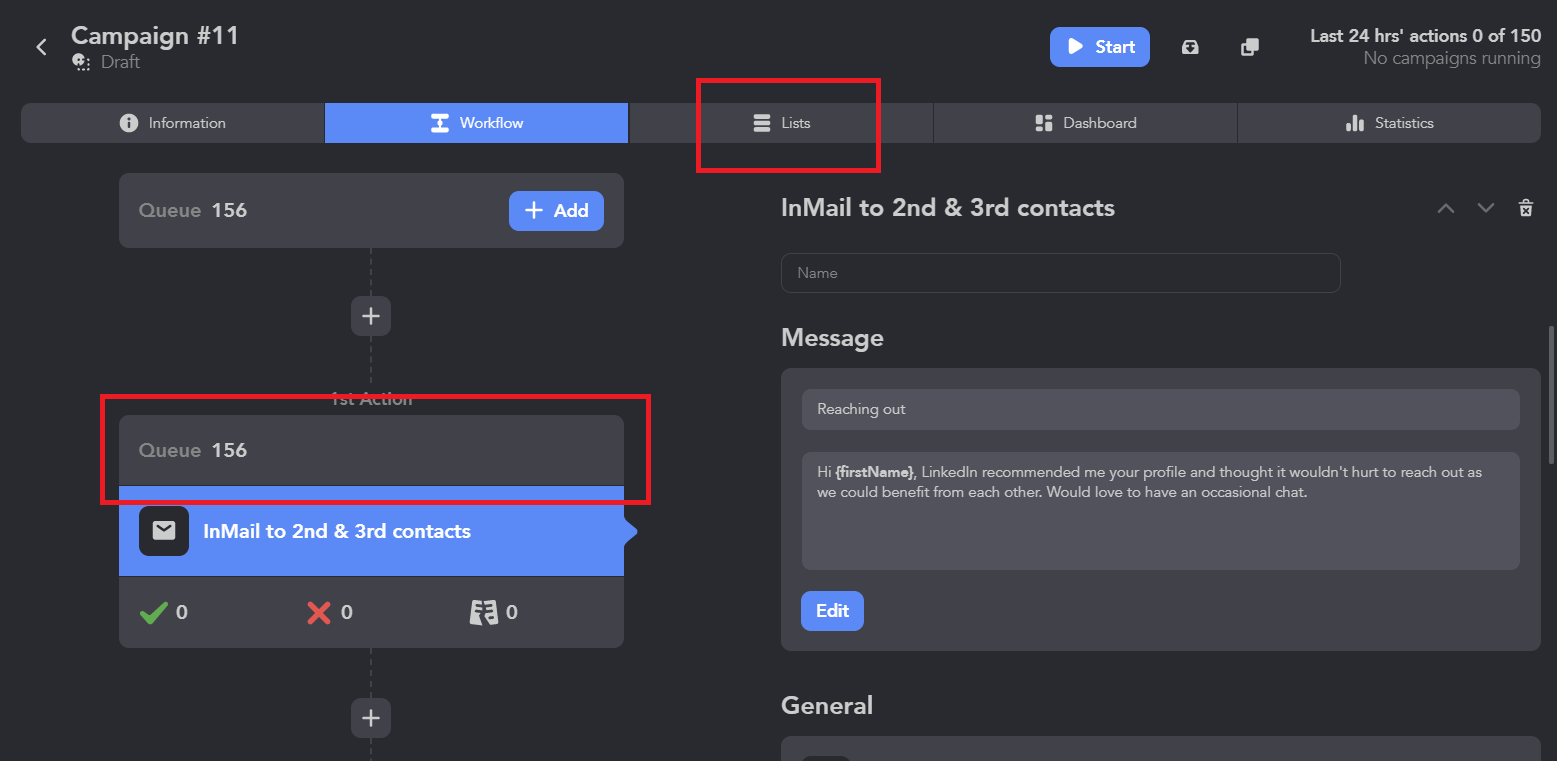 Set the 'Premium' status filter to 'Yes' and select all profiles: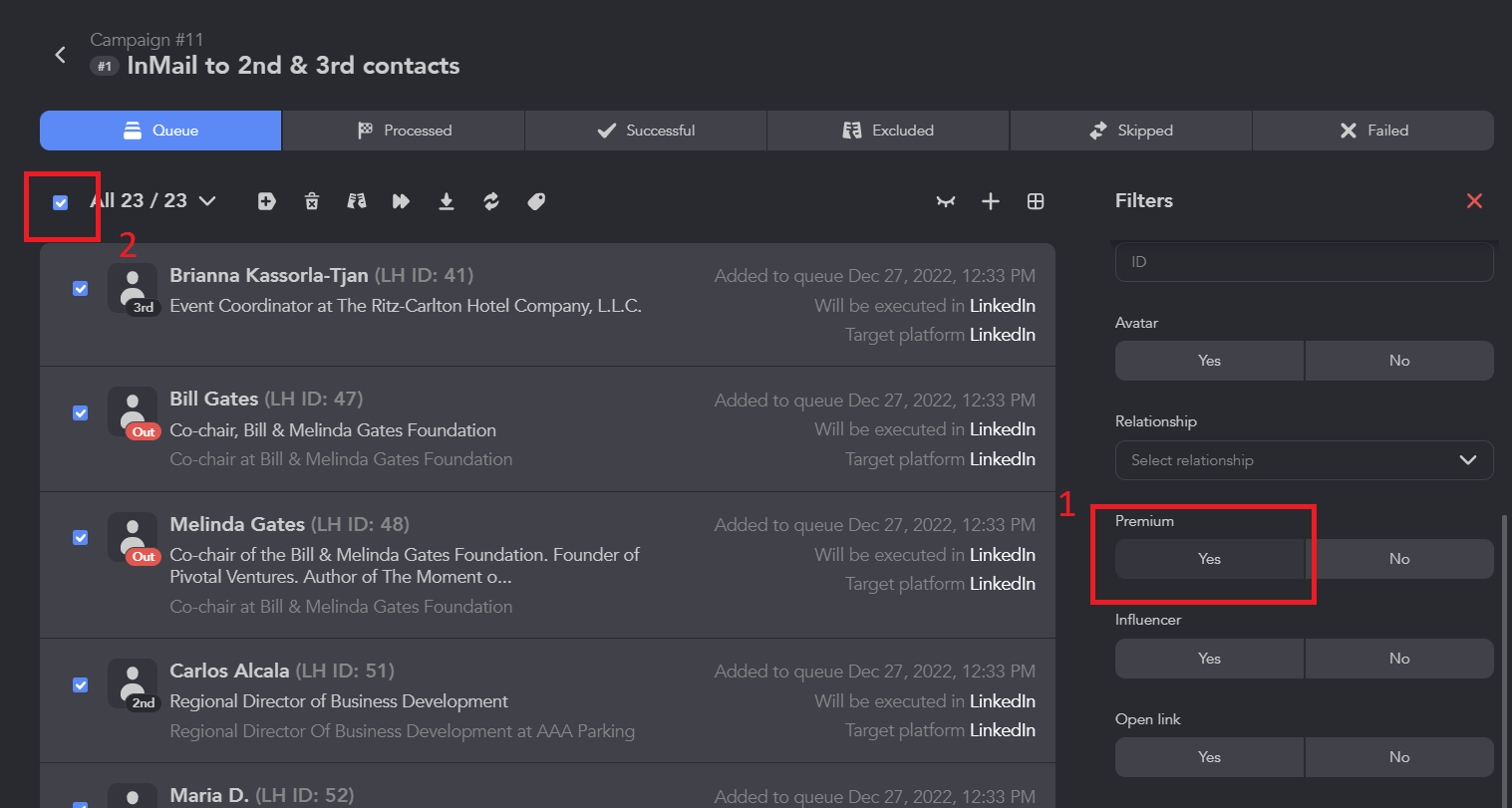 click 'Tag' and assign a 'Premium' tag to selected profiles: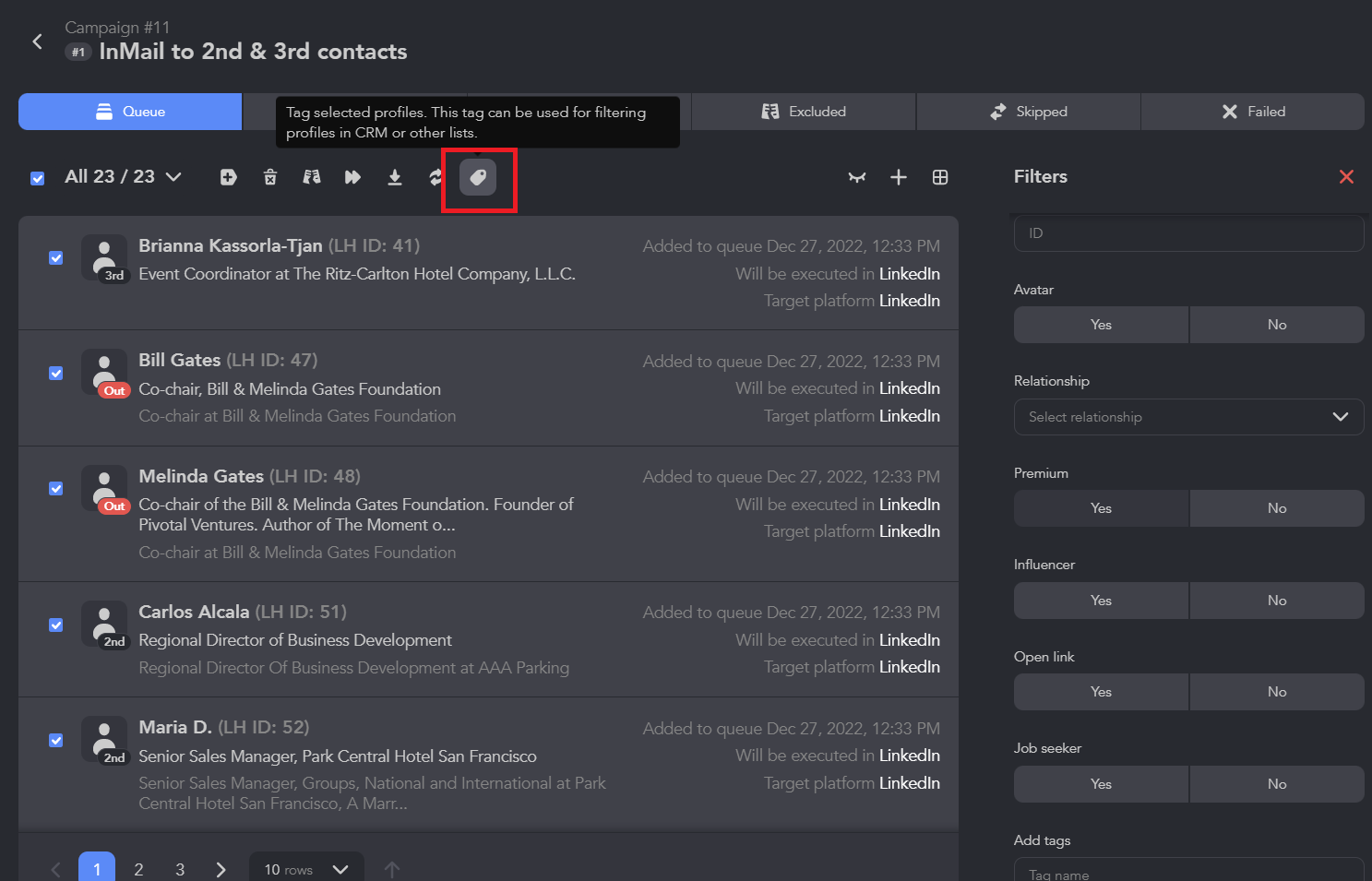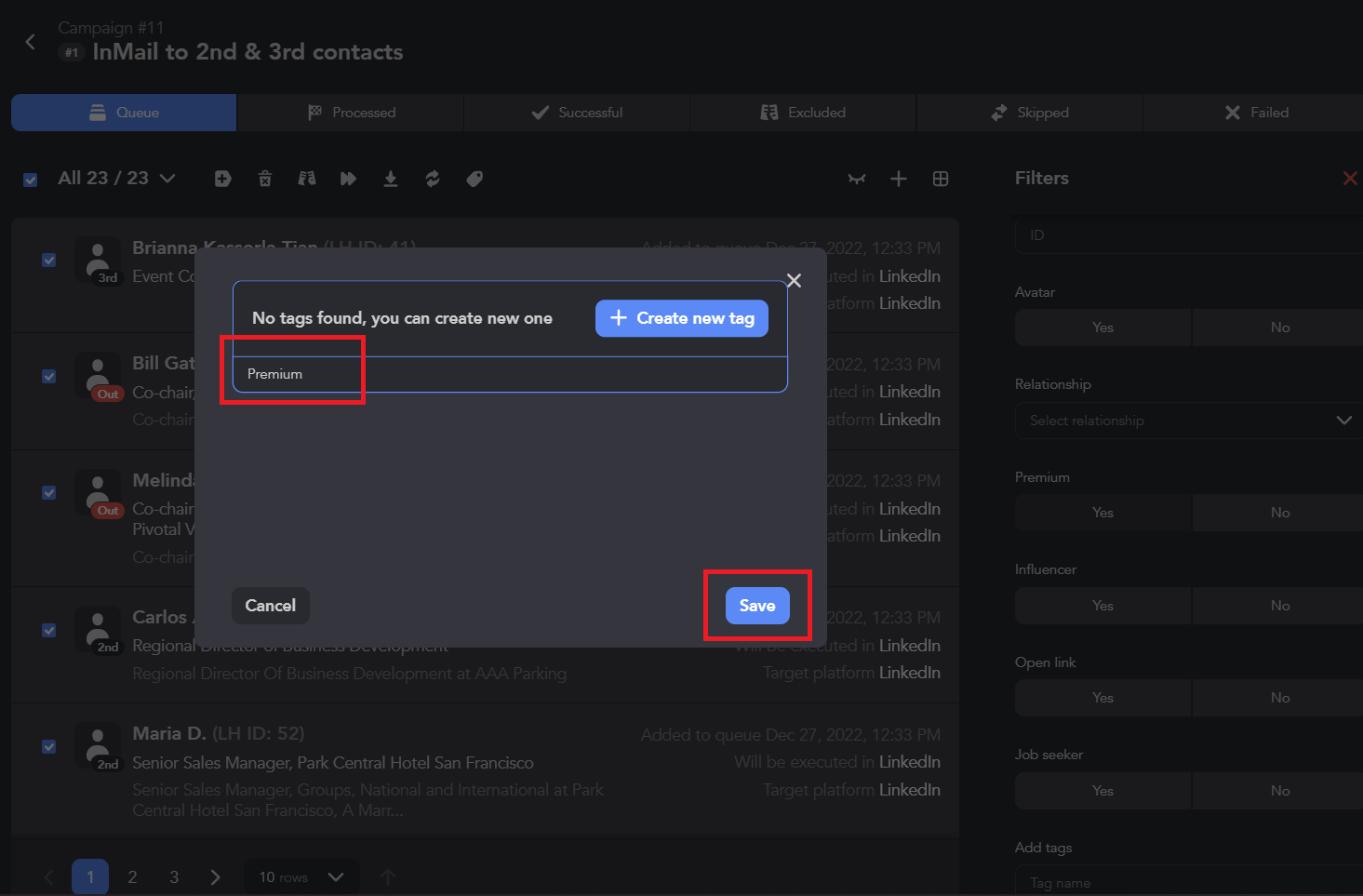 once tag is assigned, reset all filters: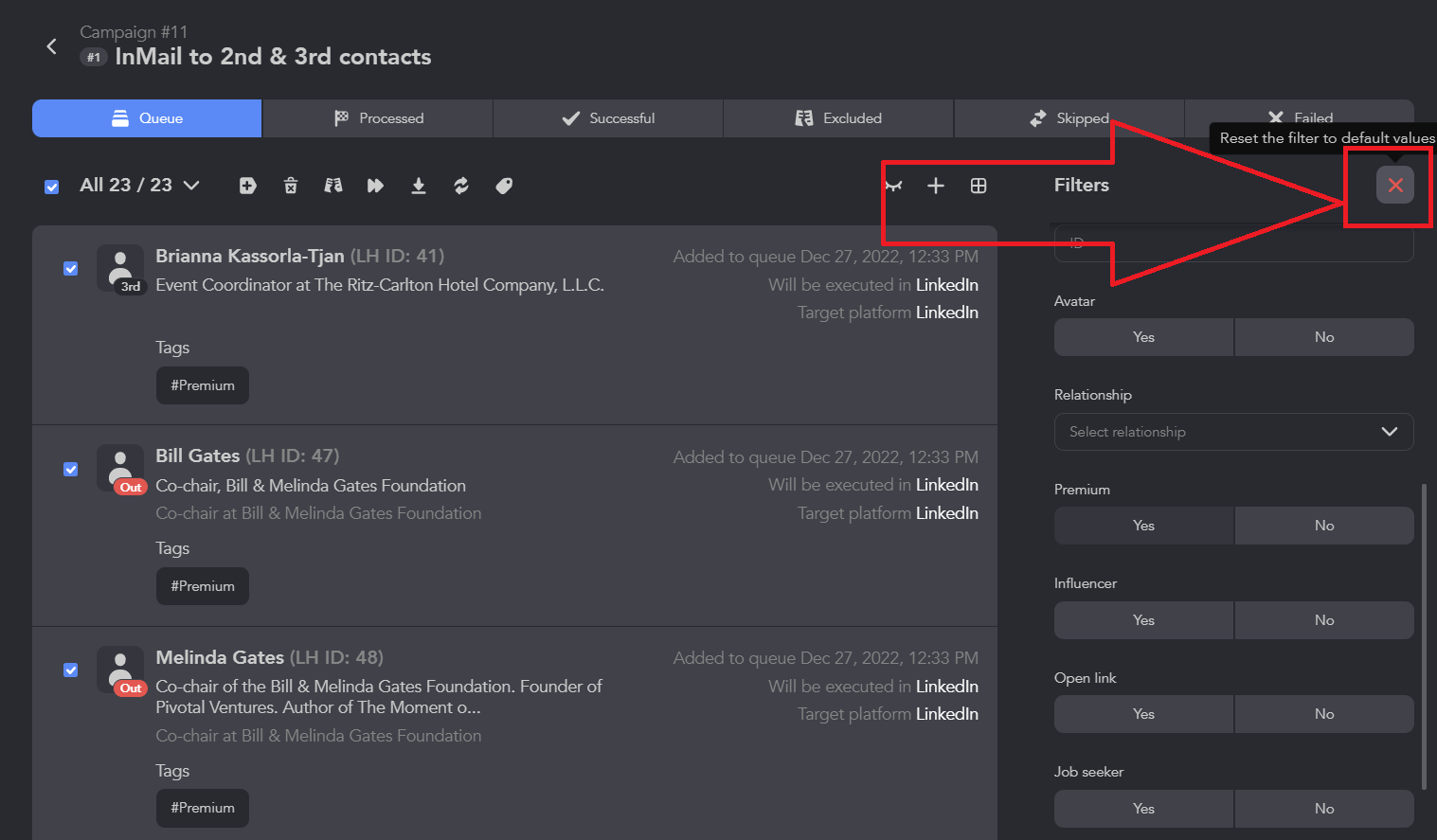 then filter profiles by the 'Remove tags' filter where 'Premium' tag is used for filtering to get only those who are not Premium profiles: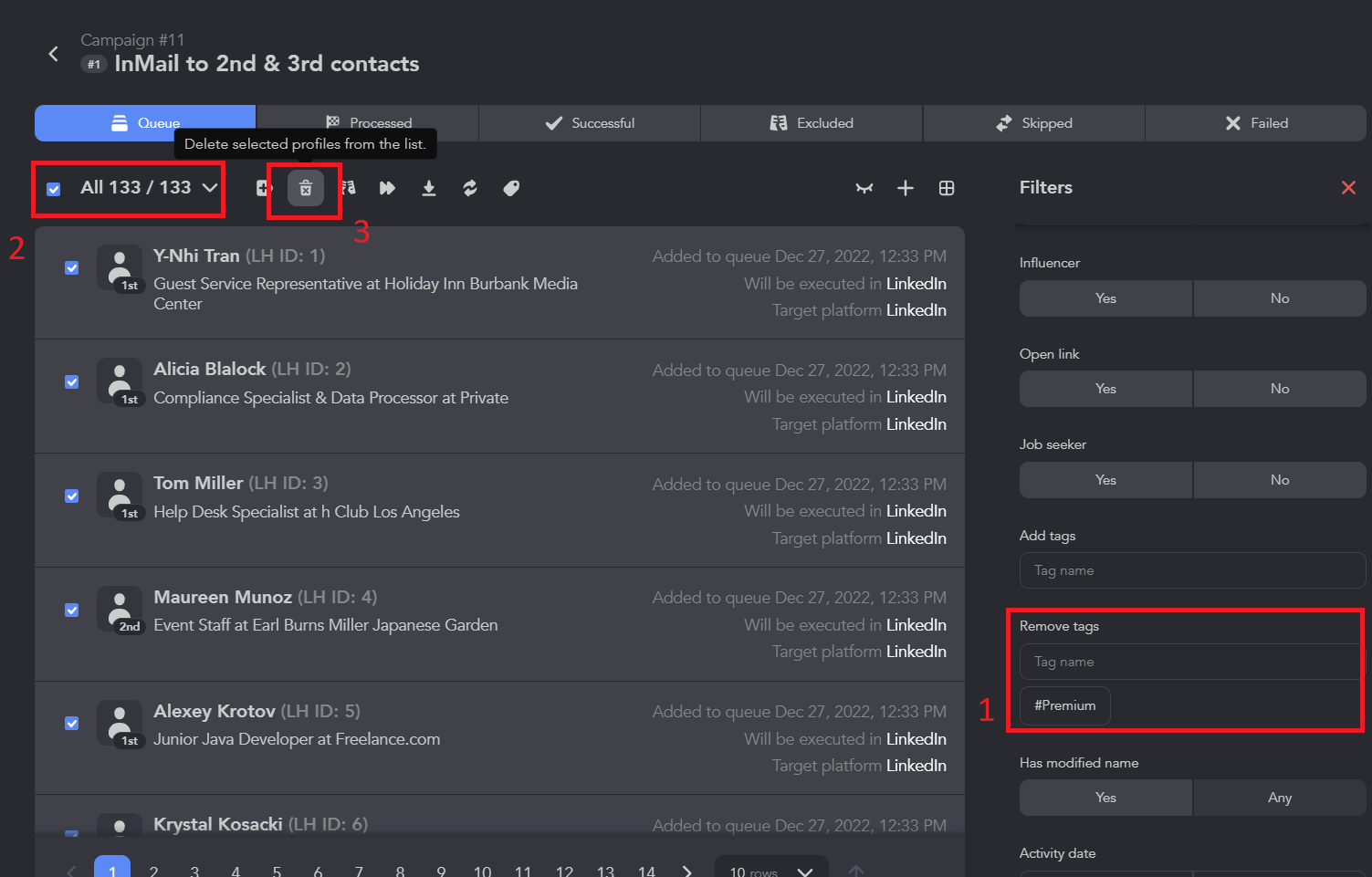 If profiles were collected from Sales Navigator search
To do that, you need to:
open the "Lists" section of your campaign or your action queue: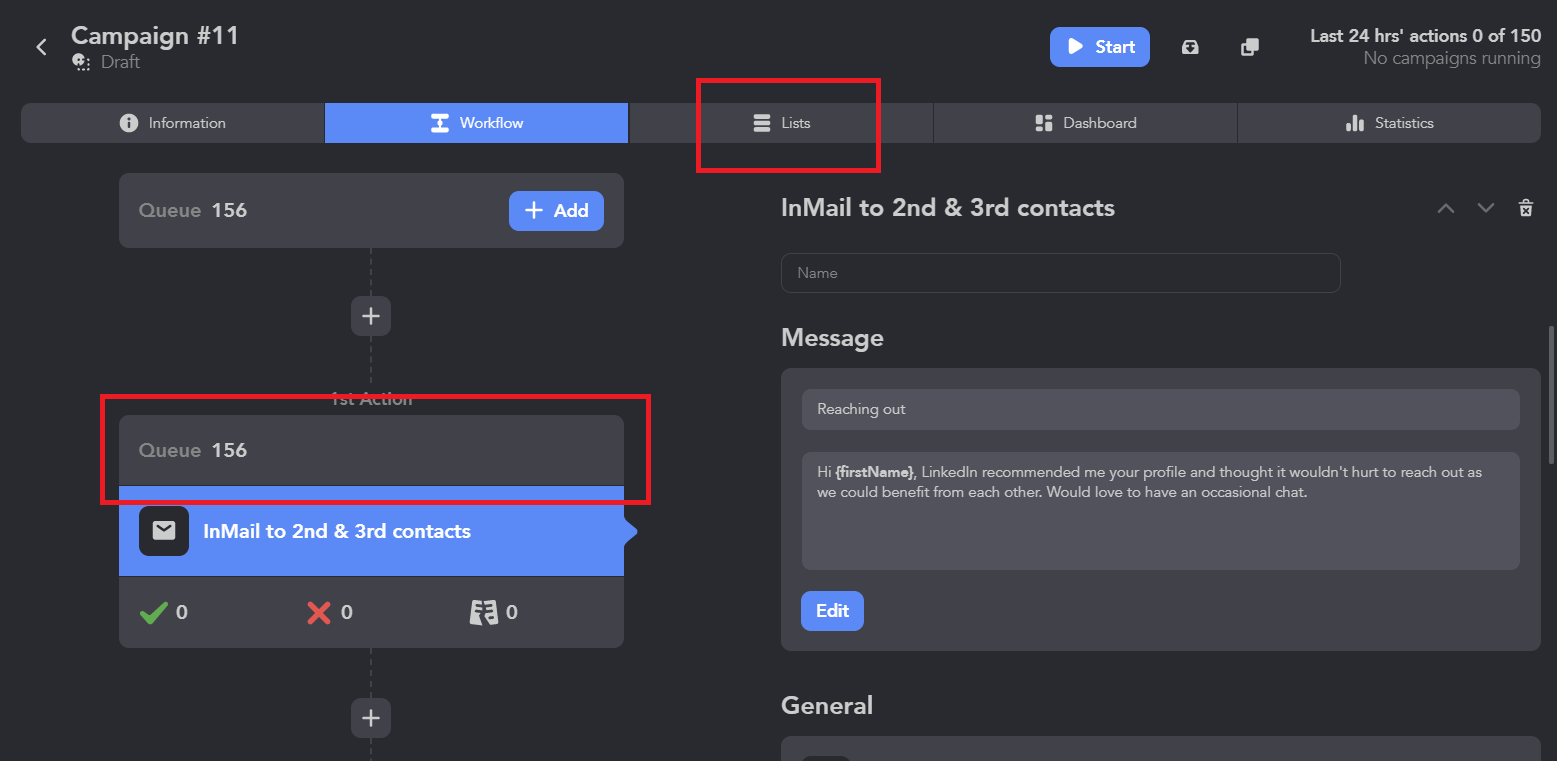 Set the "Open Link" filter to "No".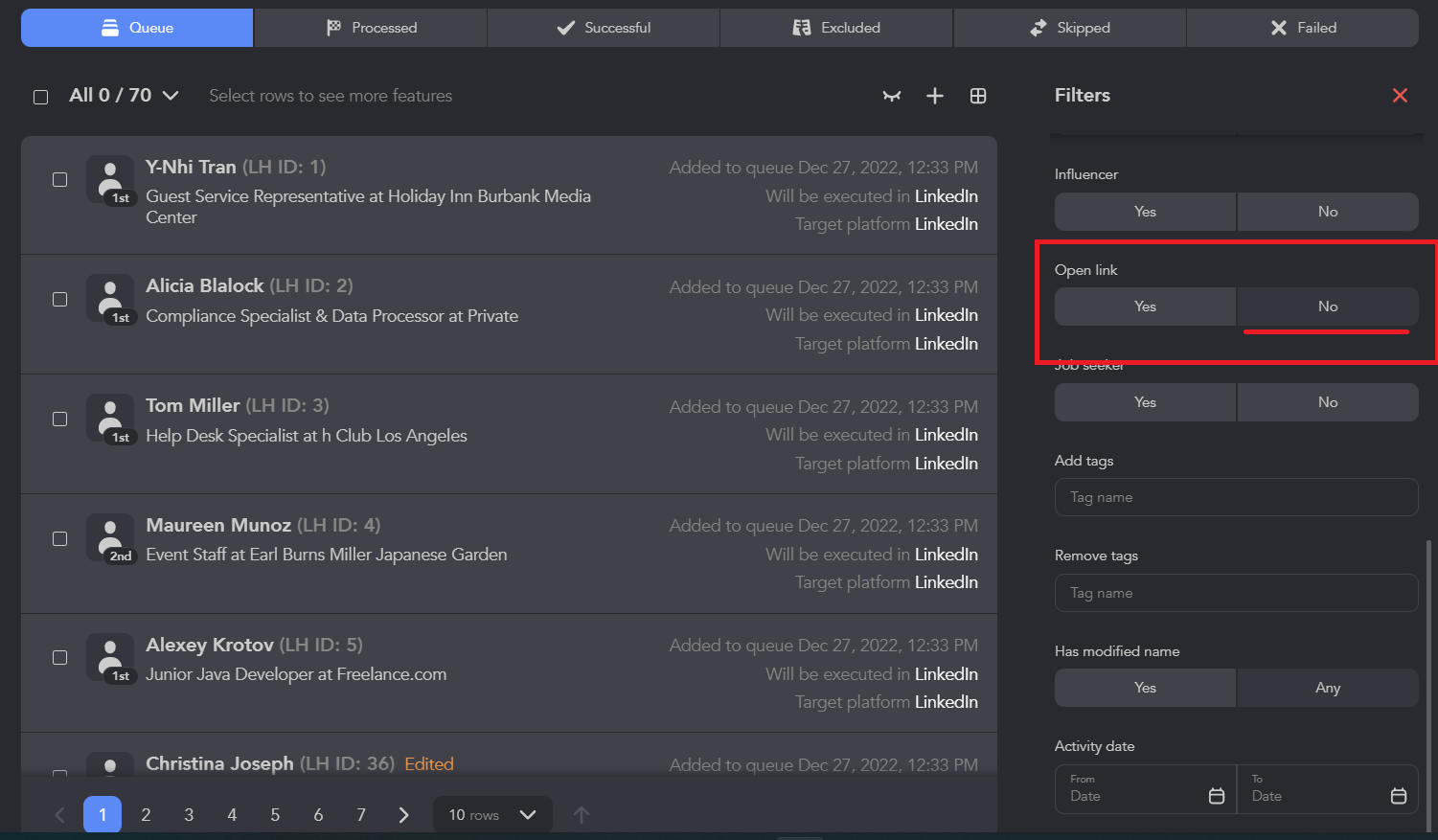 Linked Helper 2 will show you everyone, who doesn't have an "Open profile". Select all contacts and press "Delete".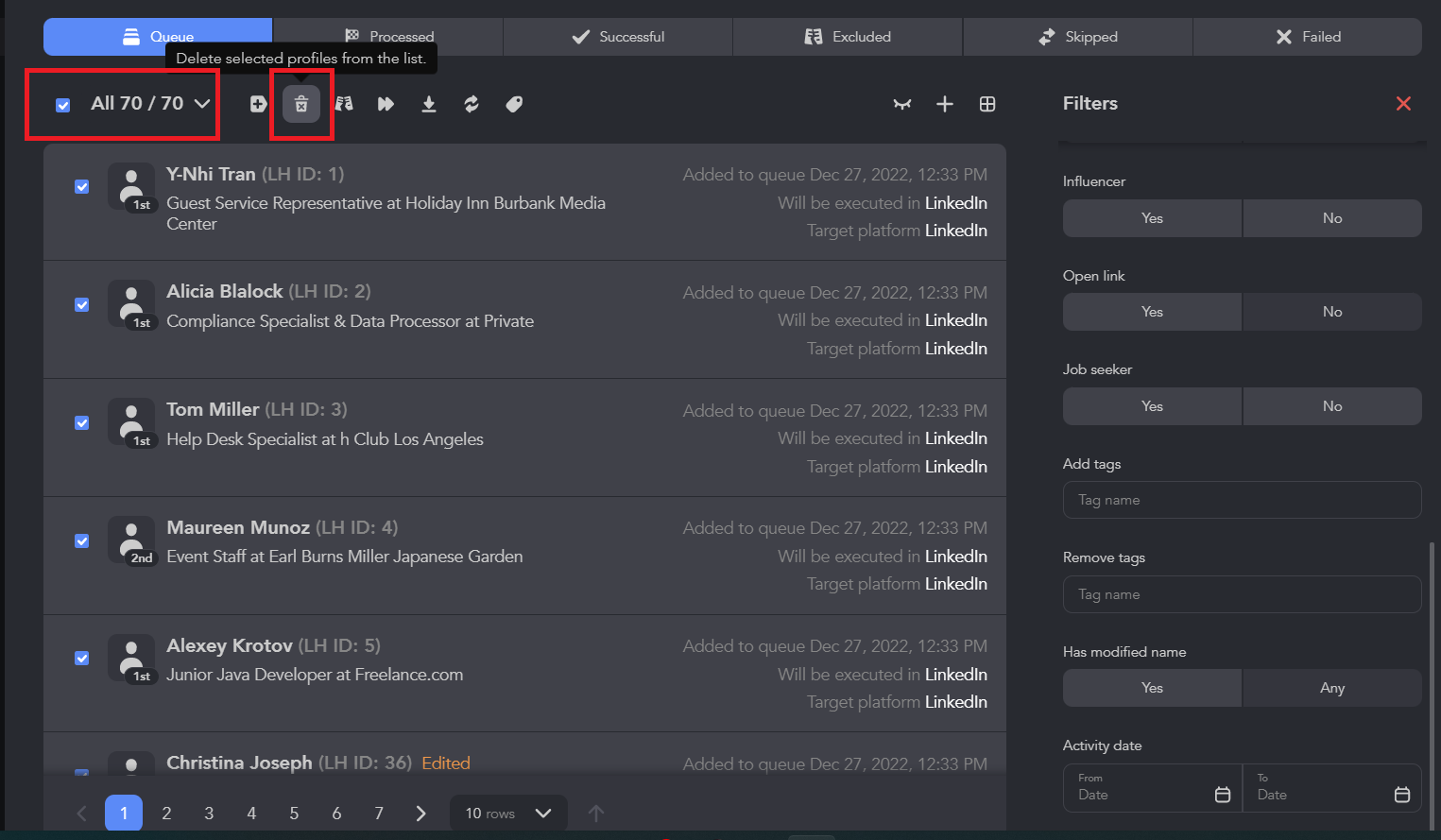 Remove the filter and after that, you will only have contacts who can receive free InMail messages.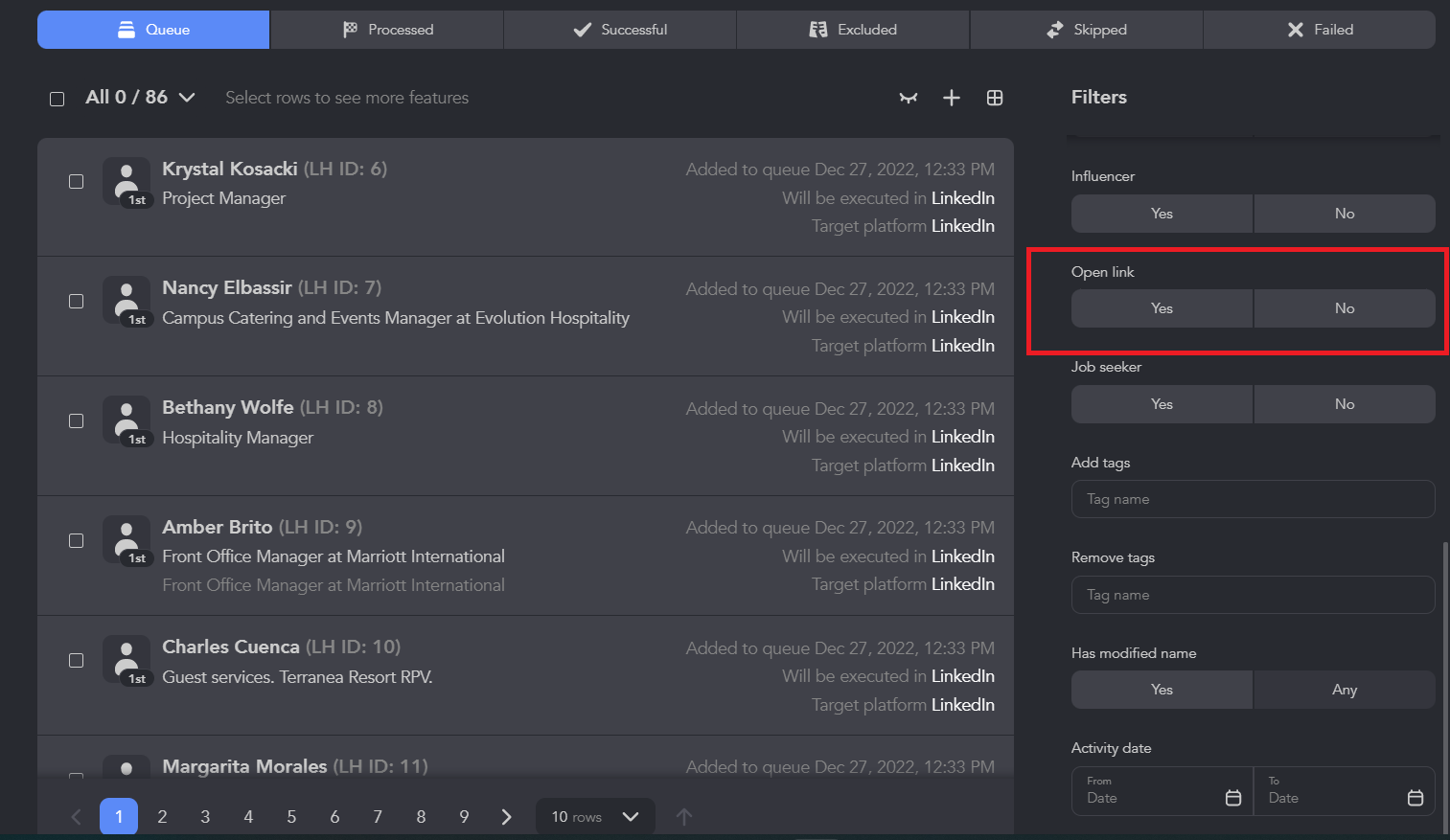 Thank you very much for your attention. We hope that these tips helped you! Here are some more useful articles from our blog:
___________________________________________________________________________________
You can try the software for free during 14 days - download it and activate a free trial.
Official website Our blog YouTube Facebook Instagram WhatsApp Email: info@linkedhelper.com