LinkedIn allows you to download a CSV file with information about your 1st-degree connections. However, the file does not contain the profile's email and phone numbers. But as long as such information is available on your LinkedIn 1st-degree connection profile page, it can be scraped and extracted by Linked Helper 2.
At the same time, LinkedIn doesn't show emails of your 2nd or 3rd-degree connections. Using Linked Helper, you can extract emails of your 2nd and 3rd-degree connections either with a help of LH Email Finder (check this article - How to get emails of your 2nd and 3rd connections in LinkedIn) or with a help of Snov.io integration. It allows you to get job emails of profiles that are not your 1st connections in 3 simple steps:
Note: snov.io cannot extract every profile's email since sometimes there is no enough information provided (for example, LinkedIn shows only the first letter of surname, not all of them) or profile asked snov.io to hide his emails from others.
This ability can be at hand for those who works in the marketing industry and uses email as one of the marketing channels.
Create and adjust your extracting campaign
Using the "Visit & Extract" action you can extract emails of your 1st connections. But if you add your Snov.io API credentials in the action, you can also extract emails of 2nd/3rd connections. Here is what you need to do:
1. Create a new campaign from a template with predefined actions.
Go to Campaign menu, open the list of campaign templates, choose "Visit & extract profiles" and click Create campaign...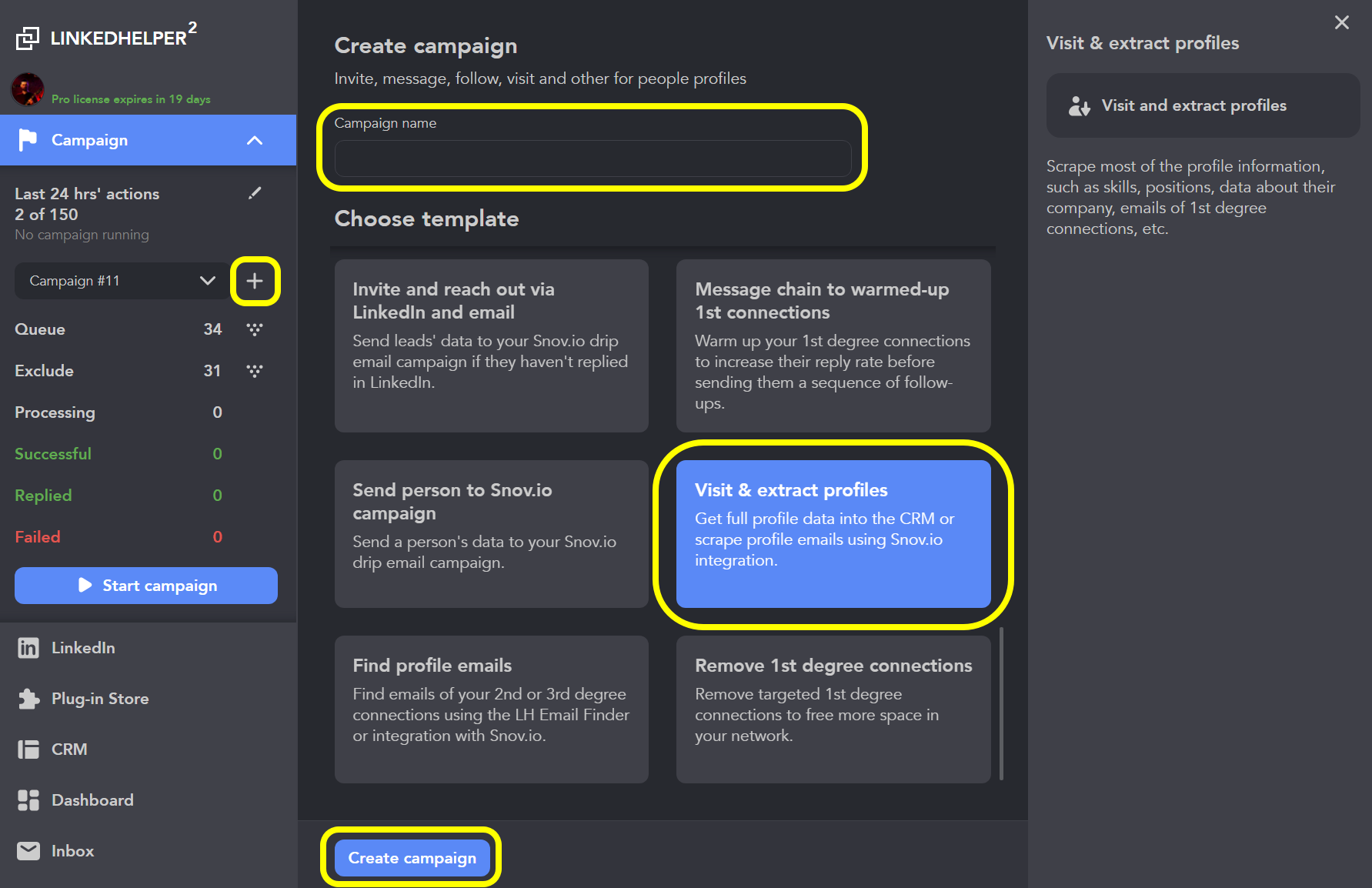 A campaign consisting of only one action will be created, but you can adjust the workflow by adding extra actions if needed.
2. Collect the profiles into your campaign.
Click "Collect" button near the campaign Queue.
Choose a source from where to collect profiles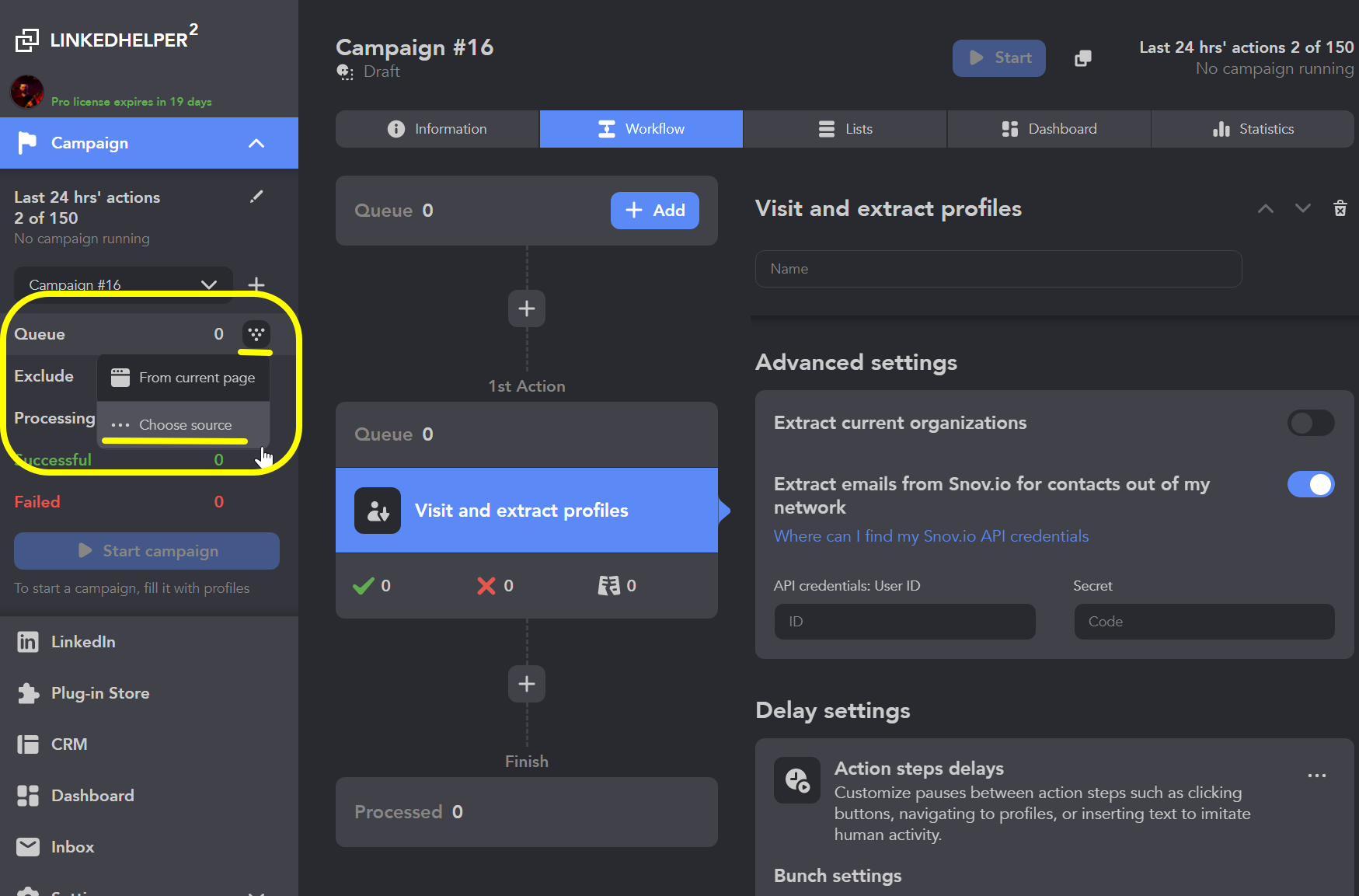 3. Enable the "Extract emails from Snov.io" option in advanced settings
Navigate to "Advanced settings" of the "Visit & Extract" action
Enable "Extract emails from Snov.io for contacts out of my network" option: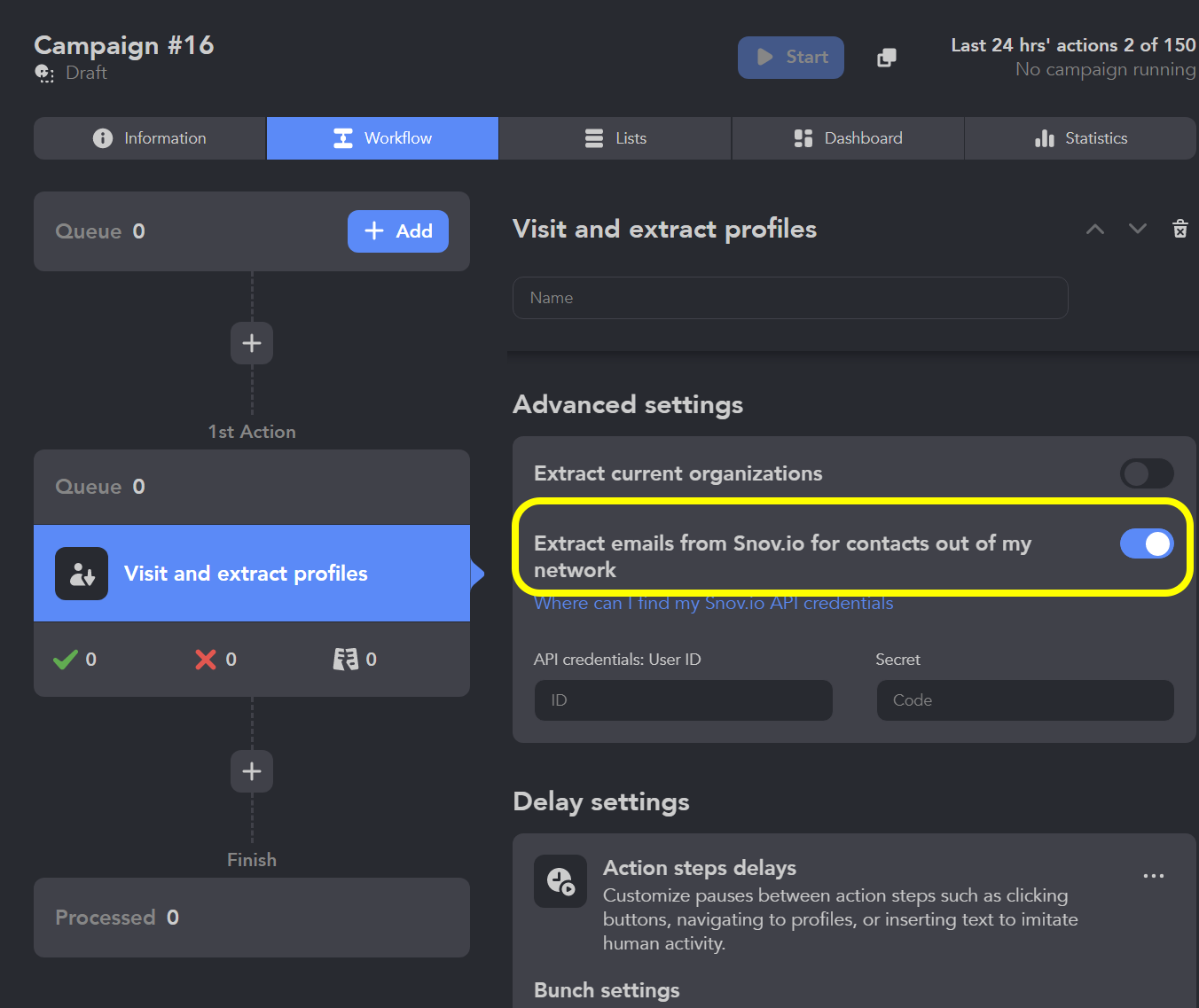 Now you need to add your Snov.io credentials as per the next chapter.
Get Snov.io API keys
If you already have Snov.io account and logged in, please click on "Where can I find my Snov.io credentials" to get redirected to your Snov.io API credentials: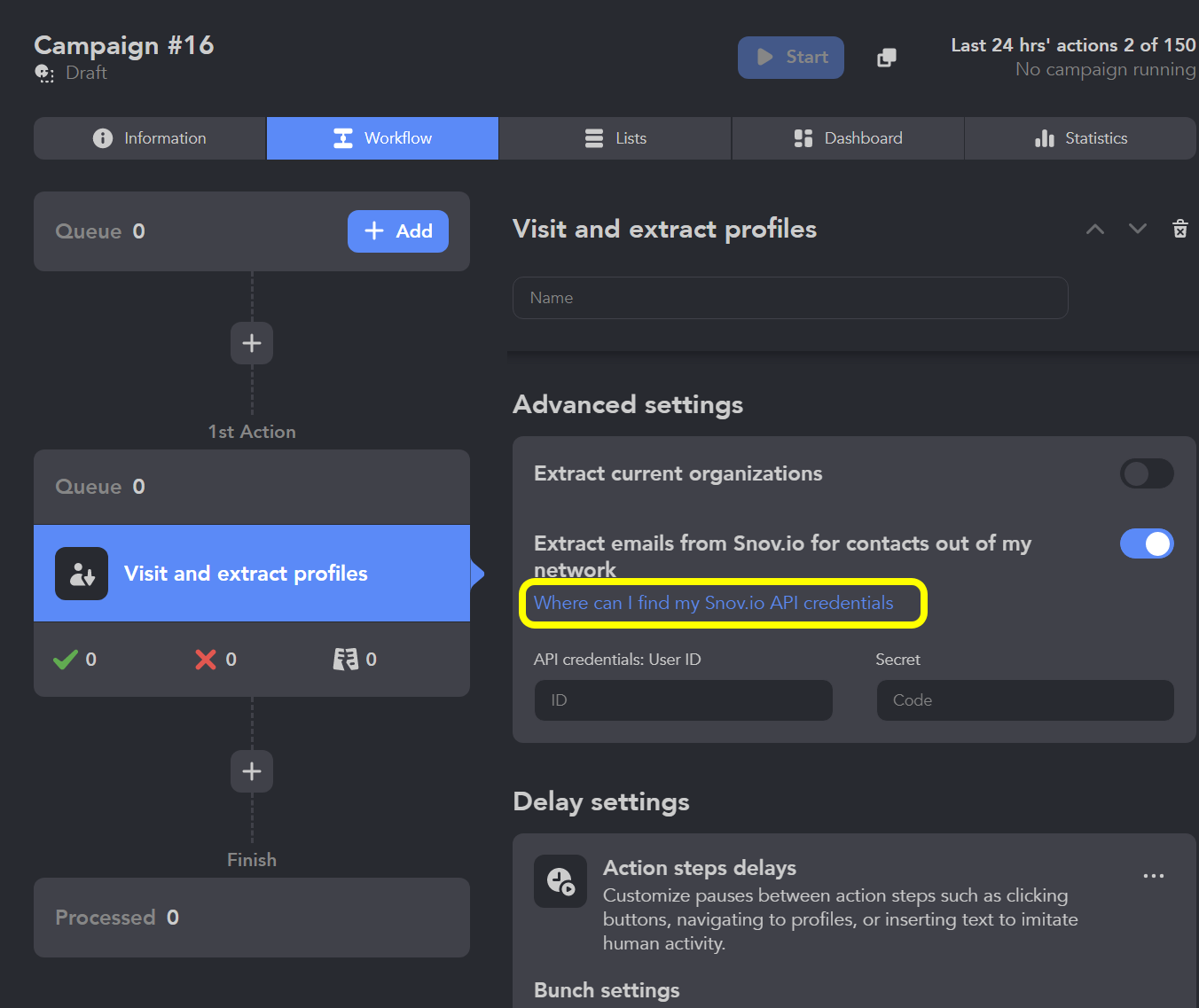 In case you are not logged in Snov.io or don't have an account yet, create an account or log in:

After that, please: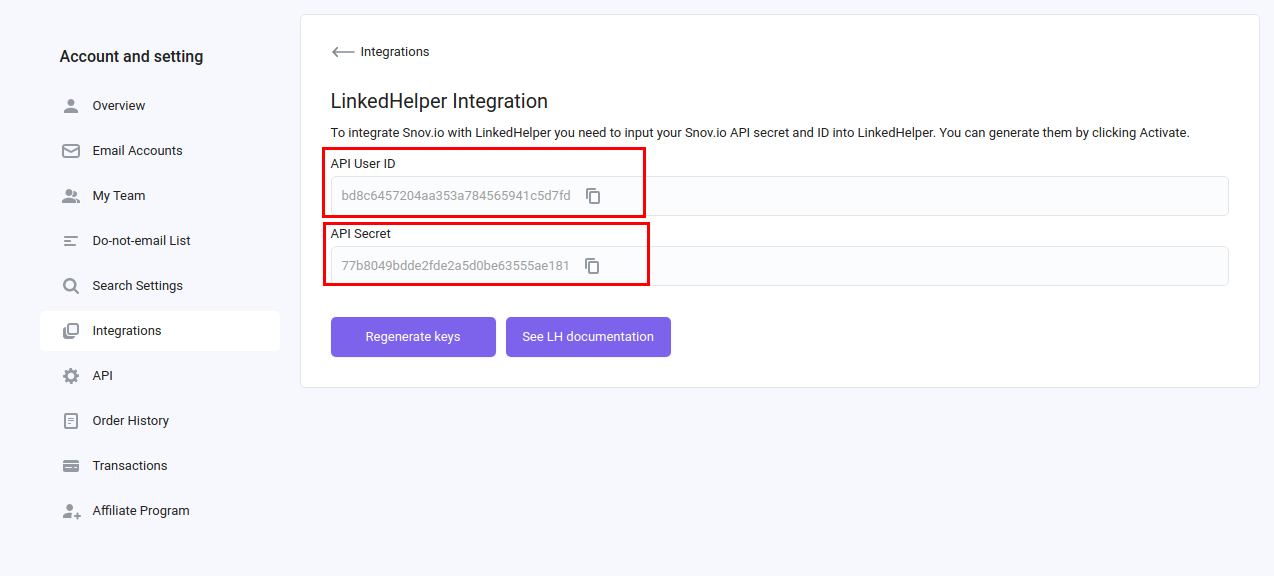 Copy and paste those credentials into Visit & Extract profiles action in Linked Helper. You can save emails in the Snov.io list as well: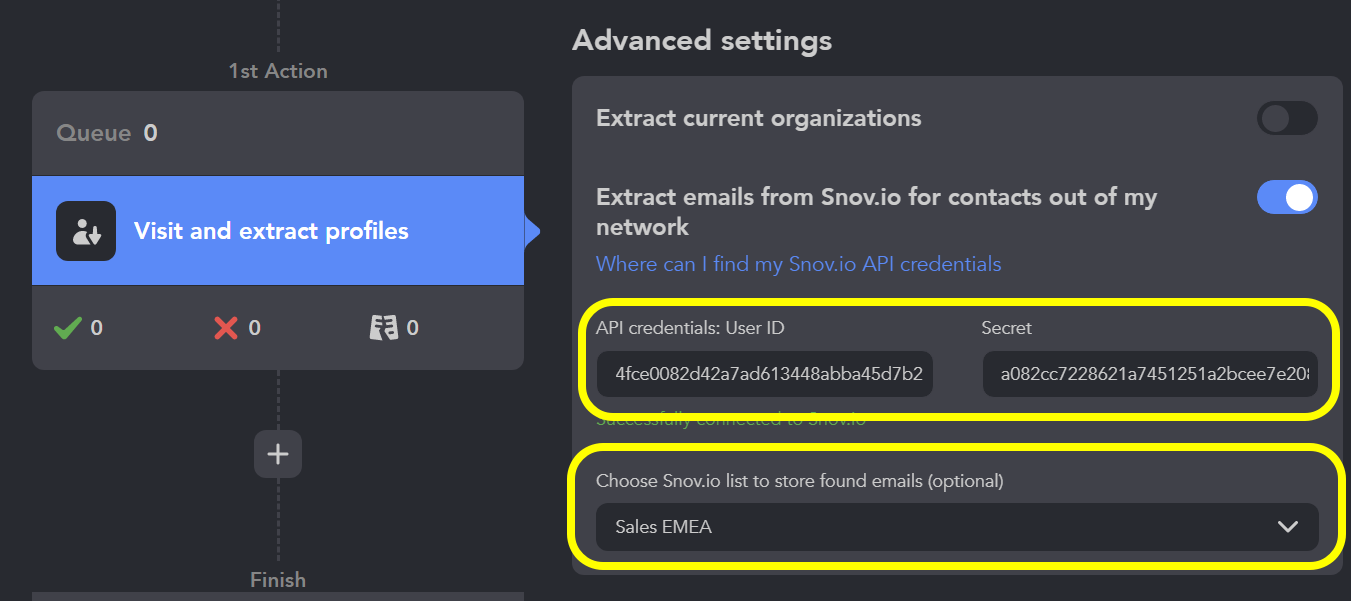 Run the campaign and download the profiles when extraction finishes
In order to start the campaign, click the Start campaign button in the left menu or click the Start button at the top: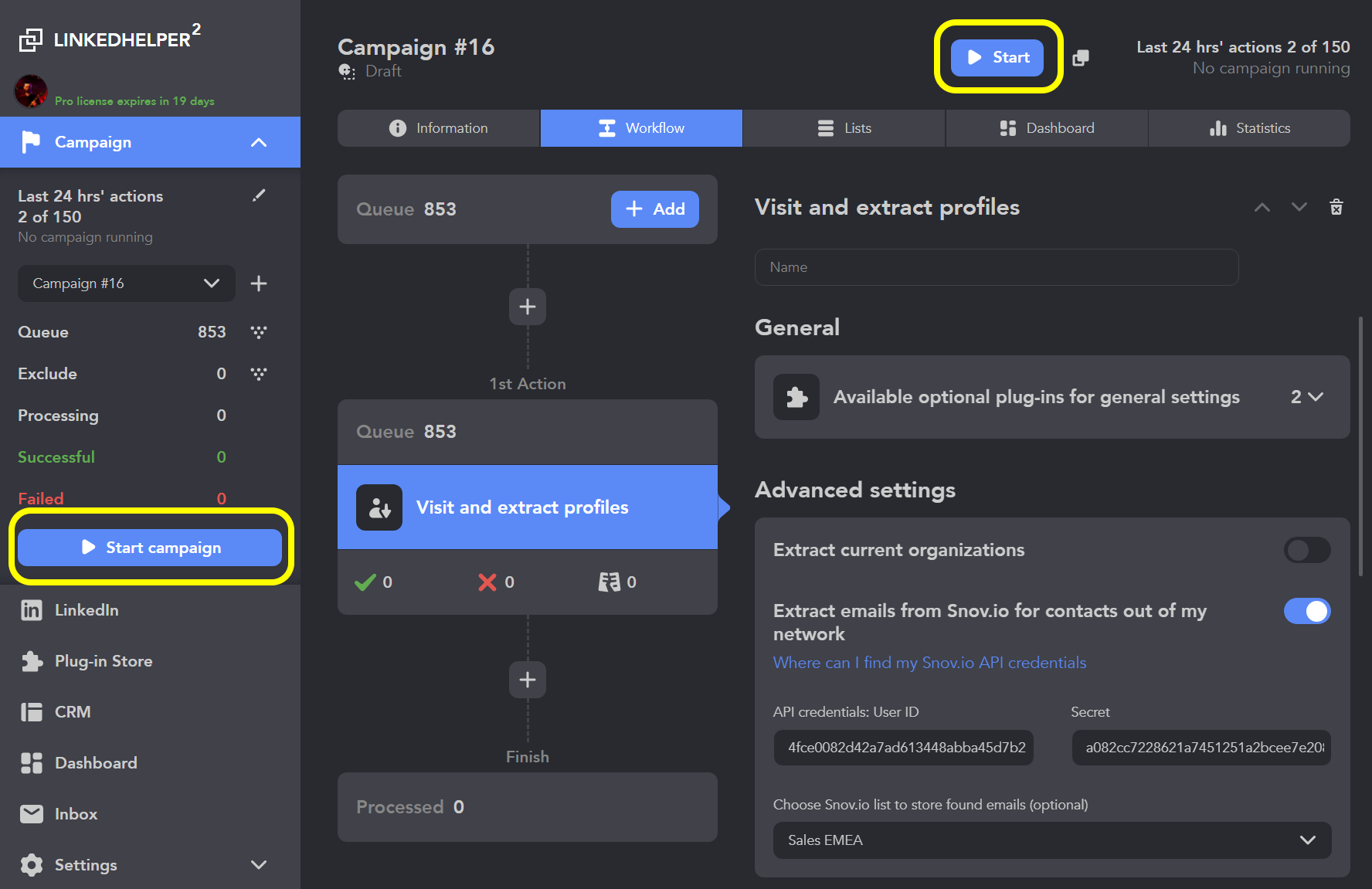 Once the campaign is started, you see that campaign status has changed and in the LinkedIn menu on the left Linked Helper shows you when the next step will be performed, as well as what that step is and what profile to be processed. The action that is currently being performed in the campaign will be marked with a green text above:

Profiles that were visited end up in the "Successful" sub-list of the campaign. To get a CSV with emails, please: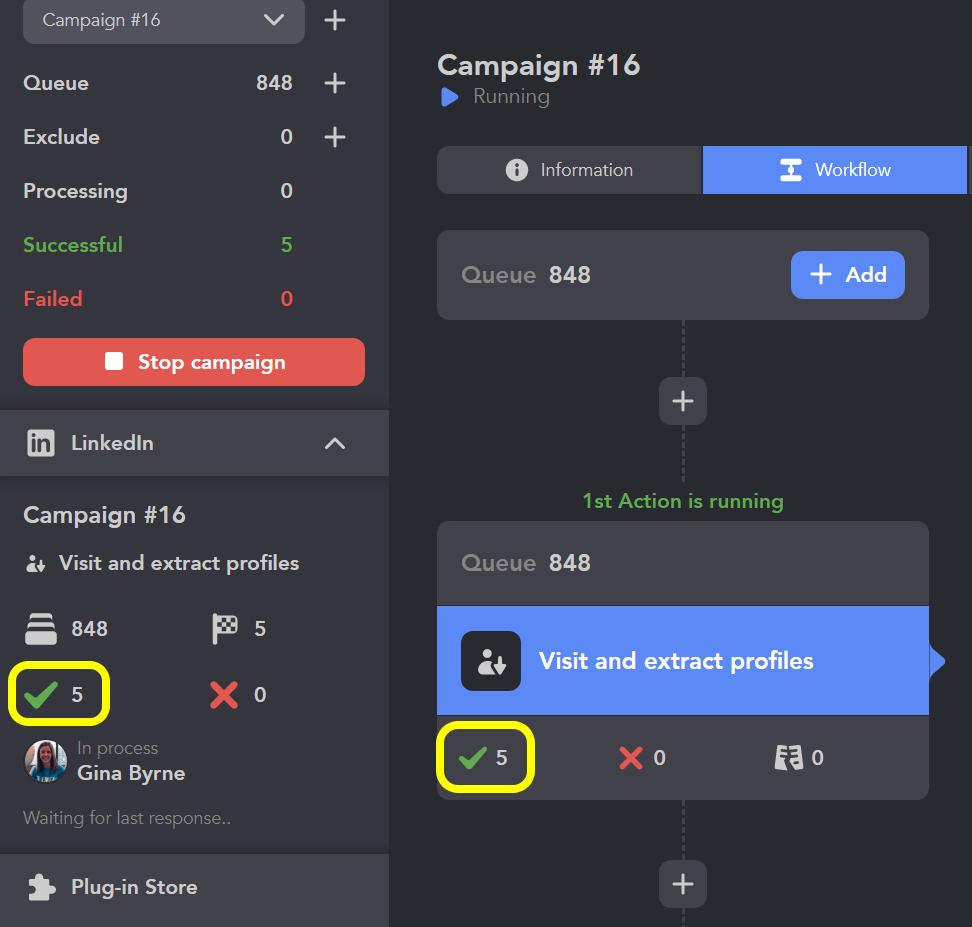 Click on the "Select All" button
Aand then "Download":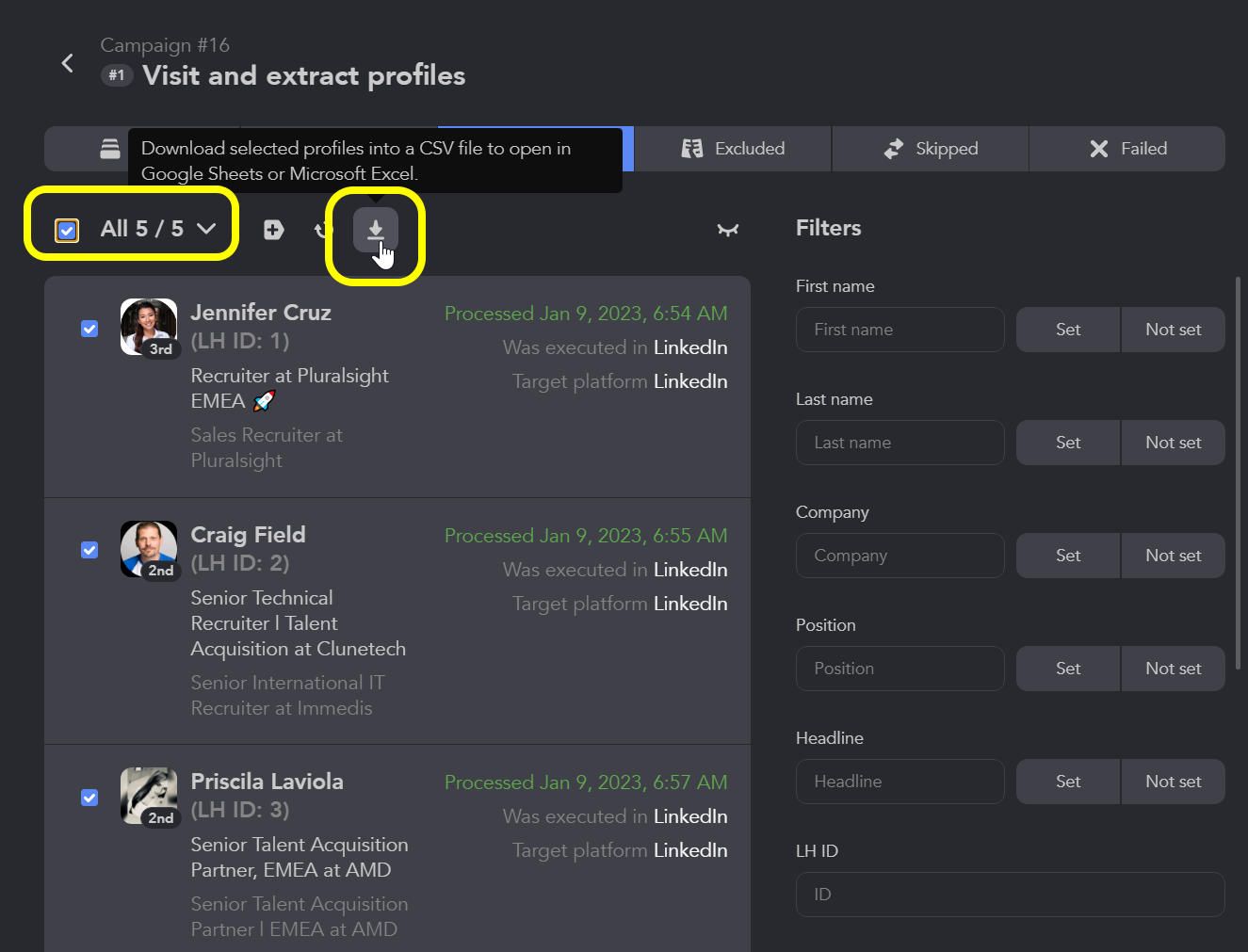 Select the delimiter (Google Sheets or MS Excel):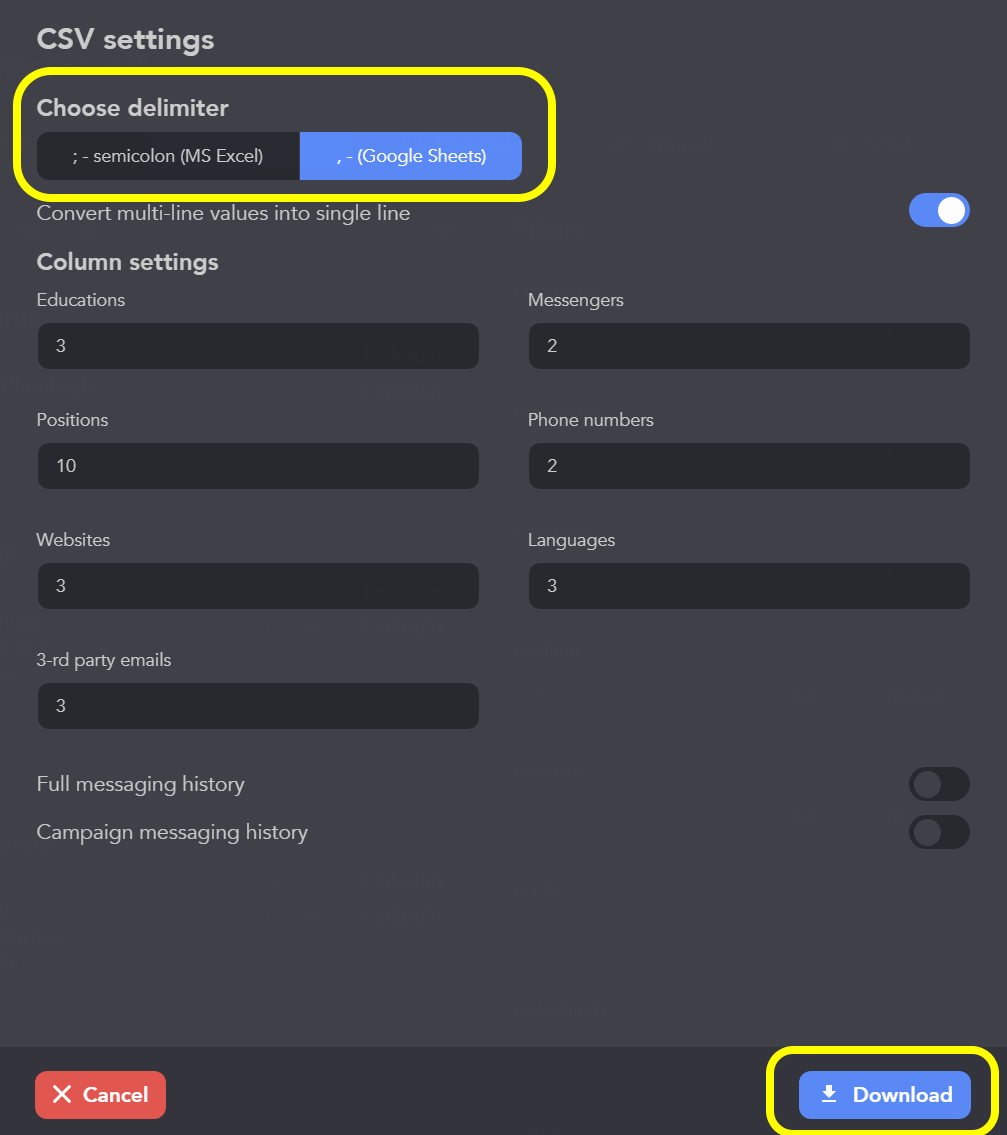 Unfortunately, MS Excel doesn't support CSV files in the same way as .xslx files. but you are still able to open any CSV with Excel: Please check how to import CSV in MS Excel
Emails your 2nd/3rd connections that were successfully extracted by Snov.io can be found in "third_party_email" column of your CSV file:

You can also find extracted emails in Linked Helper's CRM. If you navigate to the "Successful" list and click on any profile, you can find all extracted data in CRM profile's card: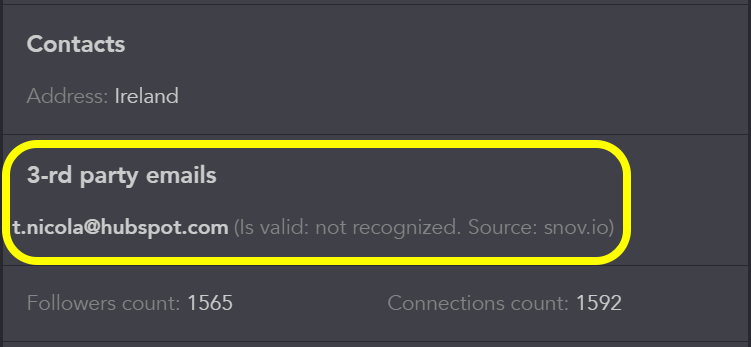 Here are some more useful articles from our blog:
You can try the software for free during 14 days - download it and activate a free trial.
Official website Our blog YouTube Facebook Instagram WhatsApp Email: info@linkedhelper.com