What is Uclic?
When talking about hyper-personalization, you cannot avoid the idea of sending personalized images or redirecting leads to your website via links with personalized previews or even to the personalized custom landing pages. Uclic is a service that allows you to create such images and links in a fast and efficient way, with no need for programming skills. This is really helpful feature for sellers to want to increase their acceptance and reply rates.

How much does it cost?
Nobody wants to pay for a new tool without trialing it first to get a better understanding of how helpful the tool can be and what ROI to expect, and sometimes 7 - 14 trial days is just not enough. The good thing about Uclic is that their trial period is not limited by time. Instead, you have a quota of 100 personalized links per account, so the trial will end when you are out of quota, not when you are out of time since there is no time limit and you can use old links even if you are out of quota.
As per the paid plans, the maths is simple: you pay $10 per month ($8 per month if billed yearly) and get 2000 links with extra features like Zapier integration, unlimited templated, etc. The more you pay the more links you get, so basically, you can choose the plan depending on the number of links you use.
What can you use Uclic for?
Naturally, for hyper-personalization. As it was already mentioned above, simple personalization may not be as effective as we wish it to be and you need to be inventive to get your leads attention.

There are two ways of doing that:
1. Via native integration. Recently, we released a built-in integration with Uclic, so now it is possible to send personalized images natively via LinkedIn attachment like a real human, so there is no need in sending links (only image will be sent). Check this article for more info: How to attach images to LinkedIn messages?

2. Via adding a link to the message body. Unlike the first way, it is not possible to send an image as an attachment here, but you can send a link to your website with a personalized custom preview.
Let us review the latter case below:

Register on their website.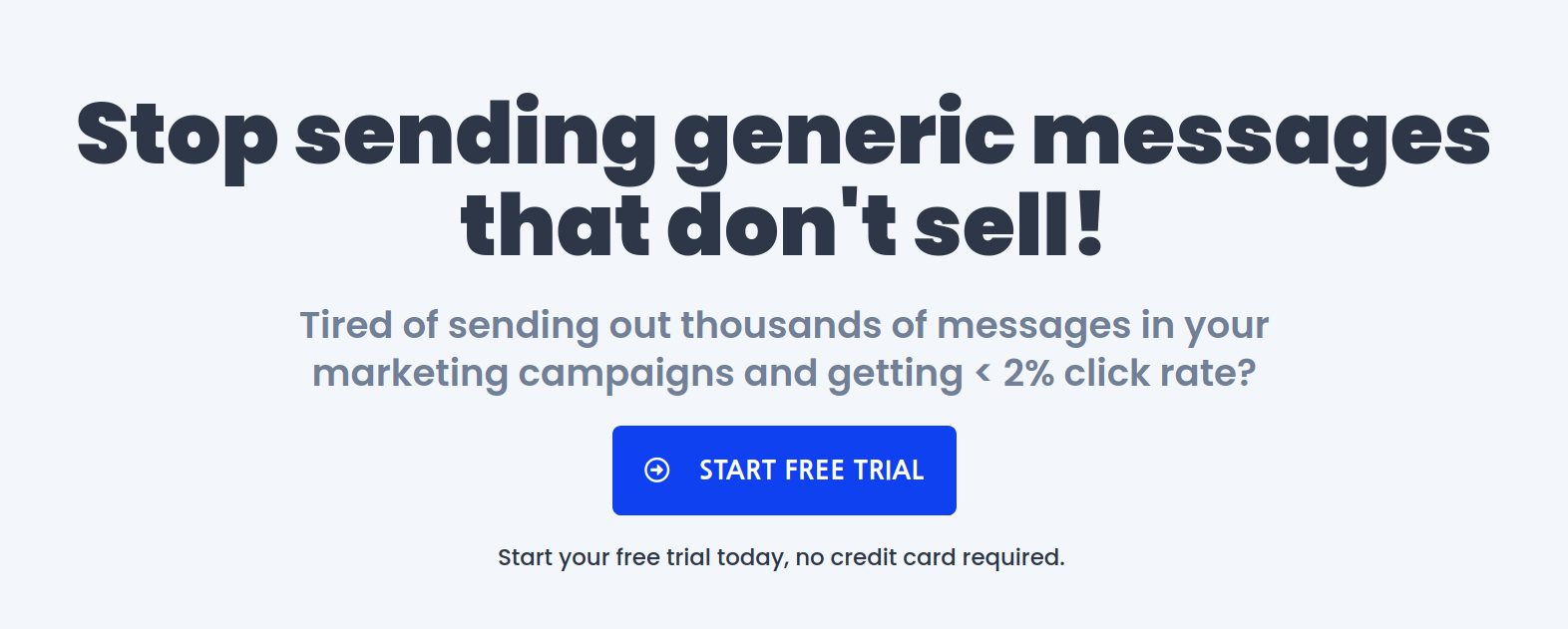 Create an account (as with Linked Helper 2, no credit card required for a trial period, which is a big plus):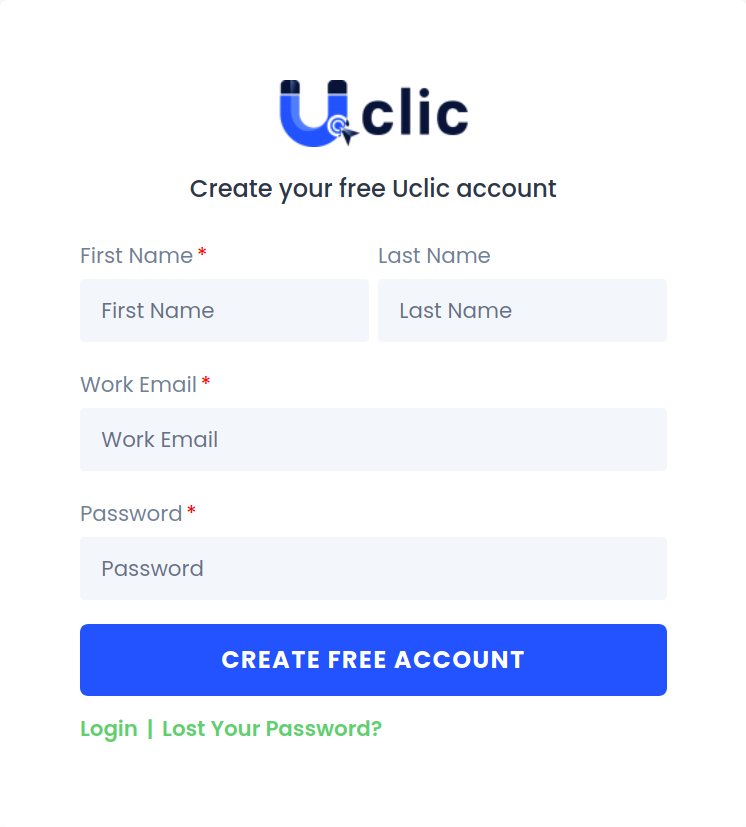 That's it!
Create a campaign.
Go to the Campaigns menu and create a new campaign:

Navigate to the Template Gallery menu and choose any template. You can create a new one from scratch, but for leaning purposes, it's better to use a predefined one:
Adjust the template
Set the landing page where a lead will be redirected to upon click (note that the landing page itself will not be personalized unless set up properly from your side, you can find more info in the Integration section of Uclic account):

Set the title lead should see in site preview of LinkedIn. You can replace the image as well: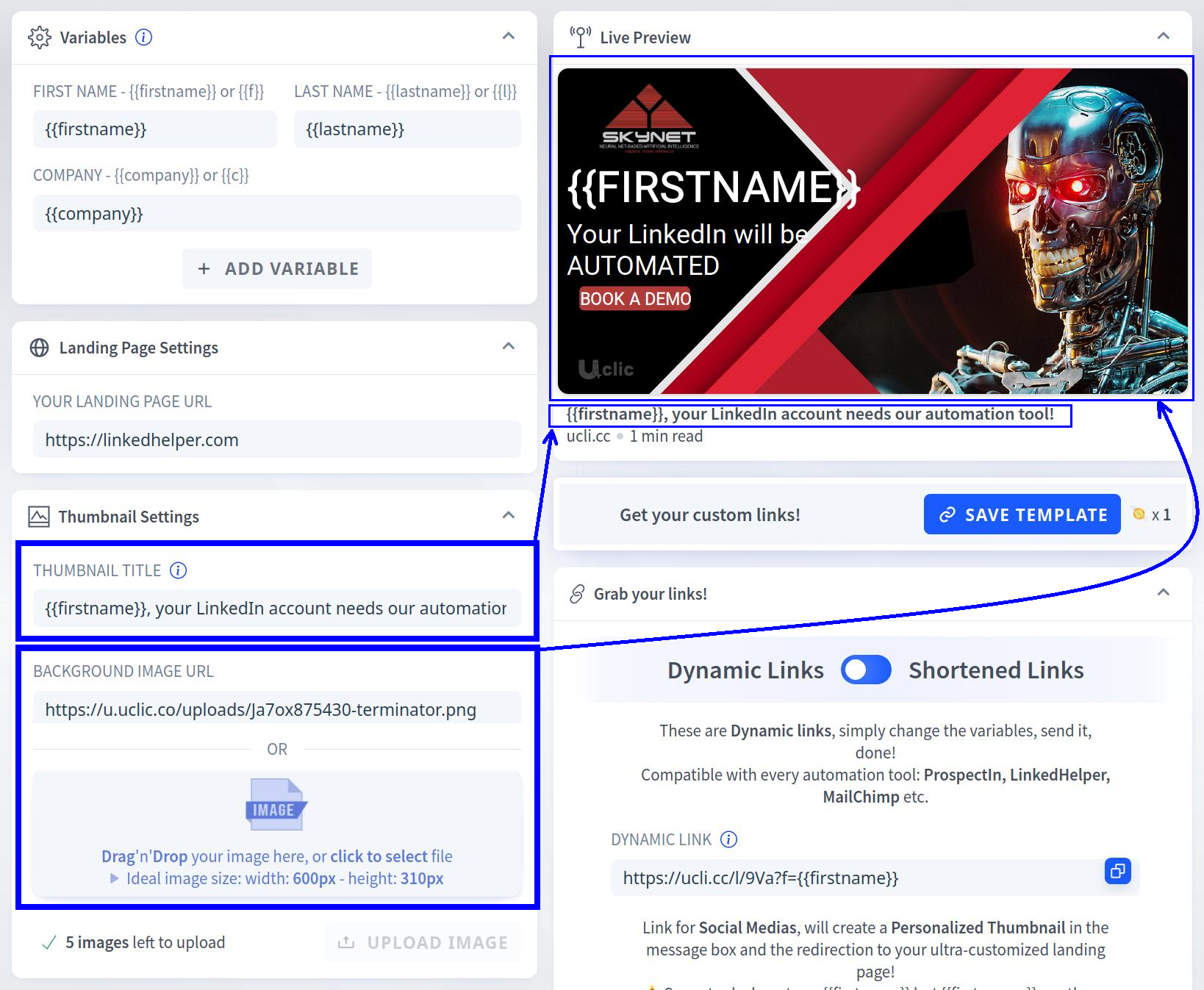 You can change the text in the picture as well. The code in the Content field may seem to be difficult to understand (the code actually is written in markup and style languages, not in a programming one, so technically I was right when saying two paragraphs above that there is no need for programming skills), but you can simply alter the text and that's it. You can use HTML and CSS here, for example:
Code example
What you see

line <br> break


line

break


<strong>Bold text</strong>

Bold text

<h1>Title 1</h1>

Title 1

<h2>Title 2 (smaller)</h2>

Title 2 (smaller)

<h2>Title 3 (smaller)</h2>

Title 3 (smaller)

Add the link to Linked Helper 2
Once the template is adjusted, copy either the dynamic link that will be redirecting leads to your website you mentioned in the Landing page settings or the dynamic image link that will only show the image you see in the Live preview: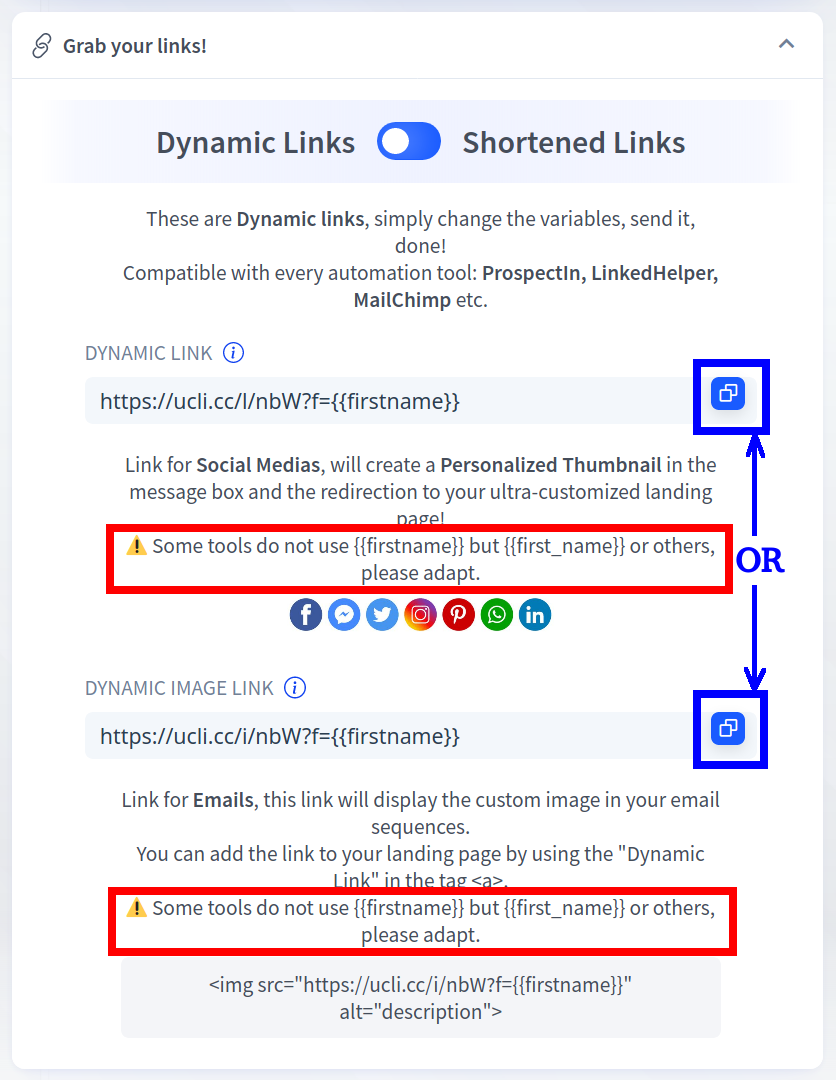 Once the needed link is copied, paste it to the Linked Helper message template:

Important: Please, note that the Uclic uses a variable with two pairs of curved brackets, while the Linked Helper variable has only one pair of curved brackets, so you need to adjust the variable according to the way Linked Helper uses it, i.e. deleting extra curved brackets.
When the warning disappears, then it means you are good to go, but it's always better to preview the message: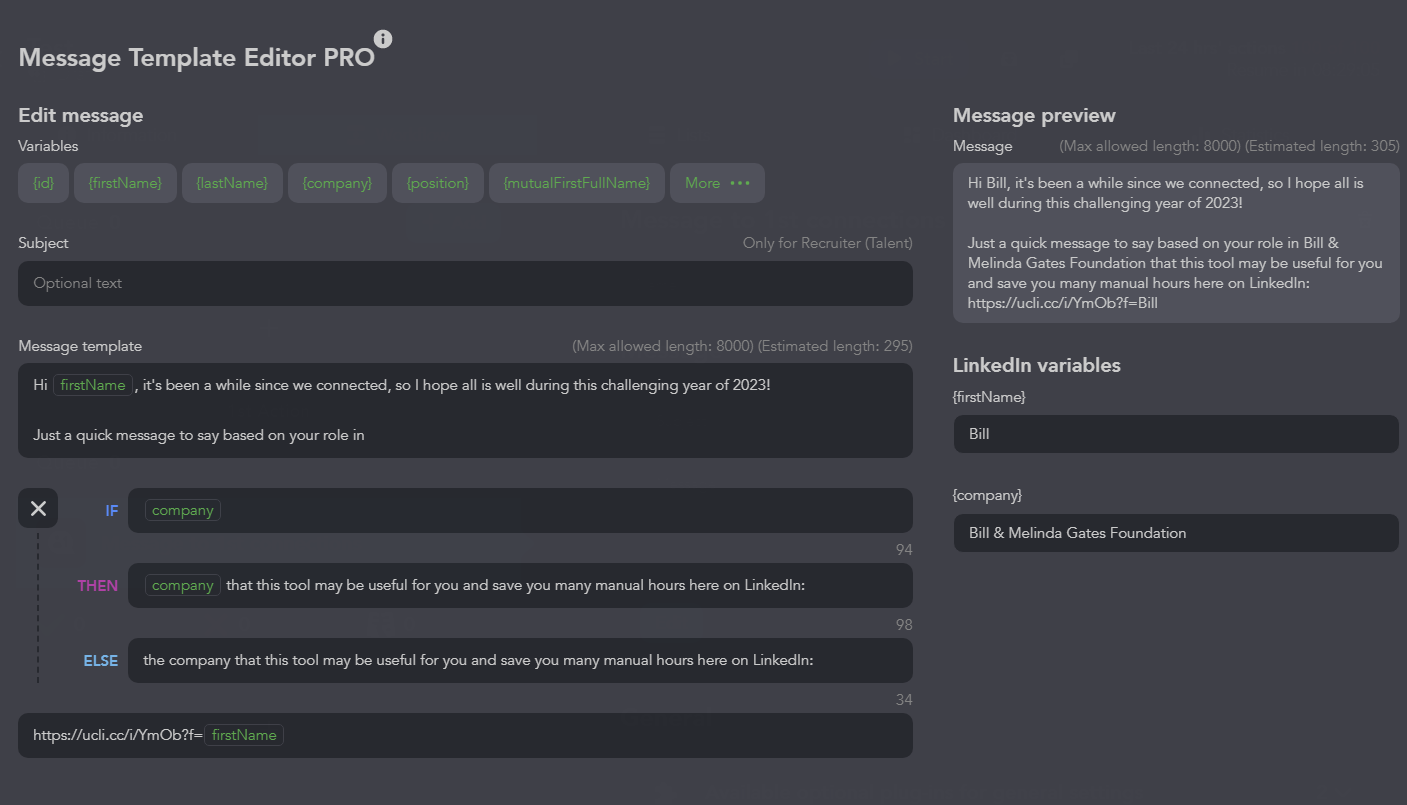 Once everything is set up, run the campaign and check the results: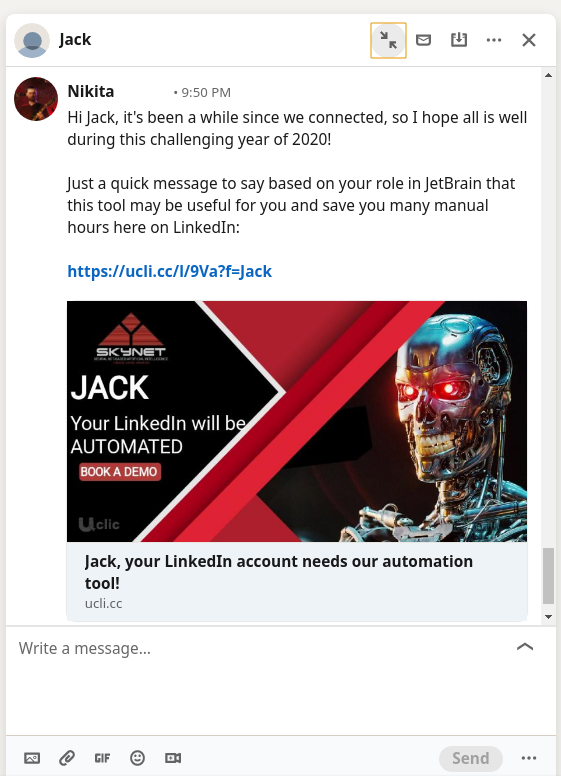 Other important Uclic features
The link in the example above will lead to our website, yet it won't be personalized. However, with Uclic it is possible to create a personalized landing page where your leads will be redirected to: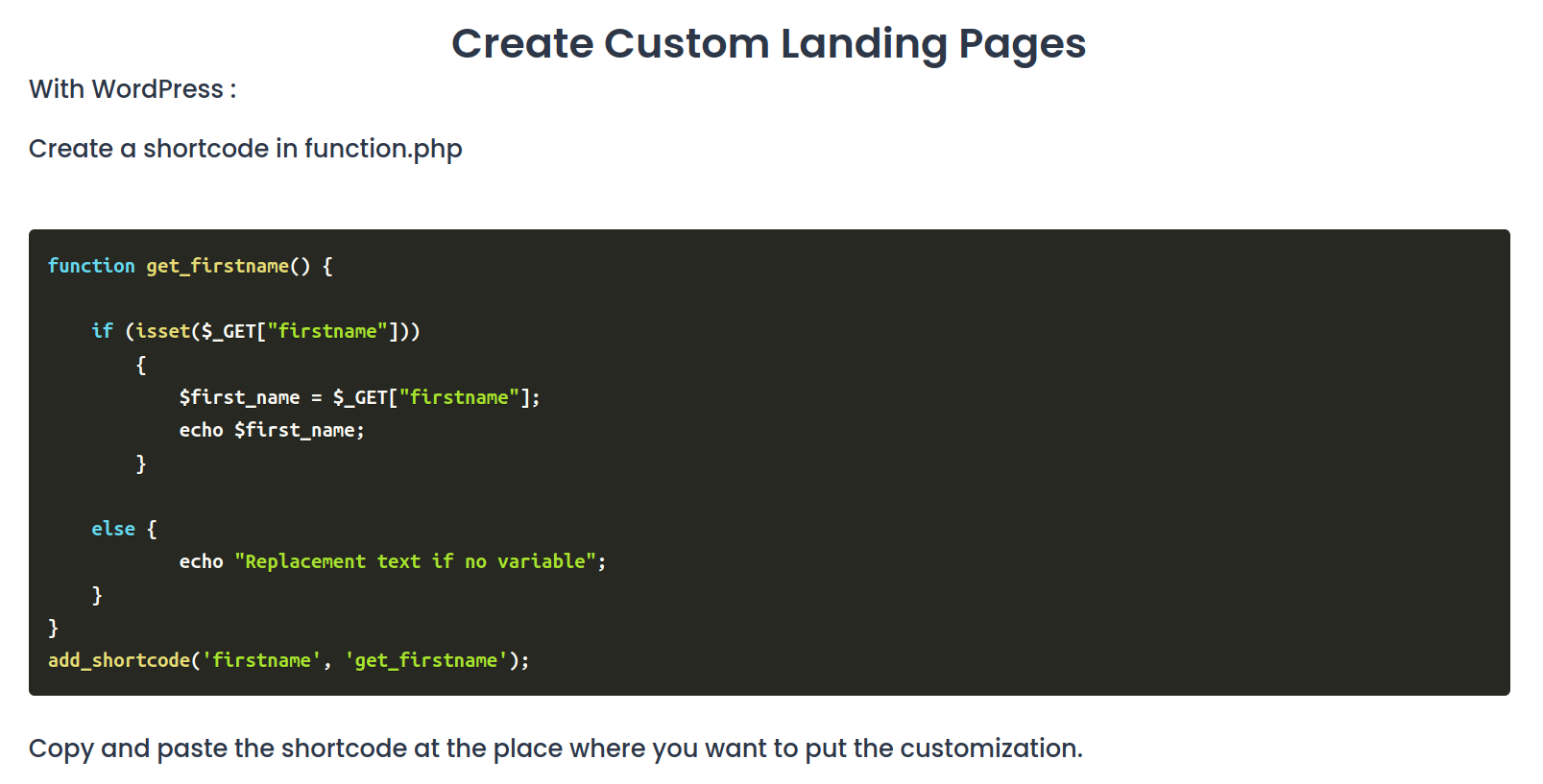 You can find full instruction about integration, as well as some other helpful info via this link after registering on their web site.
Apart from that, you can easily integrate Uclic with other tools via Zapier, or if you do not want to use Zapier, you can integrate Uclic directly with Google Sheets or Intergomat.
Conclusion
It might seem that you already implement any possible enhancement in your messaging campaign (warming leads up by endorsing their skills, making complex messaged with IF THEN ELSE clauses) yet there is always some new idea out there that you never think of or never imagined it is already implemented into a service which is being already used by others.
Improving your ROIs with hyper-personalized images and website previews / landing pages could be one of those things you need to consider using in your outreach campaigns as this can help your messages to stand out from the mass of typical ones sent out in LinkedIn.
Uclic can be exactly the service your outreach campaigns need to move to the next level. Unlimited in terms of time trial limit is what you need to fully understand the potential of such a service.
Thank you very much for your attention. We hope that these tips helped you! Here are some more useful articles from our blog:
You can try the software for free during 14 days - download it and activate a free trial.
Official website Our blog YouTube Facebook Instagram WhatsApp Email: info@linkedhelper.com