Software requirements
Linked Helper 2 is a standalone program that works as a smart browser. It can work on:
1. Windows 10 or higher (64-bit only, ARM-based processors are not supported).
2. Windows 7 is still supported but it will be discontinued soon (Q1 2024)
Windows 7, Windows 2008: must have these updates:

The latest KB4457144, with additional fixes including KB2533623, can be downloaded from Microsoft.
September 11, 2018—KB4457144 (Monthly Rollup) can be downloaded from here
.NET framework version must be 4.5 - 4.7.2 - Microsoft Help - check your .NET version number

For Windows OS higher than Windows 7 and Windows 2008 - Windows 10, Windows 2010, Windows 2016: just make sure that all latest updates are installed
3. Windows Server 2016 or higher (64-bit only, ARM-based processors are not supported).
4. macOS: macOS 10.13.3 High Sierra or higher (64-bit only, both Intel and ARM M1/M2 chips are supported. Make sure to install the correct version of the tool according to your CPU - How do I check my mac chipset?).
5. Ubuntu: Ubuntu Gnome (64-bit only, ARM-based processors are not supported), 12.04 or higher, GUI must be installed.
Please, note that Linked Helper 2 does not work on ChromeOS (ChromiumOS), hence it cannot be installed on Chromebooks, but you can rent a remote server on Windows / Ubuntu and manage Linked Helper there.
Hardware requirements
You can use these formulas to get minimal requirements:
| | | |
| --- | --- | --- |
| | For a single LinkedIn account | For N LinkedIn accounts (N - number of simultaneously running LinkedIn accounts) |
| ​​RAM, Gigabytes free | 2.5 | 0.5 + 2 × N |
| CPU real cores, free | 0.5 - 1 | From 0.5 × N to 1 × N |
| HDD / SSD free space, Gigabytes | 4 | 2 + 2 × N |
Renting remote server
If your PC is not powerful enough to handle all LinkedIn accounts you want to manage, you can rent a server in order to run Linked Helper there. You can get certain advantages such as:
No interruptions. Linked Helper's work will not be affected by the PC failures, electricity blackouts, issues with your ISP, etc.
24/7 availability from any part of the world. All you need is a laptop with an internet connection.
You can give access to the remote server to your colleague/boss in case he/she needs to check your performance rate or change the workflow and add new prospects to the Queue while you are on vacation leave.
You can rent a much more powerful machine than the one you currently work on and run more LinkedIn accounts than your PC can handle.
You can find complete instructions on setting up a remote server, either VPS or dedicated self-managed server in this article - How to install Linked Helper on a VPS / dedicated server
In case you`re planning to rent a server for managing multiple LinkedIn accounts, please, consider buying a dedicated server, not VPS (Virtual Private Server). It is possible that you will get only ~20% of the real capacity from your hardware if you choose VPS.
I'll give you an example: our software was hosted on a VPS and we had occasional drop downs as if it was overloaded. Therefore, on VPS the results were 4 times worse than on the dedicated server, yet the latter was 2 times less powerful than the former. At the same time, for few (1 - 3) LinkedIn accounts VPS may suit as well.
As an example of the above-mentioned services:
Dedicated hosting:
HostZealot
HostZealot is a dedicated server provider that has a number of options to choose from where Linked Helper program is already installed.

On their webpage you can filter and find dedicated server that is capable of handing the number of LinkedIn accounts you're going to manage, i.e. you don't need to calculate how many RAM server should have or what's the minimum number of cores / threads should be in its CPU:
https://www.hostzealot.com/linkedhelper-dedicated-servers#swiper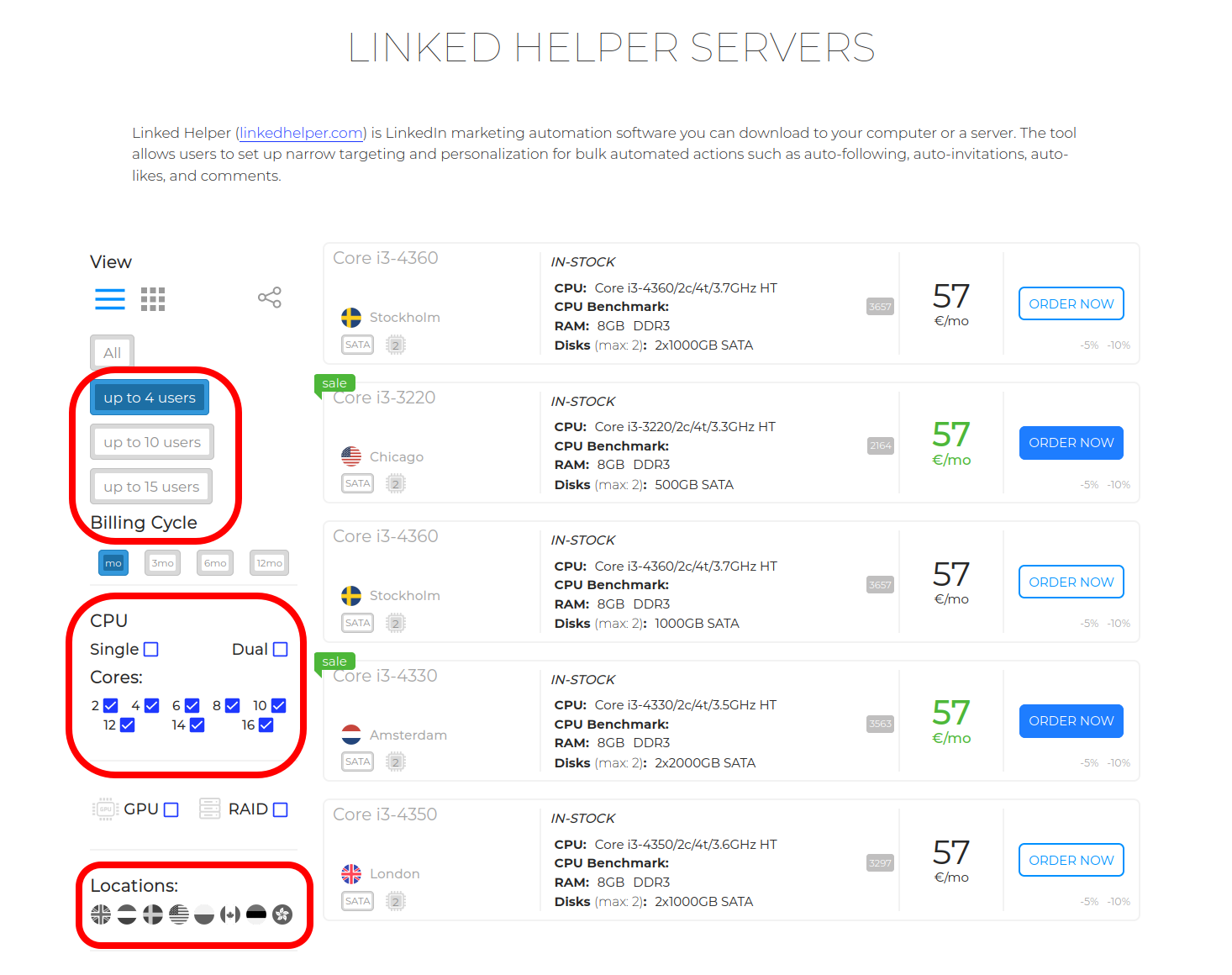 Ionos
The configuration in the screenshot below is able to handle 11 LinkedIn accounts running at the same time:

InterServer
The dedicated server from InterServer can manage up up to 23 accounts at the same time (in practice, the number can be up to 30 accounts). Here is the link to InterServer website.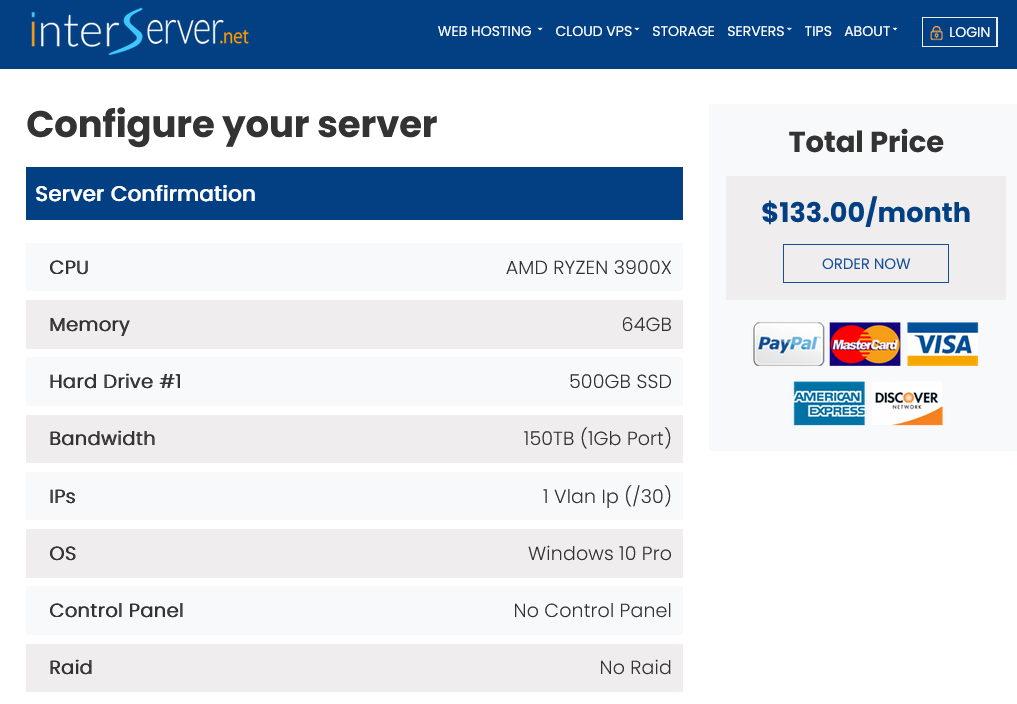 VPS:
For managing one LinkedIn account:

For managing three LinkedIn accounts:

You can try the software for free during 14 days - download it and activate a free trial.
Official website Our blog YouTube Facebook Instagram WhatsApp Email: info@linkedhelper.com