Sometimes you may face the following error when opening Linked Helper Launcher: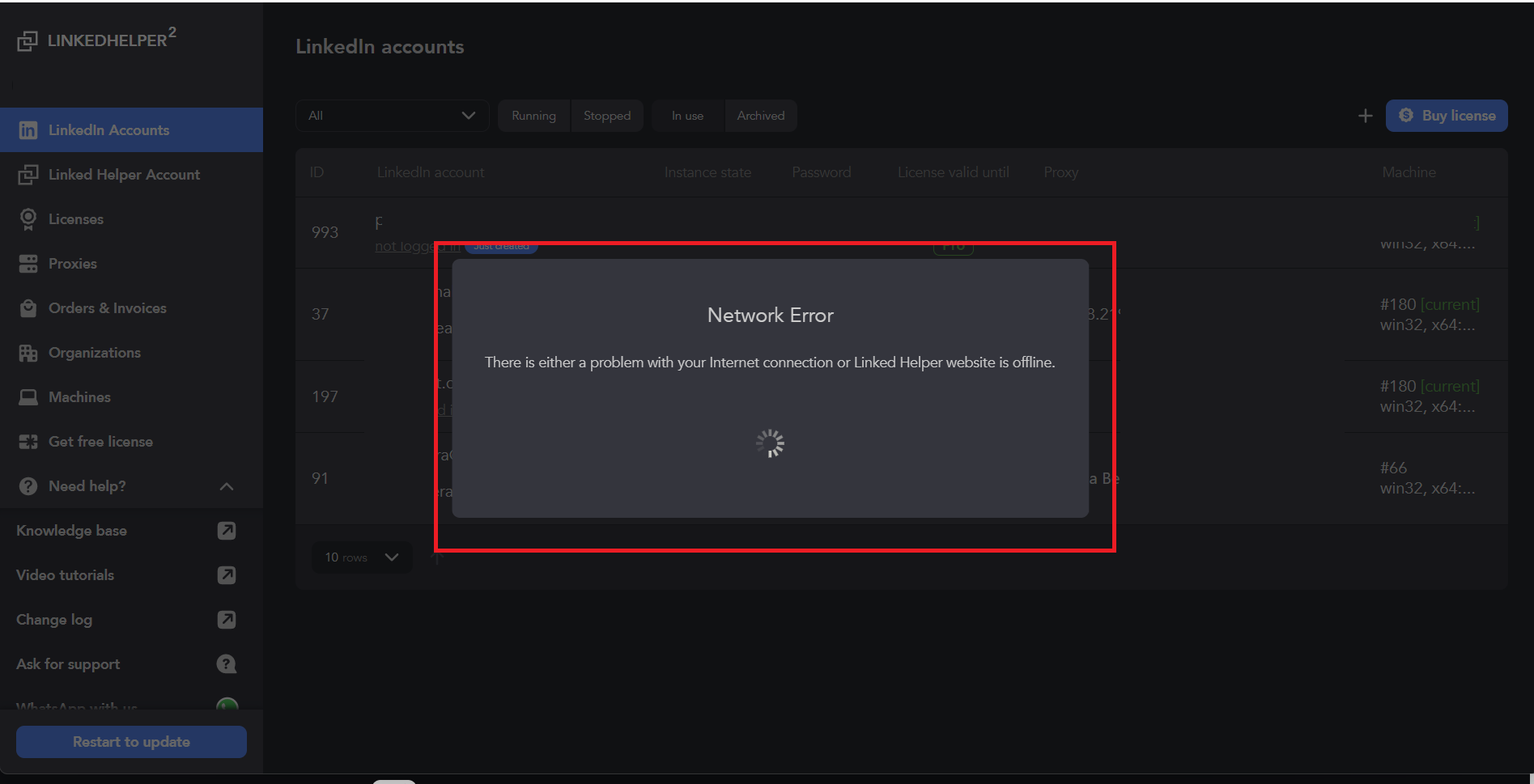 This error message appears when Linked Helper 2 Launcher can't establish the connection with Linked Helper 2 servers due to issues with your network.
Check whether you have correct settings in the hosts file
It could be that the hosts file (which is used by the operating system to connect hostnames / domain names with IP addresses) on your PC is missing these lines:
127.0.0.1       localhost




255.255.255.255 broadcasthost




::1             localhost




fe80::1%lo0     localhost
In order to fix the problem, you need to add them to the hosts file. Here is the detailed instruction on how to do that: Linked Helper instance won't load, but stuck on 'Initialazing..'
Synchronize time
The first step to do is to check whether the Linked Helper account can be accessed via any browser on the same PC. Before opening the account, please, disable any VPN or proxy extension in the browser and then:
Open https://linkedhelper.com/member in a browser.
Login to your Linked Helper account.
Navigate through menus to be sure everything is opened as expected and no error occurs:

Switch to LinkedIn accounts menu;
Switch to Licenses menu;
Etc.
If you see the same error that occurs in Launcher, then it means that requests to the Linked Helper servers sent by the web page of the Linked Helper account also get blocked or do not reach the target and do not get the response.
One of the reasons why this could happen is your system time is not synchronized. Please, make sure you have the correct timezone in your operating system settings and the time is synchronized with the time server in the internet:
Update certificates
Recently, one of the Let's Encrypt root certificates got expired - DST Root CA X3 Expiration (September 2021). Some old devices or old operating systems that didn't get updated with the new certificate may have issues visiting some websites or using certain services.
In order to solve the issue, you need to manually update three certificates.
For mac:
Download three certificates from these links:
Import them into your Keychain Access:
Double-click on each of the 3 certificates and click on Trust > 'Always Trust':
For Windows:
Download three certificates from these links:
Double-click on each of the 3 certificates and install them:
If the above did not help, please, check the solutions below.
Temporarily disable your antivirus and firewall
Third-party firewalls may block Linked Helper from connecting to LinkedIn. Some anti-viruses may contain built-in firewalls that can interrupt Linked Helper's work as well.
As a solution, please, try to temporarily disable any antivirus or firewall, restart Linked Helper, and try again. Linked Helper 2 does not contain any virus, malware, spying software, or dangerous code.
Disable / enable VPN or proxy

Please, note that access to certain websites or servers, such as LinkedIn, Amazon, Cloudfront, etc., can be blocked in some countries due to government regulations or censorship, or there could be other issues such as technical restrictions of the internet service provider or network.
Please, try these solutions:
1. Try to install a VPN program if you do not use any already, enable VPN connection for the whole PC, please, restart your Linked Helper Launcher, and try again.
2. If you already have a VPN program installed and a VPN connection is enabled for the whole PC, please, disable it and try again. It could be that due to built-in firewall or network issues Linked Helper cannot connect to the services it needs for work through the VPN.
3. If you have system-wide proxy enabled, it could disrupt Linked Helper's work as well. Please, visit this article and try to disable proxy settings of your operating system as per the Check system-wide proxy settings section of this article: I get "Failed to load LinkedIn: network issue please check your network connection or proxy settings" error
Make sure that any program on your PC has access to LinkedIn domains
If you are using Linked Helper in a corporate network or you have a corporate VPN on your PC constantly enabled, then in order for Linked Helper 2 to be able to work, any program from your PC should have network access to these domains:
You need to have access to these domains not only from your web browser but also from https://linkedhelper.com/downloads.html
Check whether the issue persists when using a different PC / internet service provider

If you are not using Linked Helper in a corporate network or do not have a corporate VPN, but the above solutions did not help, then you need to check whether the same error occurs when:
Linked Helper is opened on another PC, but using the same internet service provider;
Linked Helper is opened on the same PC, but with a different internet service provider, for example, when you use your mobile phone as a hotspot.
These checks help us to understand whether the issue only occurs on a certain PC or with a certain internet service provider.
If the issue still persists, please, reach us via email info@linkedhelper.com.
You can try the software for free during 14 days - download it and activate a free trial.
Official website Our blog YouTube Facebook Instagram WhatsApp Email: info@linkedhelper.com