With the help of Linked Helper 2, you can invite 2nd and 3nd level contacts to join your network and send them a follow-up message after they accepted your invitation. Such a workflow is a best way for sellers to find as many leads for their sales as possible. In this article, you will learn how to collect needed contacts from the LinkedIn search page to Linked Helper 2 for inviting.
Create new campaign
Click Create new campaign button in the Campaign menu: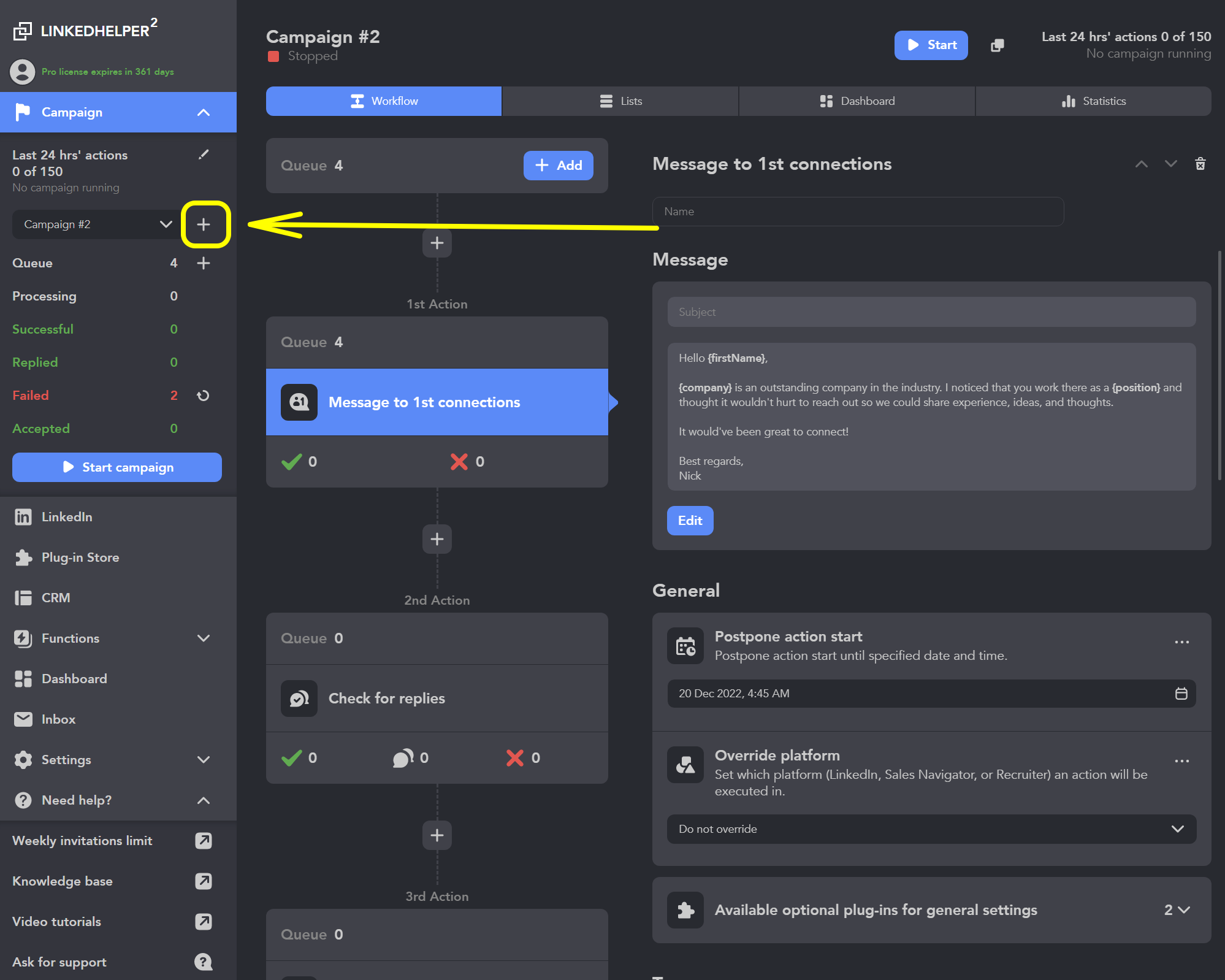 Give your campaign a name, choose "Invite and follow-up" template, and click Create: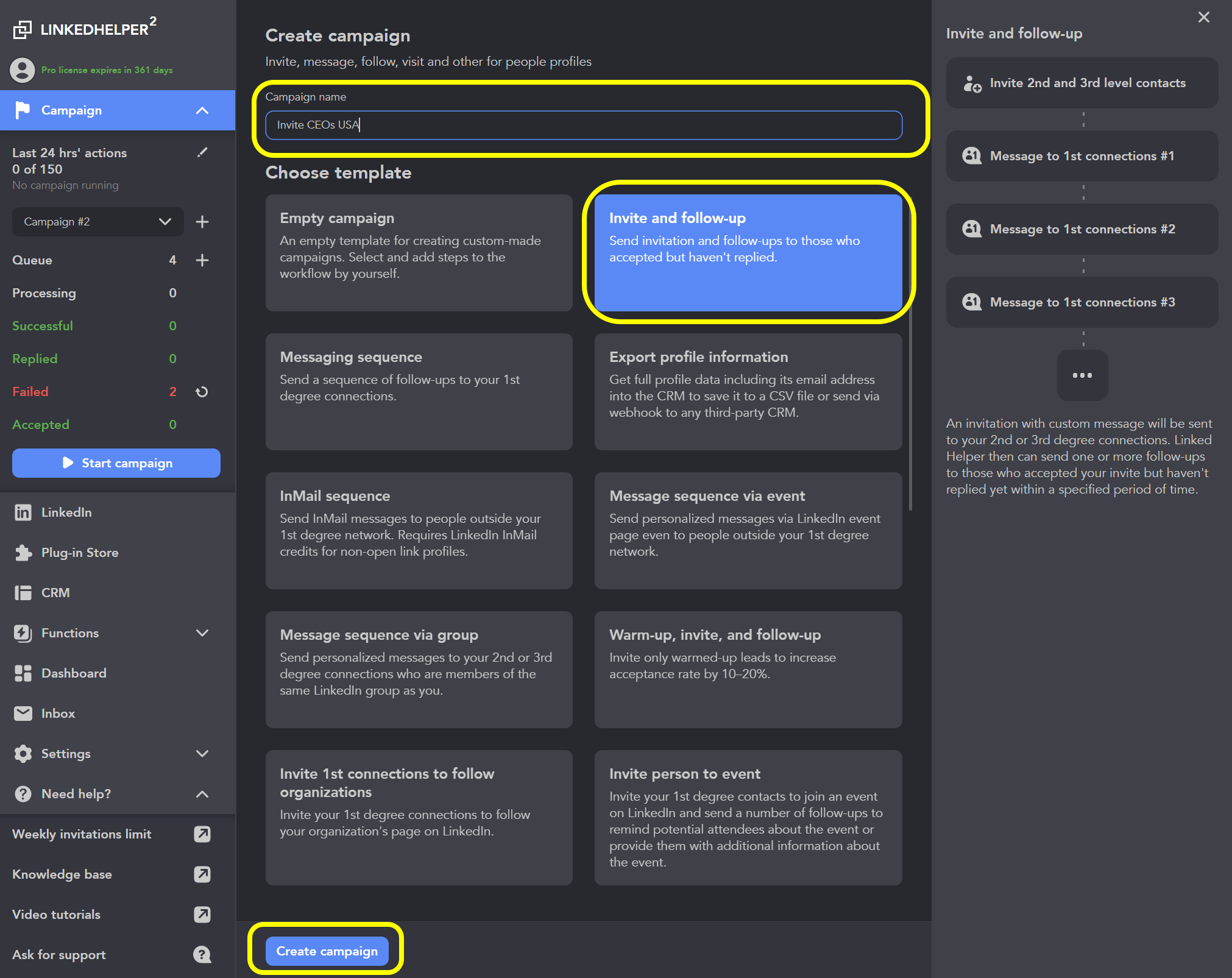 Follow the steps of campaign generator:
Set the message template that is sent along with the invitation: How to create message templates
Allowed you to enable workaround to overcome LinkedIn weekly invitation limit and invite more than a 200 profiles per week. Unfortunately, it doesn't work anymore as LinkedIn removed undocumented feature from the available functionality of their site, so you must not enable it:
Set up automatic invites canceller to withdraw old unaccepted invitations. We recommend doing this periodically to avoid any issues with LinkedIn since too many pending invites can harm your account:
Set up a follow-up to those who accepted your invite: If you don't want to send any follow-ups, you can finish campaign creation. Linked Helper will be only inviting profiles in that case:
If you set up a message those who accepted your invitation, then in several days you can send another follow-up to those, who received your first message after invitation (not the invitation message itself) but haven't replied:
And another follow-up to those who haven't replied to the previous one, if needed. If no messages needed, click Finish button:
Filter and collect leads for inviting
Once campaign is created, Linked Helper offers you to add leads to the newly created campaign.
Note: Linked Helper doesn't have its own filters for collecting from LinkedIn it uses those of LinkedIn search, hence you need to finely filter profiles in LinkedIn search to get most qualified leads - How to filter and collect profiles via Linked Helper
For that, you need to:
Click Continue button:
Choose the source of the profiles: it can be an external file (CSV, HTML, TXT - How to upload contacts to Linked Helper 2?) with profile URLs or LinkedIn website. Let's choose LinkedIn website for our test purposes:
Then you need to choose any of LinkedIn subscription: either regular LinkedIn, or Recruiter, or Sales Navigator. Do I need paid LinkedIn subscription to use your service? What advantages can I get with a paid LinkedIn subscription?
Finally, choose a page where you collect profiles from. This is not a final list as Linked Helper can collect posts likers or commentators as well: Is it possible to collect those who liked or commented post?
Once again a reminder that you have to apply all the needed filters manually, and then click 'Collect' button in the left rail menu next to the campaign Queue:
Once you are in the search page, apply all the needed filters. In this case, we will use Connections (2nd degree), Locations (United States), and Title (CEO) filters. After click 'Collect' button, and then - 'From current page':
Once collecting is over, you can review collected profiles and the workflow or start your campaign:
Review Action settings

Let's overview the campaign workflow and Actions' settings. For that you need to click Campaign menu and navigate to the Workflow tab: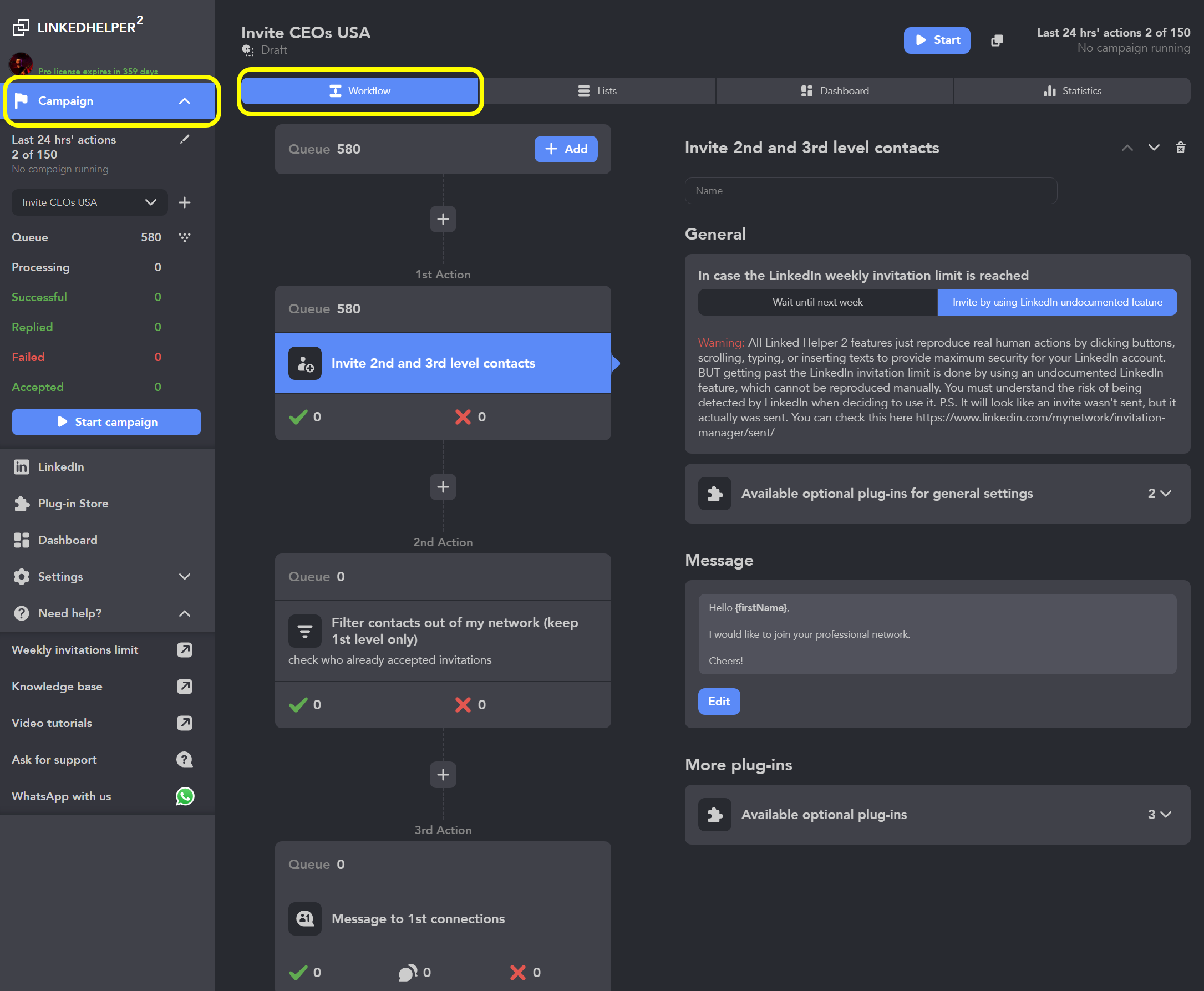 In the Workflow tab you will see six actions:
Every action can be enhanced with plugins providing extra functionality - Plugin Store.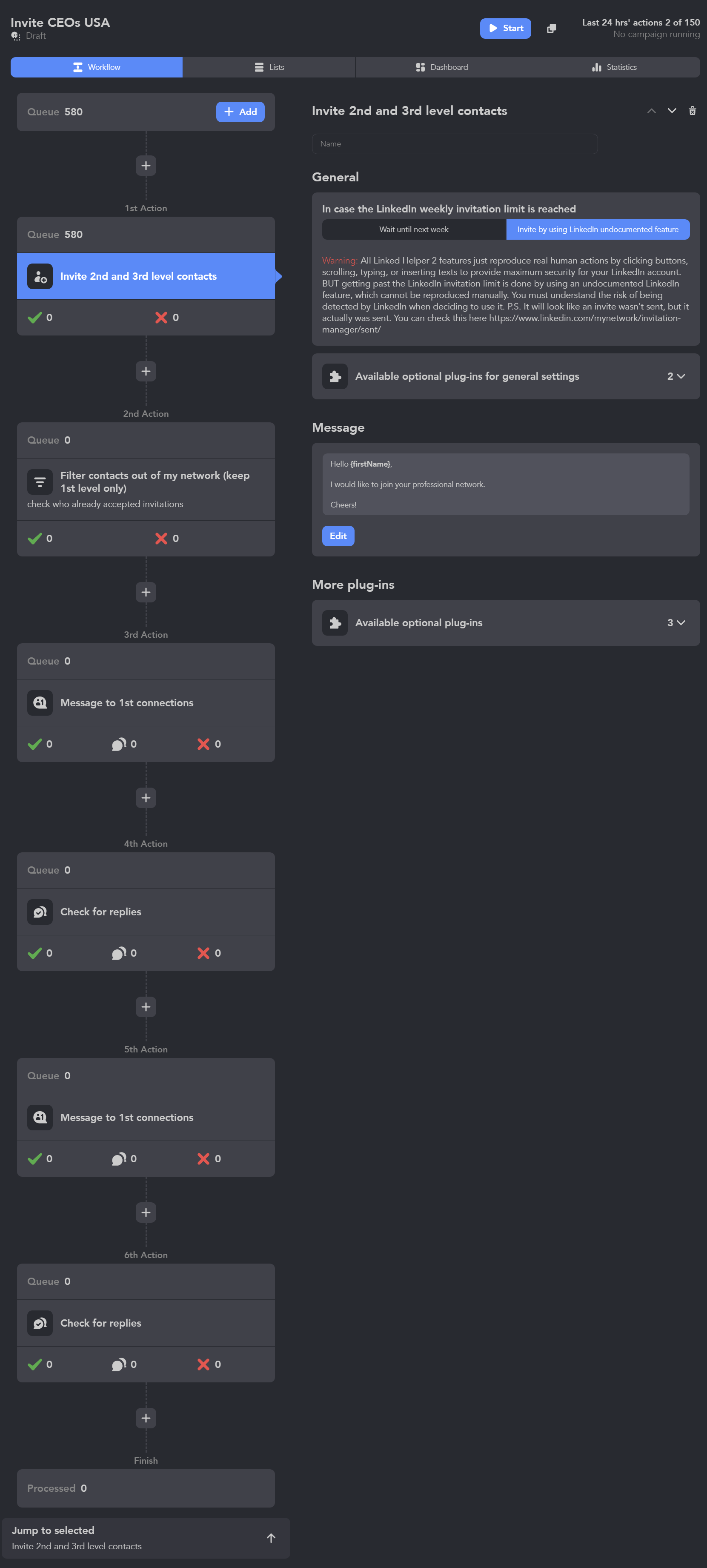 If you do not want to send follow-up messages, you can delete those actions: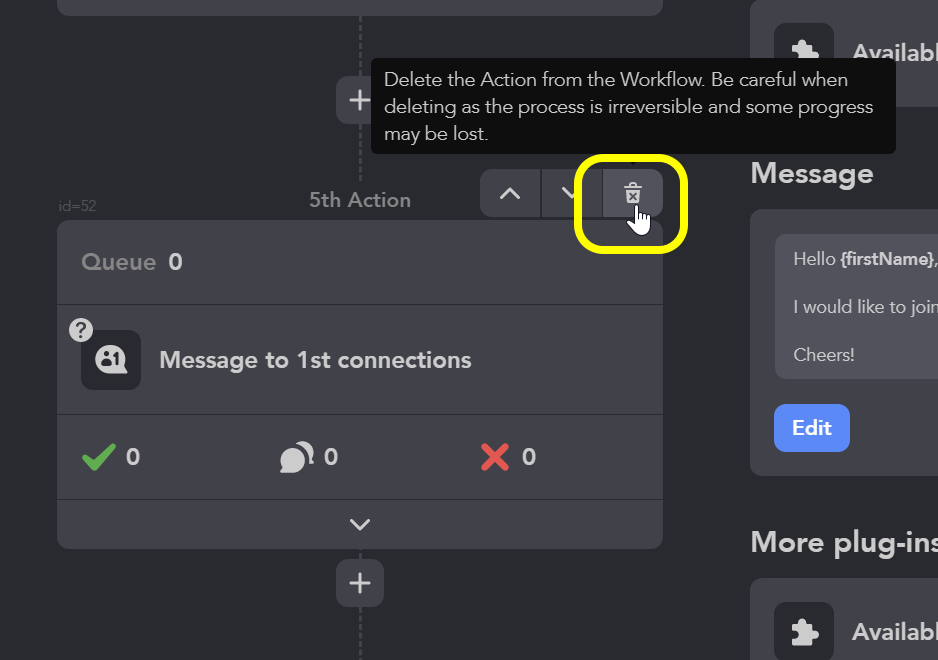 Or vice versa, if you'd like to send another (third, forth, etc) follow-up, you can easily add it and set up a delay: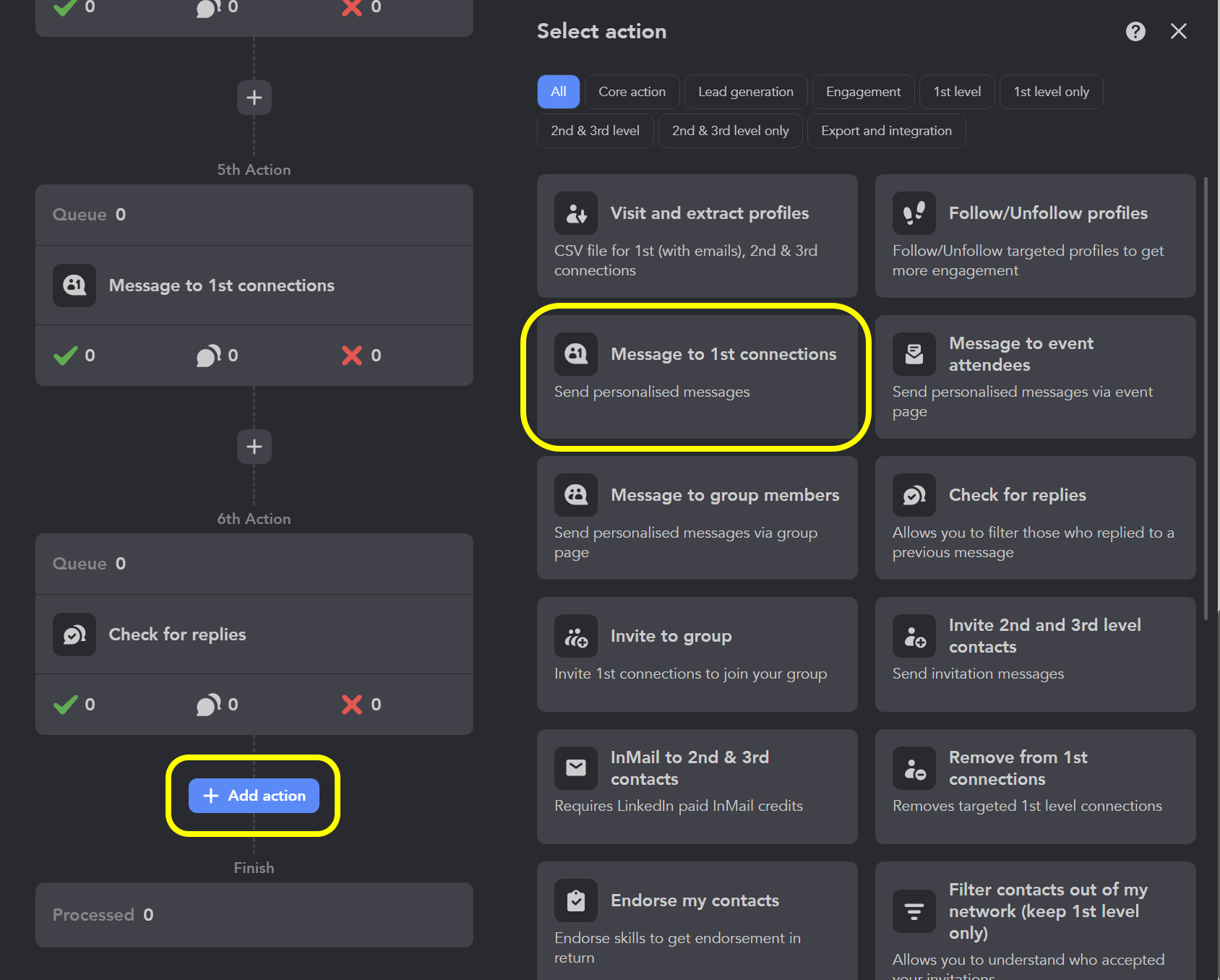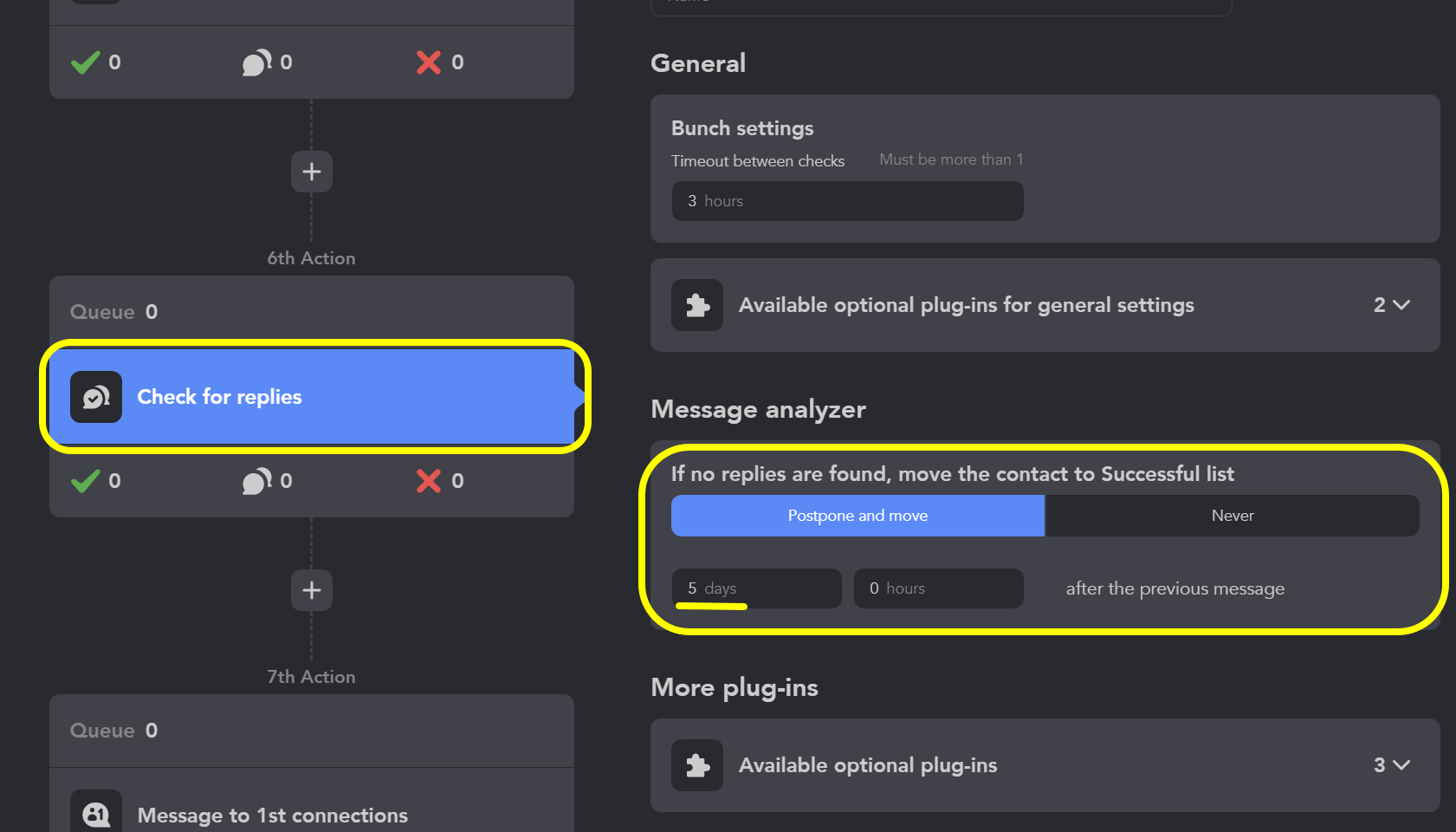 Here is the link to instruction on managing the workflow of your campaign: Workflow.
Review profiles
You can check the collected contacts in the Queue list. There you can:
Check this article for more info: Managing profiles in Linked Helper 2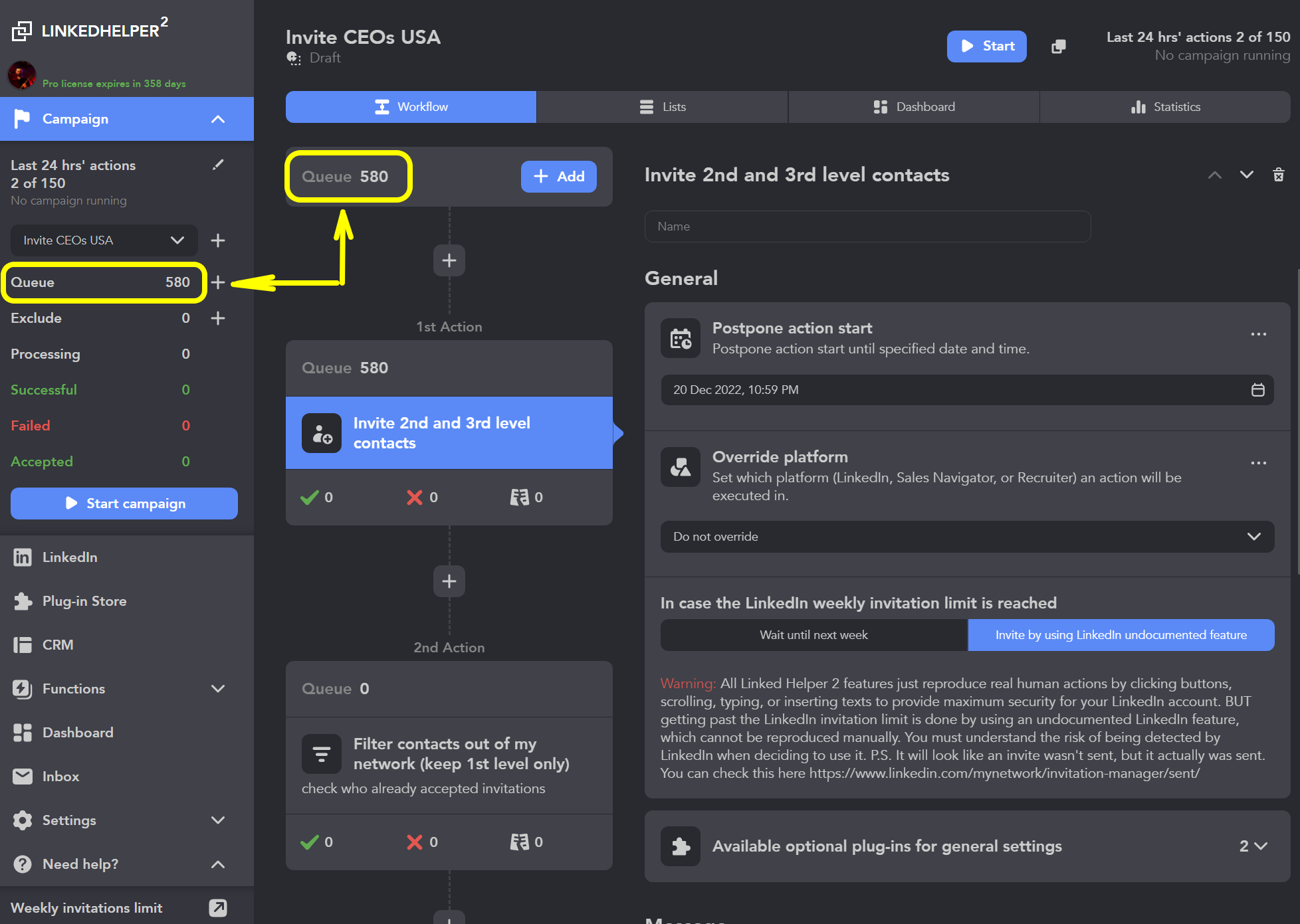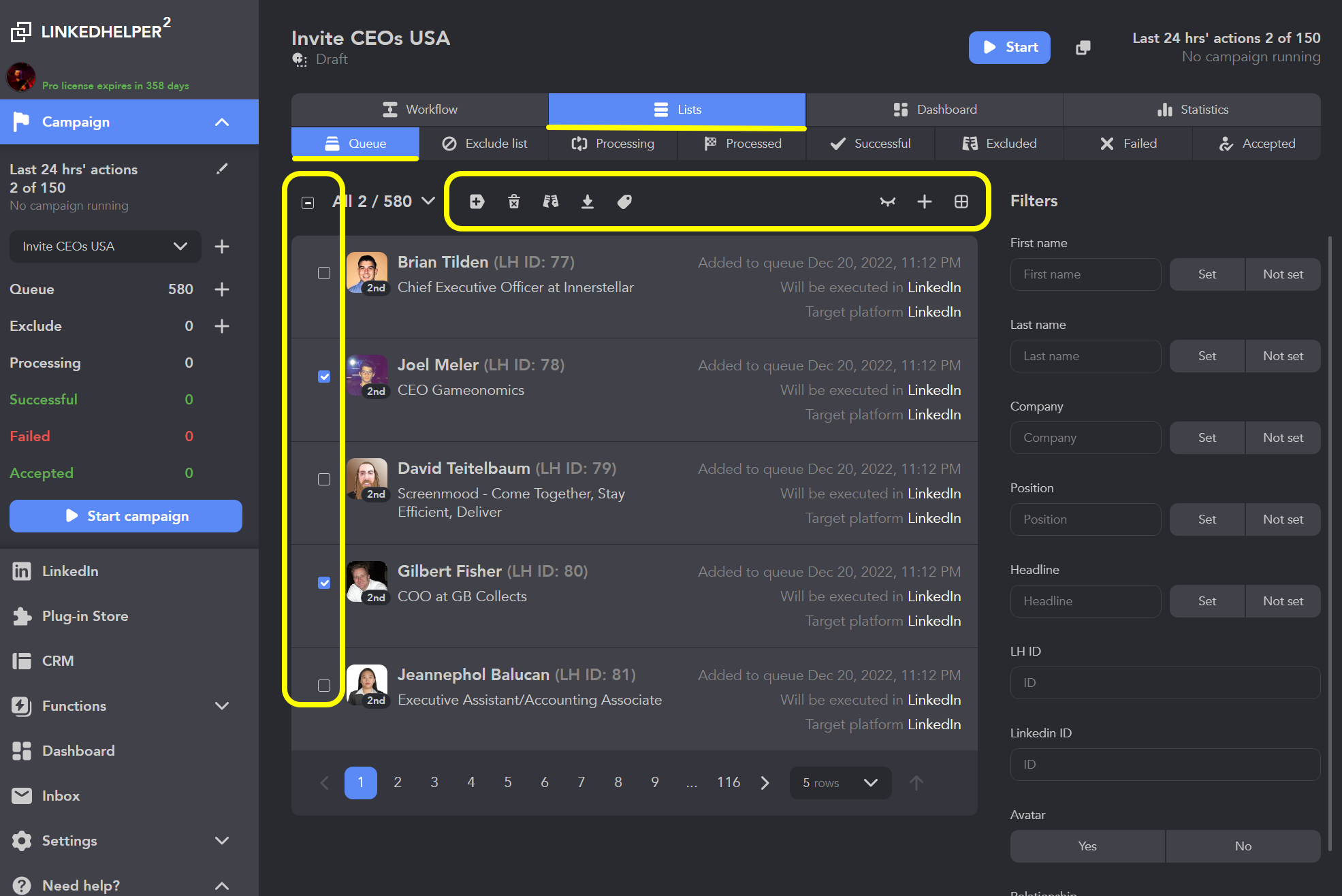 Start the campaign
After you set up everything according to your needs, you can start your campaign by clicking the Start button.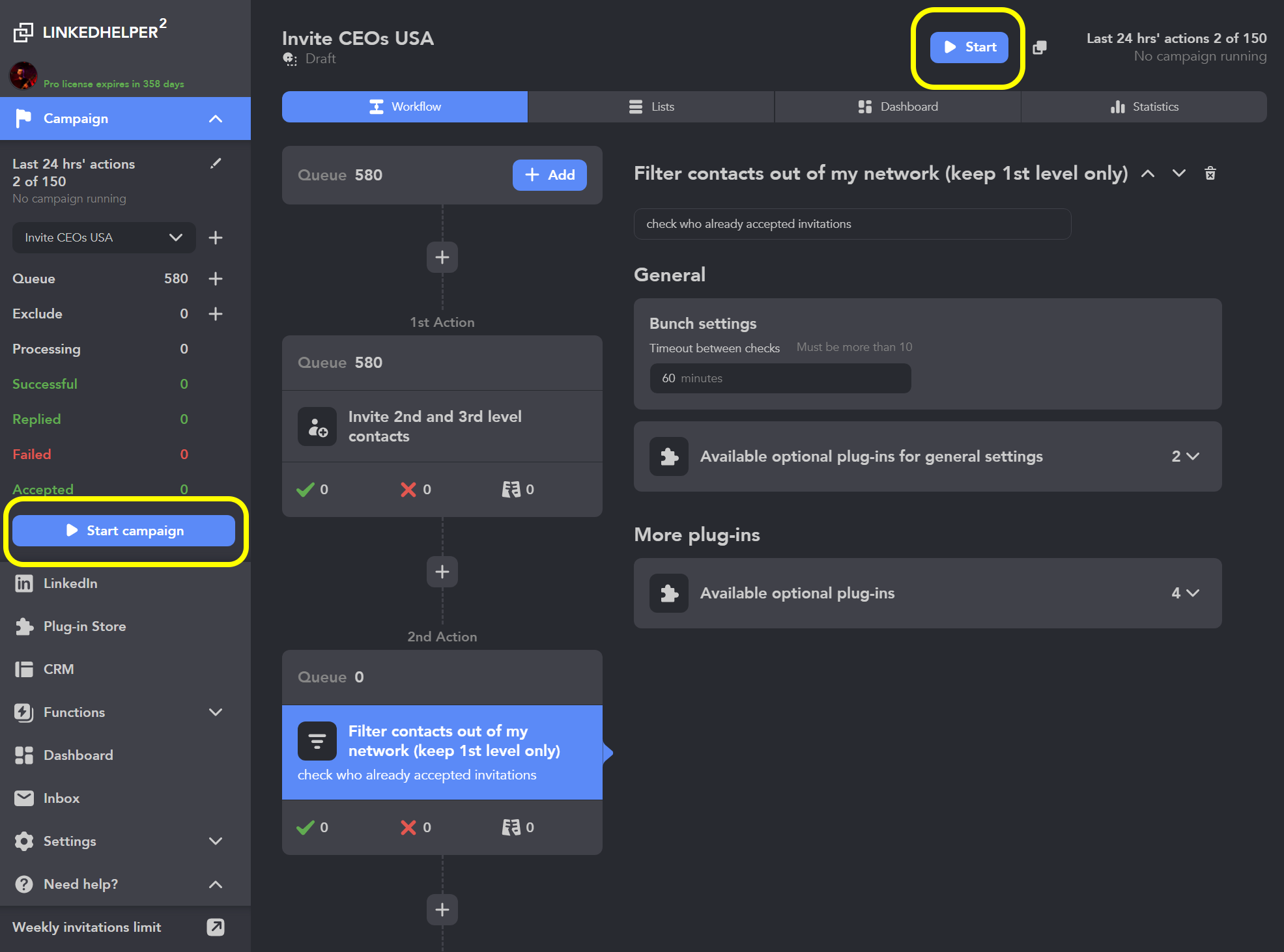 Note: campaigns are programmed in a way to get your contacts through the funnel as quickly as possible so the actions are performed from the bottom to the top going from the latest action if there`s anything in the queue to the earliest.
Later, you can export information for successfully processed contacts as a CSV file:
Unfortunately, MS Excel doesn't support CSV files in the same way as .xslx files. But I still able to open any CSV file with MS Excel:
_______________________________________________________________________________________
Thank you very much for your attention. We hope that these tips helped you! Here are some more useful articles from our blog:
You can try the software for free during 14 days - download it and activate a free trial.
Official website Our blog YouTube Facebook Instagram WhatsApp Email: info@linkedhelper.com