General information
"Accept incoming invitations" is one of the Linked Helper functions that allows you to automatically accept invitations on LinkedIn. It can be useful for recruiters who receive lots of invites from potential candidates.
To enable it please:
Navigate to the Plug-in Store menu.
Find Accept incoming invitations plug-in and click Install button:
Once plug-in is installed, Accept invites feature becomes available under Functions menu on the left side:
Use case
If you're a popular growth hacker or coach, or you simply have a well-developed LinkedIn account with lots of connections, then most likely you have a lot of unaccepted incoming connection requests that you probably would like to accept. If you do it manually, you will probably lose lots of your valuable time, so having this Linked Helper ability to accept incoming invitations in bulk couldn't be better.
Detailed description
The function works similar to Sent invites canceller action: it does not have any list to collect profiles to before or after the execution. Once it is started, Linked Helper navigates to the Manage invitations page (https://www.linkedin.com/mynetwork/invitation-manager/?invitationType=CONNECTION) and begins to accept invitations one by one from the latest to the earliest.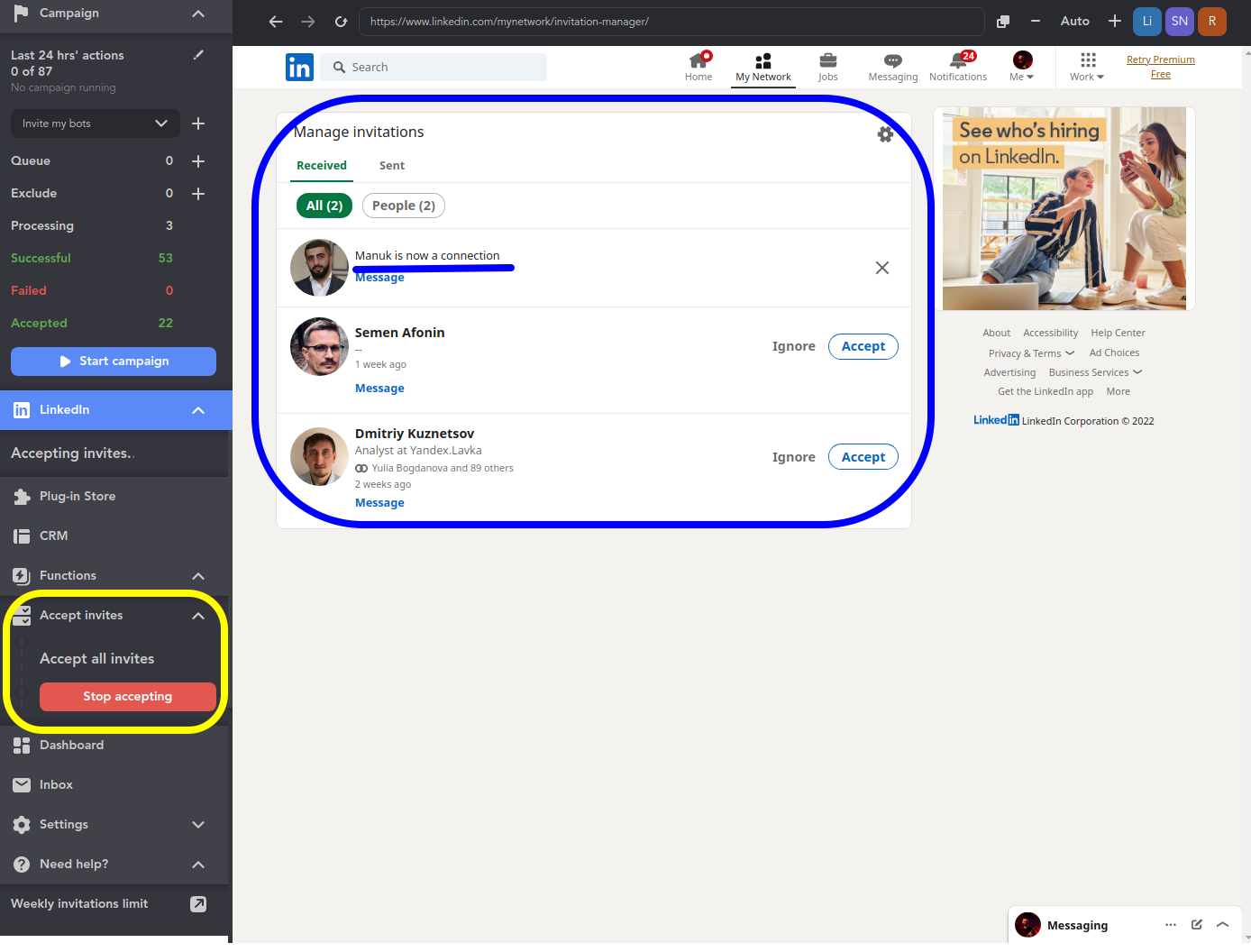 There any no settings for this function at all, i.e. you cannot choose the date before which the invitations should be accepted, all received invitations will be accepted unless you stop the function, hence if you need to reject some of them, it is a good idea to review the profiles and click Ignore on those invites you do not want to Linked Helper to accept.
Please note that:
___________________________________________________________________________________
Here are some more useful articles from our blog:
You can try the software for free during 14 days - download it and activate a free trial.
Official website Our blog YouTube Facebook Instagram WhatsApp Email: info@linkedhelper.com