General information
Exclude list is a plug-in that allows you to stop Linked Helper from collecting or processing profiles excluded from a campaign or added to its Exclude list.
To enable it please:
Navigate to the Plug-in Store menu.
Find Exclude list plug-in and click Install button:
Once plug-in is installed, Exclude list can be found in any Campaign Lists tab:
Use case
You are reaching out to new clients in LinkedIn. However, there are a number of profiles you collected how are already your customers, so there is no sense in contacting them again. If you have a CSV file with their LinkedIn URLs, you can upload them into Exclude list to stop processing them. If you don't have a CSV, you can search for your clients in LinkedIn - How to exclude contacts from a campaign in Linked Helper

Detailed description
Exclude list contains a list of profiles who either were excluded from the campaign at a certain step or those who were excluded before they get to the Queue, hence they should not be collected or added to any Queue manually. This is applied to every Action of the campaign.
There might be a situation when you need to exclude the same profiles from more than one campaign. You can easily do that by selecting the needed profiles or all of them (1) in the Exclude list of one campaign and add them (2) to the Exclude list of another - Is there a global Exclude list?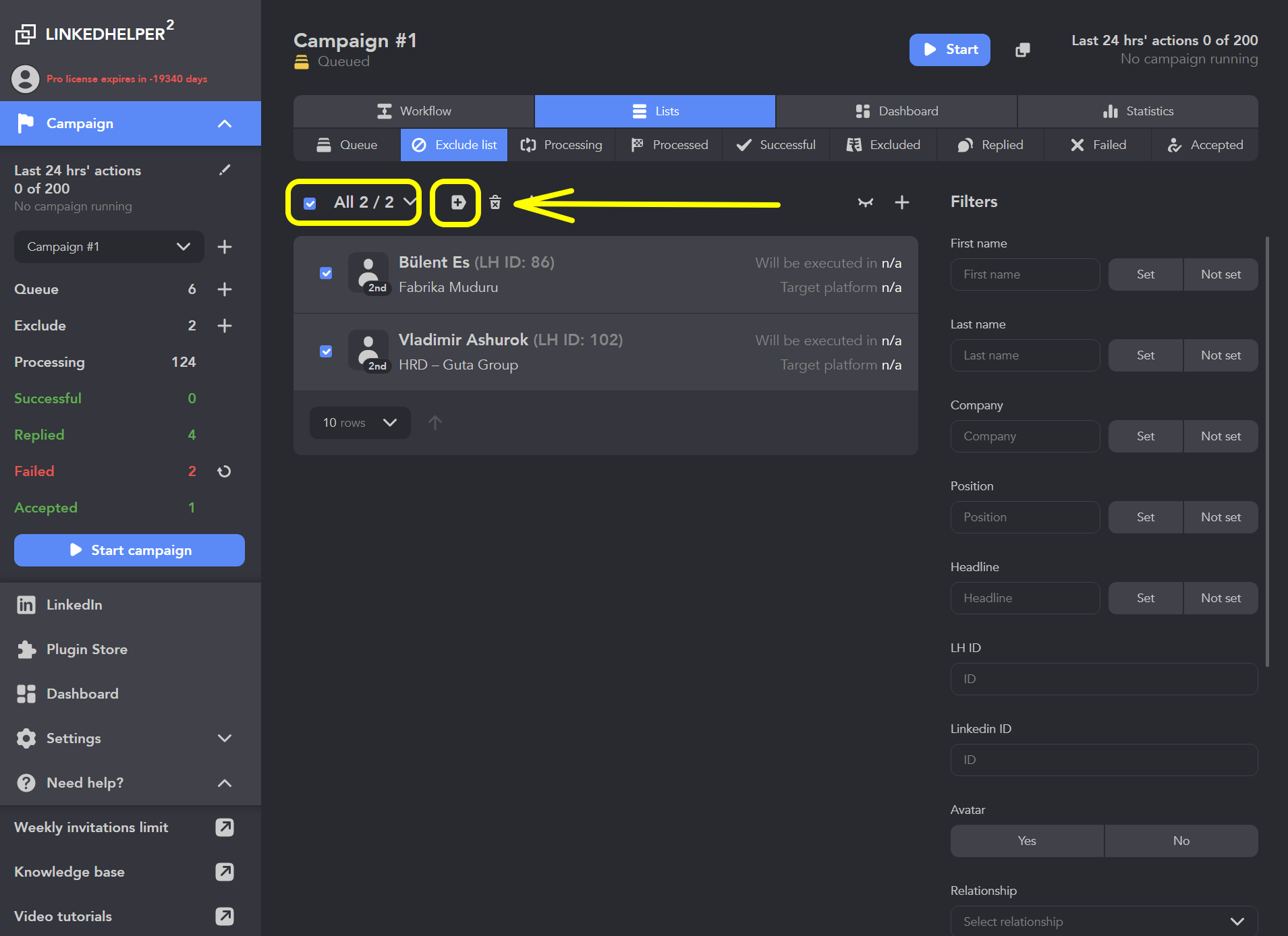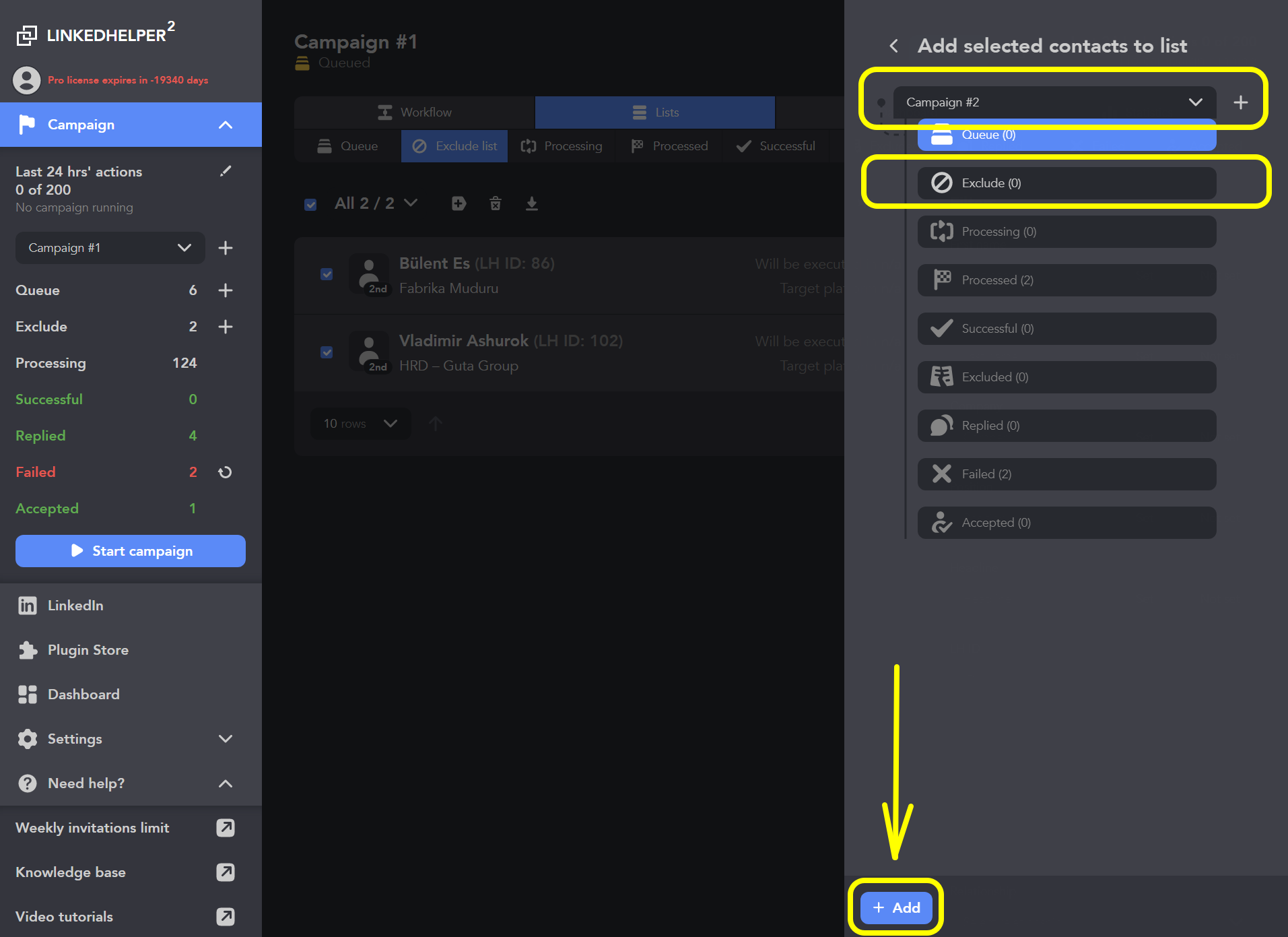 When you delete profiles from the list, there could be a situation when some profiles are in the Excluded list because they were in Queue of some Action at the moment of excluding.
You will be offered either to delete profiles from the Excluded list and return them back to their Queues, hence the campaign will continue for them, or remove profiles from the Exclude list only, leaving excluded profiles where they are. In the latter case, profiles, who were excluded, won't be returned to Queues and processed in the campaign: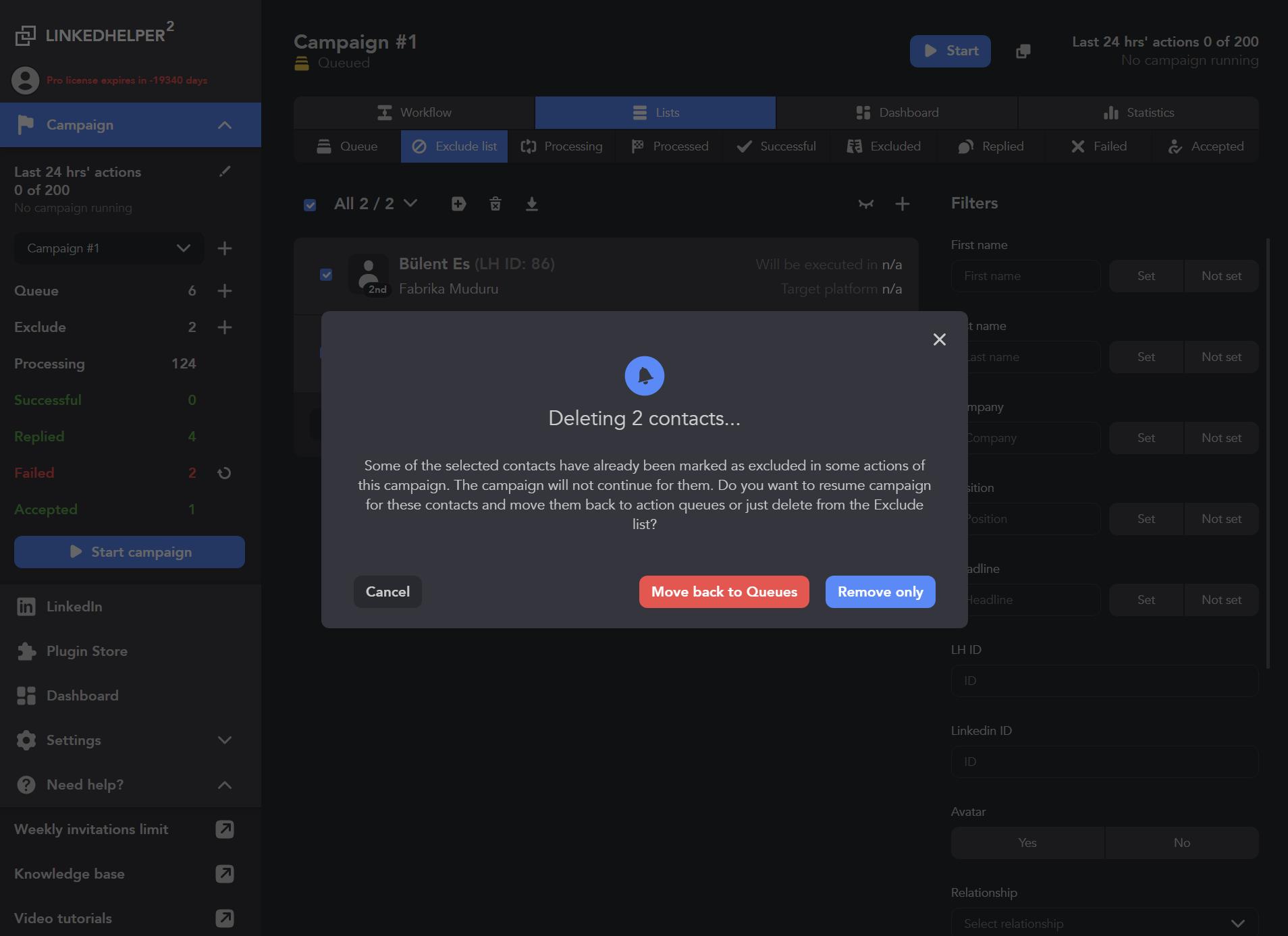 Those profiles who were not in the Excluded list, hence were not part of the Queue before being excluded, will not be added to the Queue, of course. However, if you want to add them to the campaign Queue, please, check this instruction.
How To
These articles can help you better understand how to use Exclude list:
You can try the software for free during 14 days - download it and activate a free trial.
Official website Our blog YouTube Facebook Instagram WhatsApp Email: info@linkedhelper.com