Watch how to navigate the Plug-in store
What plug-ins are
In Linked Helper, most of the features are implemented in a form of plug-ins - small components that add a specific feature to the tool.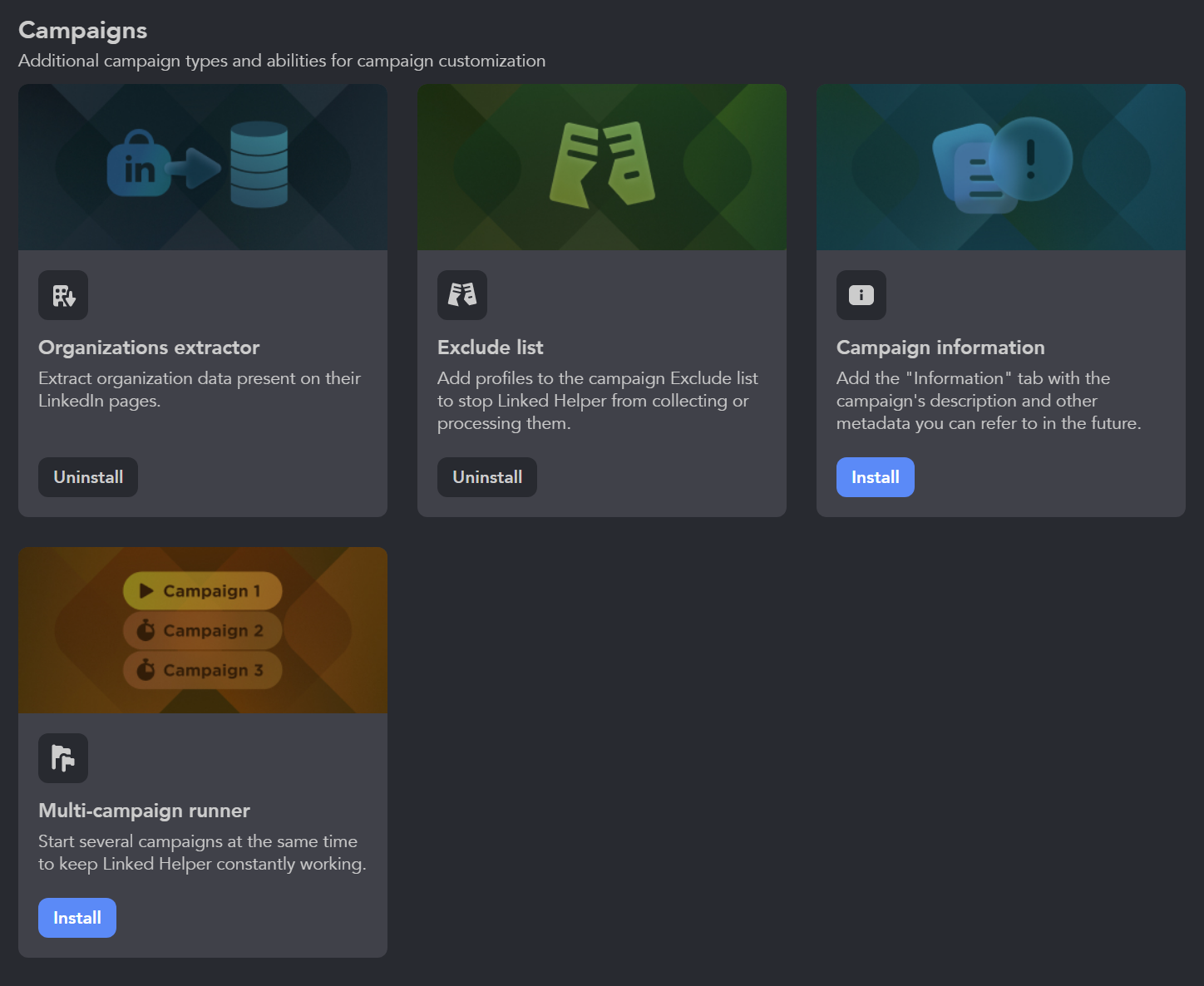 Plug-ins can be easily installed and uninstalled at any time, which makes the program highly customizable tool for marketers, sellers, recruiters, etc. Once a plug-in is enabled, it becomes available for any LinkedIn account instance added to the Linked Helper account.
There are two main plug-in types - Action plug-ins and extension plug-ins. The former add a functionality that can be implemented in the Workflow, for example, Organizations extractor Action that extracts available information about companies in LinkedIn. They are enabled by default. The latter extends functionality of other existing feature or function, for example, Postpone action start plug-in enables feature that allows to postpone any Action to let other Actions run.
Plug-ins overview
For your convenience, we grouped all plug-ins in five groups.
Action plug-ins
Every campaign has its own workflow which is basically a sequence of Actions that you set up for your profiles to be processed in one after another.
To see a list of all available Actions, navigate to the Plug-in Store menu: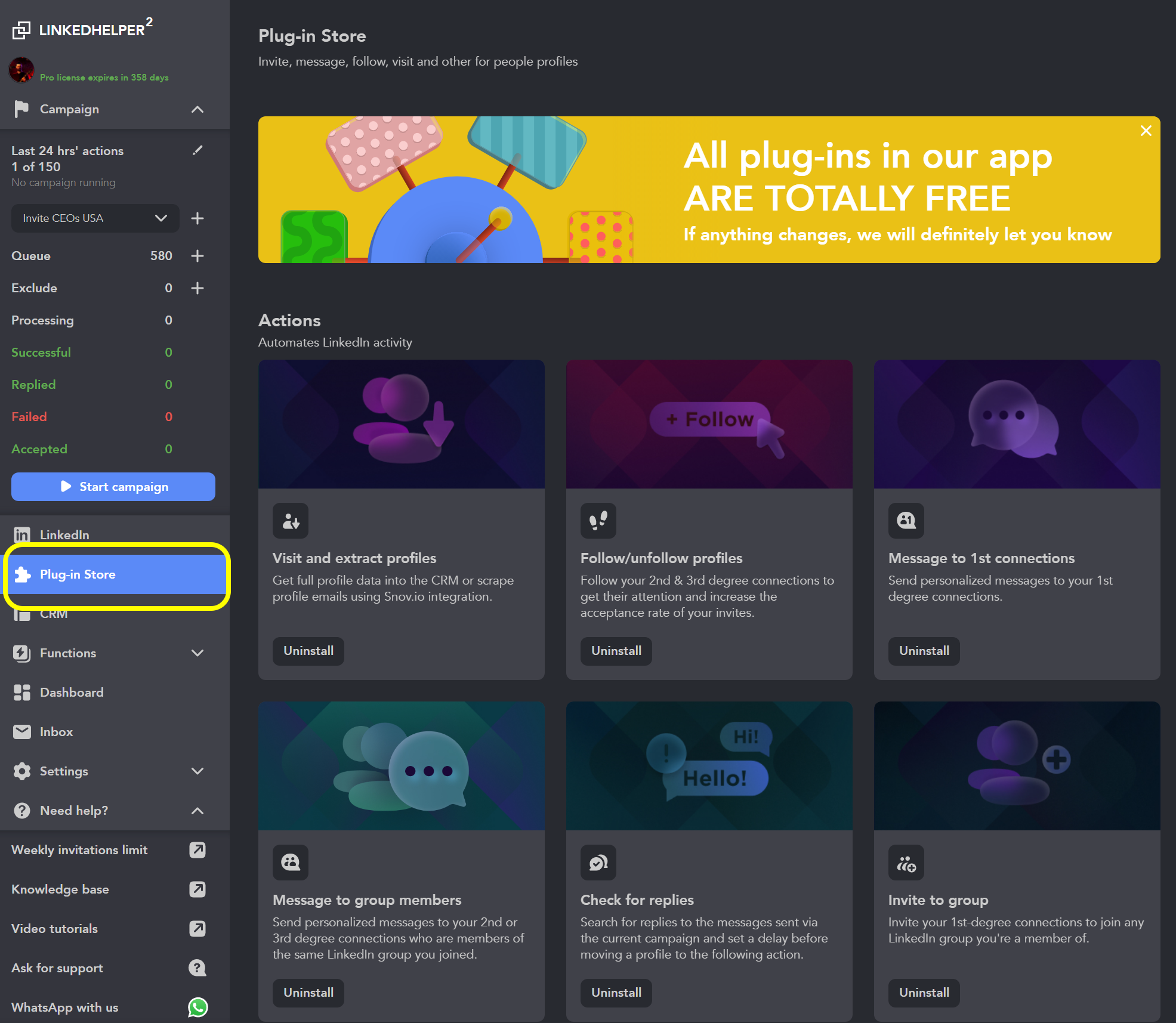 All of them, except for Organizations extractor, are enabled by default and available from the campaign's Workflow tab when plus sign button is pressed: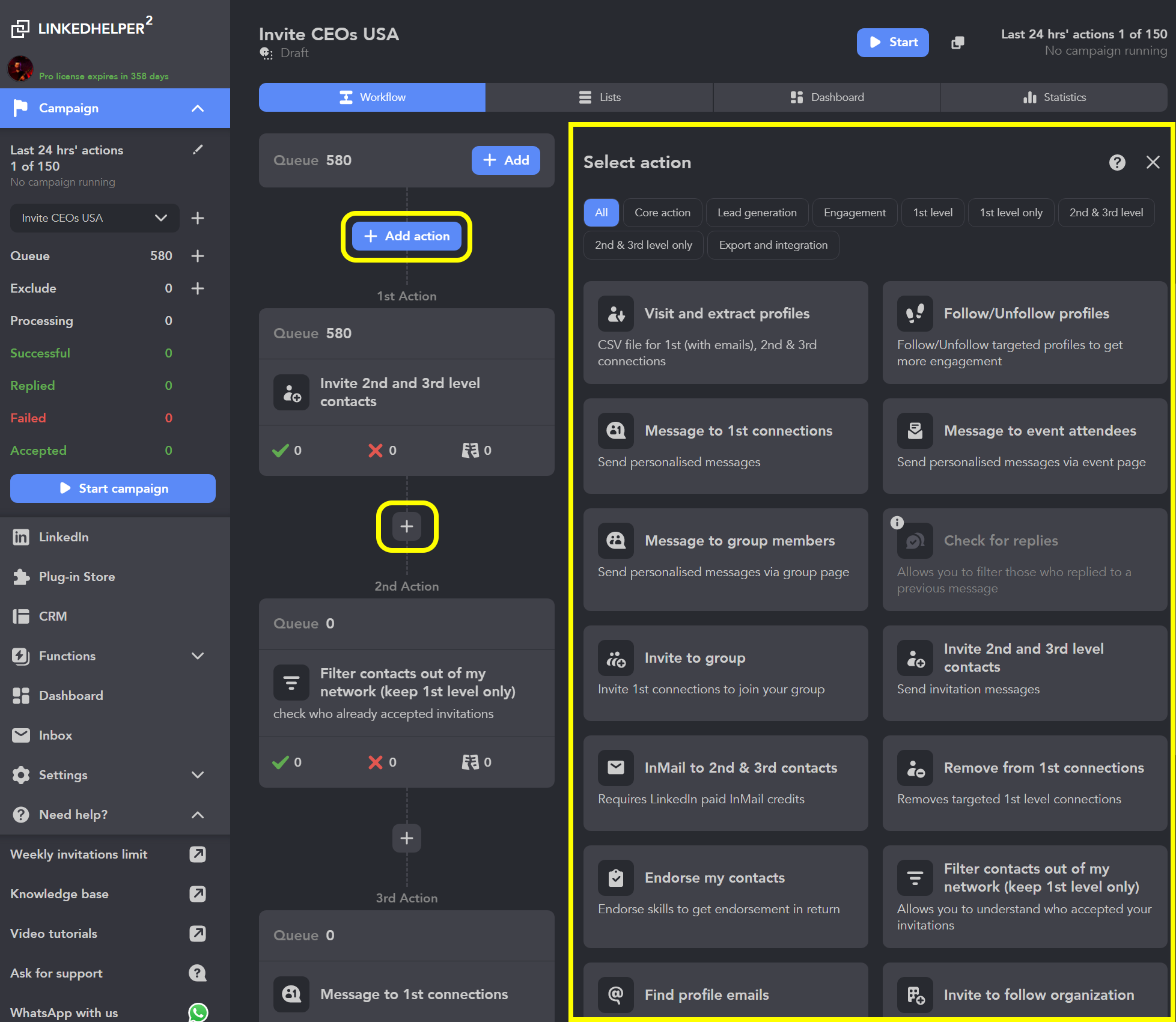 Currently, Linked Helper has 19 actions that can be combined in different ways in one workflow. Organizations extractor is available in a separate campaign only.
Since profiles are moved through the workflow from the top to the bottom, and some actions are not able to process 1st-degree connections and vice versa. Actions are grouped by different criteria, including the level of connection they can process:
Here are three general rules you need to follow when creating a workflow:
In order to set a delay between messaging Actions and detect replies during that time, for example, a week delay between follow-ups, you need to use Check for replies, and Delay between actions in other cases.
Actions that work only with 2nd or 3rd-degree connections must not be added below actions that work with 1st connections only (unless you want to remove your 1st-degree connections), otherwise, you may end up having many profiles in the "Failed" list because you didn't set the workflow correctly.
Actions that work only with 1st-degree connections must not be added below Actions that work with 2nd or 3rd-degree connections unless there are Invite 2nd and 3rd level contacts and Filter contacts out of my network (keep 1st level only) Actions between them. Otherwise, you may end up having many profiles in the "Failed" list because you didn't invite profiles and they have not become your 1st-degree connections at the moment of processing by Actions that work only with 1st-degree connections.
Below is the list of all available Actions:
Action extension
Message action extension
CRM
Tagging system - automatically tag successfully processed profiles to filter and group them when needed.
Inbox - keep all conversations from Linked Helper campaigns saved in one place.
Built-in CRM - manage contacts from all your campaigns in one place.
Campaigns
Other
You can find these in the Functions menu on the left side of the instance window.
__________________________________________________________________________________
You can try the software for free during 14 days - download it and activate a free trial.
Official website Our blog YouTube Facebook Instagram WhatsApp Email: info@linkedhelper.com