General information
Inbox plug-in provides you with all conversations from Linked Helper campaigns saved in one place.
To enable it please:
Navigate to the Plug-in Store menu.
Find Inbox plug-in and click Install button:
Once the plug-in is installed, Inbox menu appears in the left rail:
Use case
If you send a sequence of messages to a group of people and Linked Helper checks whether they replied then you may find yourself in a difficult situation when all the replies are marked as read in your LinkedIn message inbox. That happens because in order to scrape the messaging history Linked Helper needs to open a chat like a real human being thus all the received messages there are marked as read by LinkedIn.
The Linked Helper Inbox can help you to track replies despite the fact they were "read" by Linked Helper. Profiles who answered anything important can be tagged and added to another campaign, for example for sending a different follow-up message.
Detailed description
Inbox plug-in keeps all the replies and messaging history scraped by Linked Helper in one place.
Please note that:
Every platform in LinkedIn (regular LinkedIn, Recruiter, or Sales Navigator) has its own Message inbox; if a message was sent in one platform, it is not available in the other;
Linked Helper scrapes chat(-s) only from the platform (regular LinkedIn, Recruiter, or Sales Navigator) through which a profile is being processed, it doesn't check all of them when sending a message or looking for a reply.
That is in the past now as the Linked Helper Inbox menu allows you to keep track of replies in one place. By default, Linked Helper shows you only unread messages. The number of unread replies is shown next to the profile's name (1). You can mark it as read (2) and Linked Helper will show you the next unread message. Once all the messages are marked as 'Read', this profile will be hidden from the view, but you can always filter profiles by the 'Read' status of their messages (3).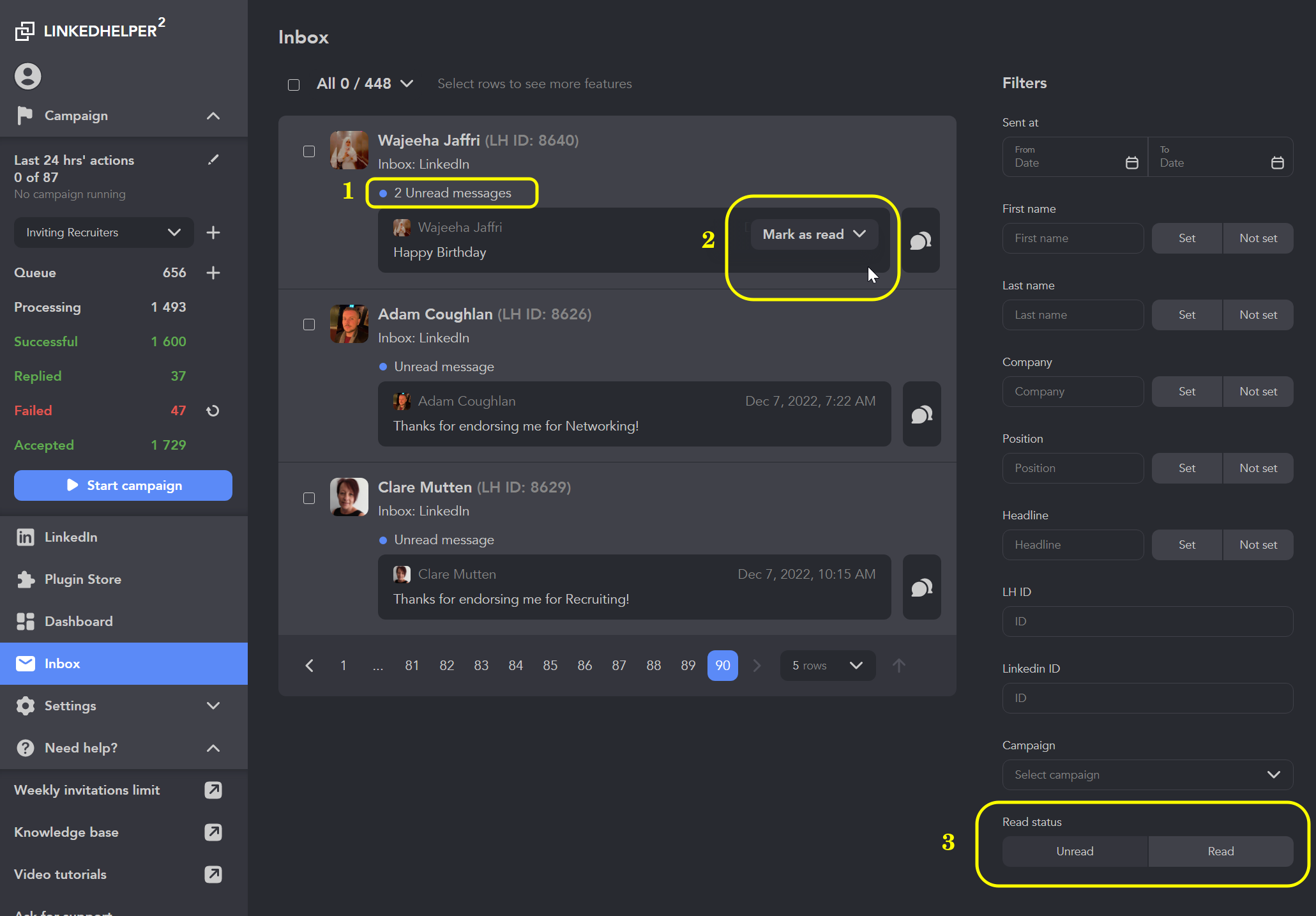 If you want to see the whole messaging history, just click the chat icon: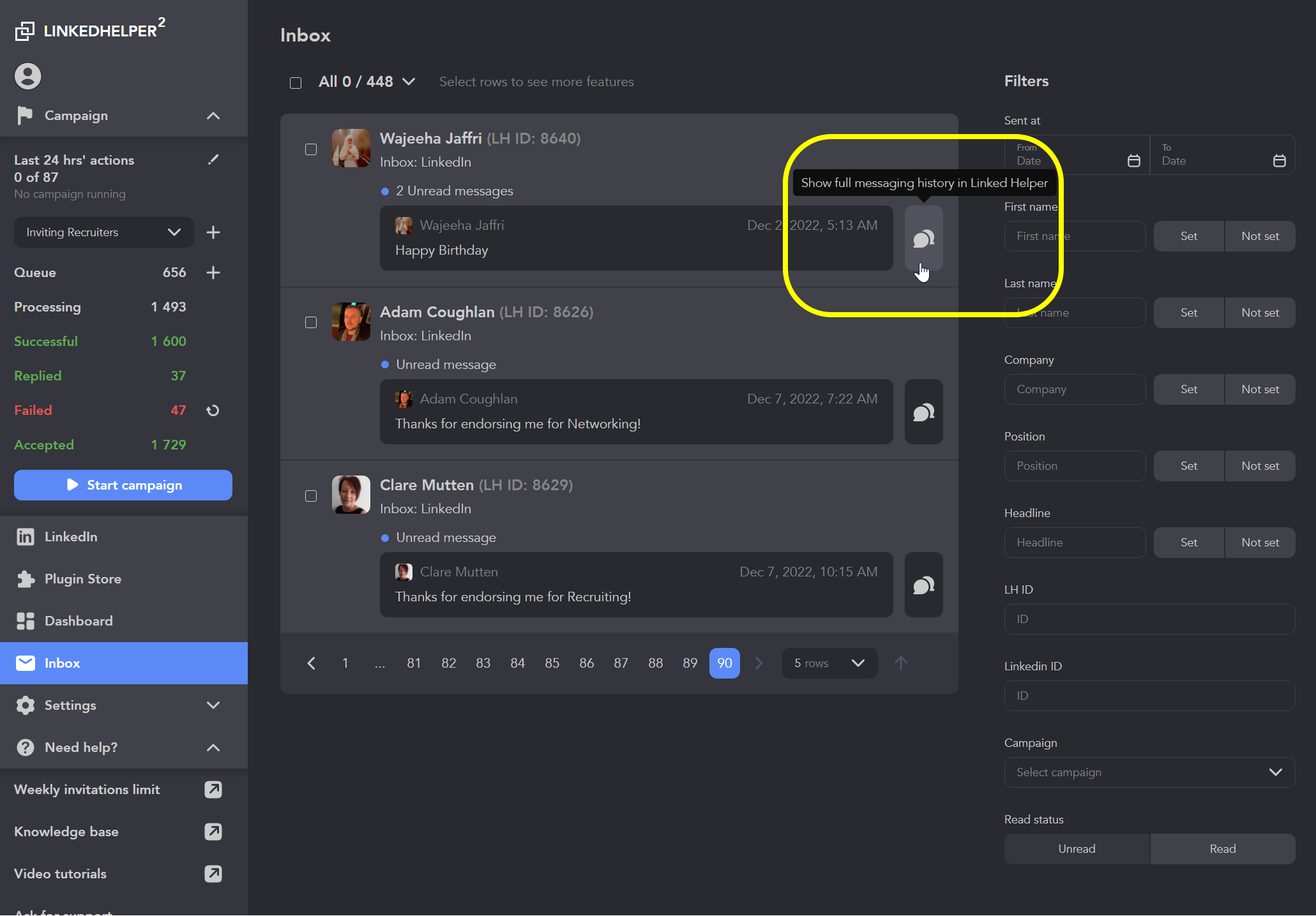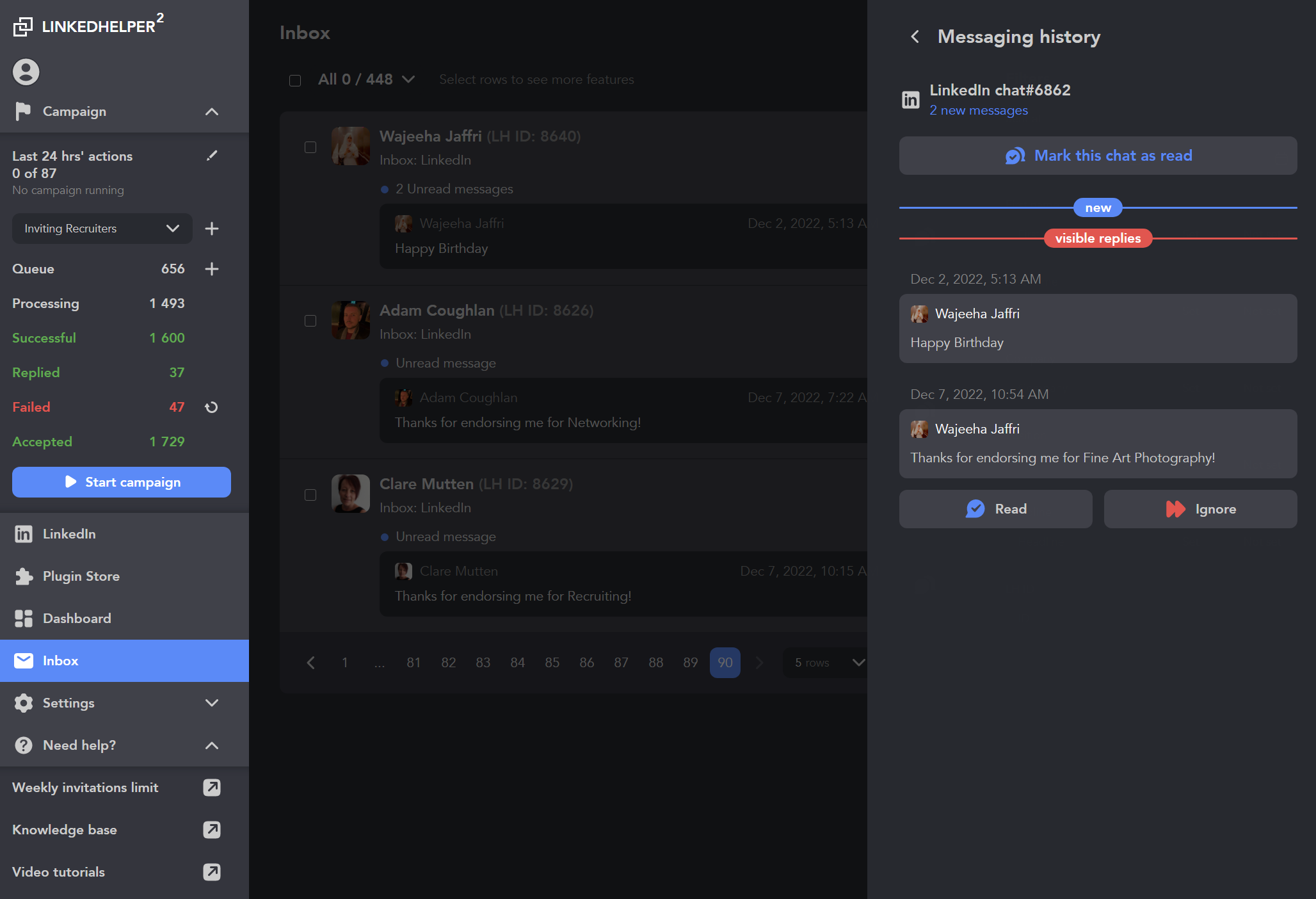 'Visible replies' line means that all messages below that line are visible for Linked Helper Actions and were detected as replies, hence the profile was moved to the replied list. If you return the profile with a visible reply back to any messaging or Check for replies action, then the profile will be again moved to the Replied list since the program detects the message that's is below the 'Visible reply' line.
'New' line means that all messages below that line were not marked as 'Read' by the user and will be displayed by Linked Helper in the Inbox by default.
'Read' button moves the red line below the reply marking the reply as read by you.
'Ignore' button marks all 'New' replies above it as those that should be ignored and not detected the next time the profile is processed in the messaging or Check for replies action.
Messaging history is automatically scraped either from the regular LinkedIn or from the Sales Navigator inbox when Linked Helper is about to send a message or when it's checking for replies. Since those platforms have different inboxes, there could be several chats with one person. If you'd like to see them all, you need to click the profile's name and navigate to the Messaging history tab on the right: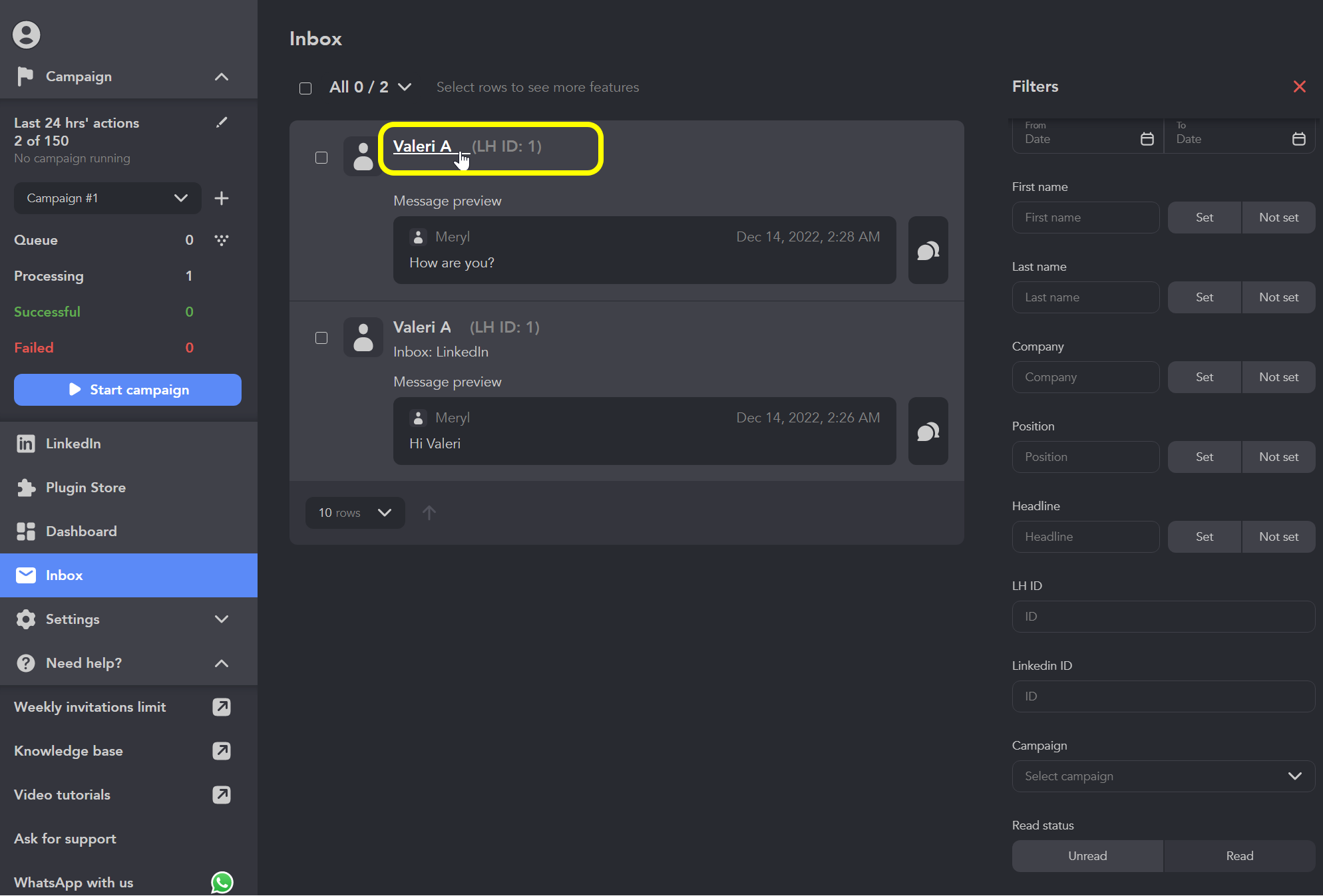 How To
You can return profiles back to the workflow to send next follow-up message even if they replied:
You can try the software for free during 14 days - download it and activate a free trial.
Official website Our blog YouTube Facebook Instagram WhatsApp Email: info@linkedhelper.com